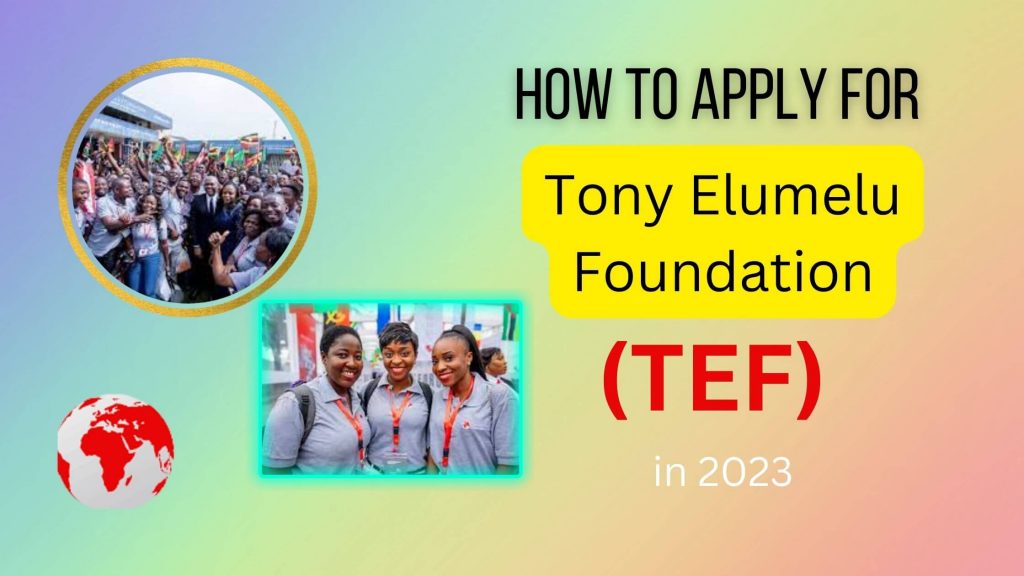 The Tony Elumelu Foundation (TEF) Grant is a scheme that grants the participant to get a one-time payment of $5, 000. It is a scheme meant for African entrepreneurs and aspiring entrepreneurs who don't get the financial freedom to enhance the scope of their businesses. No matter the type of your enterprise, the Tony Elumelu Foundation grant is for you to apply for!
How to apply for Tony Elumelu Foundation in 2022? Here are the requirements and how to apply! If you are a businessman/woman in any country in Africa and need a fund to grow or start a business, then Tony Elumelu Foundation is here for you to apply.
The application of it is open to everyone regardless of age, gender, language, race, religion, etc. Perhaps, the requirement needed for Tony Elumelu Foundation is just having an established business or intending to establish one.
Applying for Tony Elumelu Foundation, you will not only get money to fund your business but also a business expert free of charge who will be mentoring you for a minimum of one year to make sure your business is well grounded before he/she leaves you. Isn't it interesting? Please read on for more.
The founder of this rewarding foundation, Tony Elumelu, is one of the top richest entrepreneurs in Nigeria and the whole of Africa at large. He was born in Jos on 22 March 1963 (age 58 years as of 2022). He is an economist, philanthropist, business owner, and coach.
In 2022, his net worth was according to Forbes estimated to be $12. This makes him one of the richest self-made entrepreneurs in Nigeria.
---
---
Read this also:
Please note that Tony Elumelu's foundation was in existence before Corona Virus and it will continue to exist forever. The lives that it has saved so far since its inception are numerous in number. Once your business is a legal one, then you will win immediately after you apply.
Here is the step-by-step guide on how to apply for Tony Elumelu Foundation.
Tony Elumelu Foundation portal in 2022
www.tefconnect.net/signup
To apply for Tony Elumelu Foundation in 2022, the application must be carried out online on their portal at www.tefconnect.net. If you want to apply, follow the step-by-step guides below and apply online using a phone or laptop.
Visit the Tony Elumelu Foundation application portal at www.tefconnect.net/signup.
Enter your first name and last name.
Enter your email address.
Create a unique password.
Read their terms of use and privacy policies and mark the agreement box.
Finally, click "Sign up".
Note: you can also apply for Tony Elumelu Foundation in 2022 using a social media platform like your Facebook or Linkedin account.
How to win TEF
The age limit to win Tony Elumelu Foundation is that applicants must be 18 years of age and above. Another way to win it is for all applicants must register online at www.TEFConnect.net.
Winning Tony Elumelu Foundation is once in a person's life. Also if you are an existing beneficiary, you cannot re-apply to the program after receiving seed capital but if you are a non-beneficiary who has applied before and unsuccessfully didn't win in the past, you are eligible to re-apply and get a chance to win.
Tony Elumelu Foundation application form
The Tony Elumelu Foundation (TEF) application form 2023 is still at www.tefconnect.net. Please note that the application portal of the Tony Enumelu foundation always opens on January 2022.
TEF contact details
In the event that you want to contact the staff at Tony Elumelu Foundation for an inquiry about your application, you can reach out to them via any of the following channels:
WhatsApp group: add them on the phone number 23417006713 or click here to chat with them on WhatsApp
Email:

[email protected]

.
Office: 1, Macgregor Road, Ikoyi, Lagos.
Phone number: +23417006713, +234-1-2774641-5.
Or via their website at www.tefconnect.net/contact-us.
Tony Elumelu Foundation is the best place to be. In November 2021, it has recorded that they empowered over 4,949 African small businesses in the 2021 entrepreneurship program. Ready to apply now? Please visit www.tonyelumelufoundation.org.
---
---
Read these also:
---
---
Tony Elumelu Foudation
The Tony Elumelu Foundation (TEF) application portal for the 2022 entrepreneurship program has been open since January 1. The TEF application this year is carried out on their website at www.TEFConnect.com.
If you are an African entrepreneur with business ideas or existing businesses under five years, then you are encouraged to apply for $5000 seed capital, mentorship, business management training, and more.
While commenting on the launch of the 2022 entrepreneurship program, Ifeyinwa Ugochukwu, chief executive officer of the Tony Elumelu Foundation, said the foundation is willing to impact more lives, hence the early opening of the application.
"We are constantly blown away by the quality of businesses that come from Africa every year. This motivates us to scale our efforts to empower even more entrepreneurs on the continent," Ugochukwu said.
"The innovation, knowledge, and resilience of African entrepreneurs are central to charting Africa's socio-economic transformation and meeting the continent's development objectives.
"We are also proud of the increase in female participation in our Programme, especially with the 2021 cohort where we witnessed a record 68% selection of women entrepreneurs."Advertisement
Furthermore, Awele Elumelu, the founding trustee of the Tony Elumelu Foundation, said the program will continue to assist the next business leaders or captains of industry.
"Through the Tony Elumelu Foundation Entrepreneurship Programme, we seek to democratise luck. Hard work plays an important and undeniable part in success, but one must not discount the role of luck — someone being willing to take a chance on you or a business idea by empowering you through training, mentorship or funding," she said.

"Our hope is that, through the Tony Elumelu Foundation Entrepreneurship Programme, we would help the next business leader or captain of industry be who they are meant to be."

"The Foundation's mission is rooted in the philosophy of Africapitalism, which positions the private sector as the key enabler of economic and social wealth creation in Africa. Through TEFConnect, the Foundation's proprietary digital platform, it has provided capacity-building support, advisory and market linkages, to over 1.5 million Africans."
TEF, an African-funded entrepreneurship catalyst of its kind, has empowered more than 15,0000 African entrepreneurs with a non-returnable seed capital of $5,000 each, twelve weeks of business management training, access to experienced mentors, and membership to Africa's largest entrepreneurial ecosystem since 2015.
Please remember to subscribe to our newsletter and do share it with your friends if you know that this article has helped you know how to apply for the Tony Elumelu Foundation in 2023 and how to be successful.
Read these also: