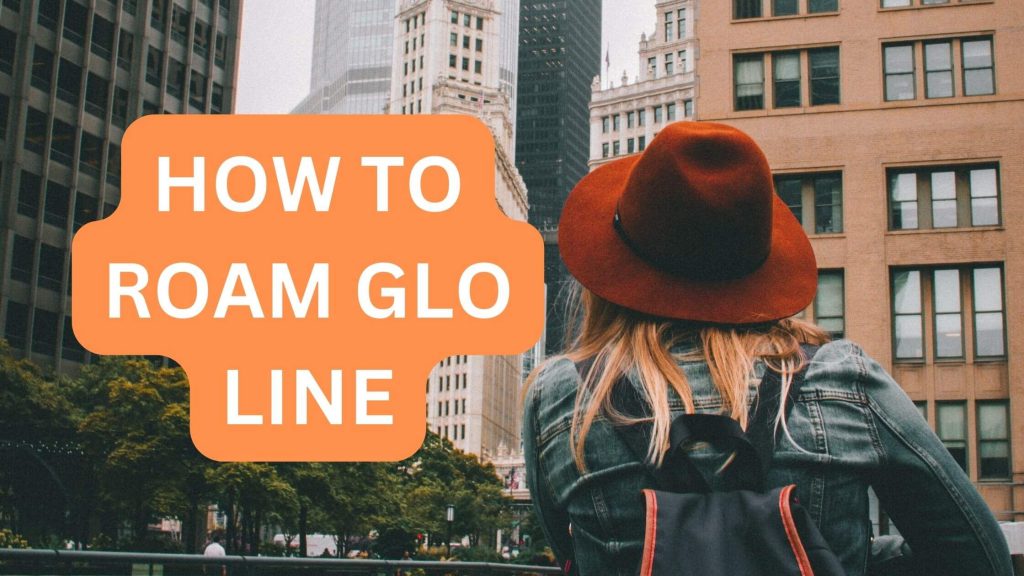 Do you want to know how to activate roaming on your Glo Nigeria SIM card in order to use data and airtime in it when you travel to another country like the UK, USA, South Africa, etc.? In this article, we will discuss with you the list of all countries which access Glo roaming and how to roam your Glo line in any country.
Glo roaming is a wireless telecommunication that can help you use your Glo line outside the range of its native network and connect to another available cell network. Want to roam your Glo SIM card in USA or UK? If yes, then we have got you covered! Hence, please continue reading!!
How to activate and roam the Glo line in any country
Glo roaming service is hugely growing on a daily basis to enable you to use your Glo mobile number in over 437 networks in 180 countries worldwide.
You can roam your Glo line in any country which you are traveling to. The service of Glo International Roaming enables you to stay in touch with family, friends, and business associates whenever you to another country like USA or UK.
To activate roaming on your Glo line, just simply visit any Glo outlets/offices nationwide and pay the subscription fee of ₦50,000 Naira. Please make sure to do that 2 – 3 days before you travel.
By paying a subscription fee of 50,000 Naira to roam your Glo line, you will be allowed receive and dial any number you like, send and receive SMS and also browse any website of your choice.
Roaming your Glo line is also free of charge because as a prepaid subscriber of Glo, your line has roaming enabled by default, hence, you only have to top up your credit with the desired amount you wish to spend during your travel.
While you are going to travel, find a phone or device like quad-band or any other alternative that works effectively with Glo international roaming because the frequencies of roaming vary from carrier to carrier and country to country.
Coverage in most countries is generally of a high standard; however, reception may be unavailable or interrupted due to terrain or handset quality. Meanwhile, services available may differ from country to country.
---
Read these also:
Why activate roaming on the Glo SIM card
You don't have to change your telephone number to that of the country you travel to.
Your call and other things you use to do with your line are always reachable anytime, anywhere.
You don't have to be techy before you can use the Glo roaming service, hence, it is simple and easy to use.
Eliminates inconveniences of sending new phone numbers via the email address or any other means to friends or loved ones.
There are no subscription charges required.
To activate Glo roaming on your prepaid SIM card, simply dial *123* 14 OR 15 digits#. If you want to check your Glo roaming balance, dial *124#.
Note that you will not be able to forward calls and also use Magic Plus while roaming any Glo line.
If you are abroad using Glo roaming service on your line, you can recharge or top up airtime to your SIM card in the event that your balance is exhausted or finished in many ways including;
Request your friend or someone in Nigeria to buy you a recharge card and send you the PIN via text message
Visit any PayPoint or Payzone outlet worldwide to buy Glo recharge
Use your mobile banking (USSD or application)
Or visit the Glo website and top-up Online at www.gloworld.com.
Now, let's start to explain how to activate Glo roaming in an international country.
How to roam Glo when traveling to Saudi Arabia
Glo Customers in Saudi Arabia can use their lines as if they are in Nigeria. With this amazing offer from GLO, if you want to visit Madinah or Meccah for a pilgrimage, you don't have to change your number to that of Saudi Arabia in the name of hearing about what is going on in Nigeria.
Roaming your Glo line before traveling to Saudi Arabia, will enable you to share your Hajj experience in real-time with your family and friends seamlessly either through video calls, calling, or texting messages.
To roam your Glo line in Saudi Arabia, simply dial *777#, select "Roaming offer", enter 1 to select "Hajj Data Offer", finally, at this point, you can of your choice select from the various prices ranging from N1,000 to N10,000. Note the validity is one month.
To check your balance, dial #122*7#.
| PRICE | DATA VOLUME |
| --- | --- |
| ₦1,000 | 200MB |
| ₦3,000 | 500MB |
| ₦5,000 | 1GB |
| ₦10,000 | 2GB |
To have airtime for voice calls on your Glo roaming line, just recharge and roam on MOBILY and Zain Saudi Arabia!
The rates at which airtime deducts when your Glo line is in under roaming in Saudi Arabia are shown in the table below:
| SERVICE TYPE | RATE |
| --- | --- |
| Incoming call | N20/min |
| Calls back home | N50/min |
| Calls within KSA | N25/min |
| Outgoing SMS | N10 flat |
| Incoming SMS | Free |
| Data | N0.06/KB |
Glo postpaid roaming
Glo postpaid roaming is a service that allows every Glo post-paid customer to use their Glo line outside Nigeria the same way as in the country thereby enabling them to make calls or can be reached on the same number anywhere in the world provided Glo has a roaming partner in that country.
To roam your Glo postpaid line, you have to:
Pay a roaming deposit of N50,0003.
Give the Glo network a minimum of 72 hours notice.
Completely fill out the international roaming agreement form.
Pays bill in the local currency of the home country at the end of the billing cycle.
Glo data roaming
Glo data roaming enables you to access the internet irrespective of your location around the world using your Glo SIM card.
To enjoy the amazing Glo roaming data plans, please dial *777# from your Glo line, follow the prompts, and buy any roaming bundle of your choice.
You can roam with Glo and enjoy the best data roaming bundles across the globe. With amazing data roaming plans from GLO, you can stay connected to the world on the go and also share your travel experience in real time with your family and friends back home.
With a Data enabled phone or laptop device that supports the frequencies used at your destinations; you can always stay online at all times.
Please note that charges will vary depending on your location and the amount of data.
Glo network has specially discounted rates in the USA, UK, and France. For more information call them by dialing 200 or visit any of their offices near you.
Countries that Glo roaming works
While roaming your Glo line for data, you are advised to select from the networks below to ensure the benefits of these bundles:
| ZONE & COUNTRY | 3 DAYS PACK (200MB) | 7 DAYS PACK (500MB) | 15 DAYS PACK (1GB) |
| --- | --- | --- | --- |
| Zone 1 – Ghana / Canada / USA / France | ₦500 | ₦1,000 | ₦2,000 |
| Zone 2 – India / China / Netherlands / Germany / Saudi | ₦1,000 | ₦2,000 | ₦4,000 |
| Zone 3 – Benin | ₦2,000 | ₦5,000 | ₦10,000 |
| Zone 4 – Switzerland / Niger/UAE | ₦3,000 | ₦8,000 | ₦15,000 |
Very happily, you can use your Glo line while it is roamed in any of the following countries:
| S/N | COUNTRY |
| --- | --- |
| 1 | Canada |
| 2 | Ghana |
| 3 | Ghana |
| 4 | UAE |
| 5 | USA |
| 6 | France |
| 7 | Saudi Arabia |
| 8 | China |
| 9 | Germany |
| 10 | India |
| 11 | Netherlands |
| 12 | Benin |
| 13 | Niger |
| 14 | Switzerland |
| 15 | Switzerland |
How to contact Glo customer care for roaming your SIM card
If you want to roam your Glo line while you have confused about where to start, you can contact Glo customer care for assistance. Please dial any of the telephone numbers below to contact Glo, roaming department:
+2348050020200 or the shortcode

200
+2348050020121 or the shortcode 121
Please note that calling Glo customer care from an international country is not free of charge, hence, you will be attracted to pay the applicable rates.
How to use a roamed Glo SIM card in other countries
The Glo Roaming service has been designed to ensure ease of use for all customers getting you connected to a foreign network seamlessly. To use Glo roaming in other countries, just follow the steps below:
On arrival in a foreign country, switch on your mobile phone.
You can register to the network in two ways, automatically or manually.
To register automatically, just switch on your mobile and the phone will choose one of the available networks in the visited network.
To register manually, go to the network selection and choose the option manually, once the search has been completed; the phone will display all the available network operators you can select to make calls from your mobile.
If done successfully, you can now be able to make and receive calls on your mobile phone using your Glo mobile number.
Benefits of Glo roaming
More people are traveling internationally than ever before for reasons ranging from business to tourism. Being in touch globally is now an absolute necessity, and has become a requirement for many Glo customers.
International Roaming with Glo will keep you in touch and connect with your contacts in Nigeria and around the world. Glo has International Roaming agreements with GSM operators in the most popular international destinations.
Glo roaming is very, very beneficial to both prepaid and postpaid customers in different ways when traveling abroad. The benefits of Glo roaming are:
For Postpaid subscribers;

Voice
Data/GPRS
SMS MO [Sending SMS
SMS MT [Receiving SMS]

For Prepaid subscribers;

Voice
SMS MO [Sending SMS]
SMS MT [Receiving SMS].
Please for more information, read the rest on the Glo website.
Conclusion
If you know that this article has helped you know how to activate Glo roaming in any country on your line, then please share it with your friends and remember to subscribe to our newsletter for more important updates.
Read these also:
I hope this article has helped you how to activate Glo roaming for data in any country of your choice. Please comment below if you have any questions for us.