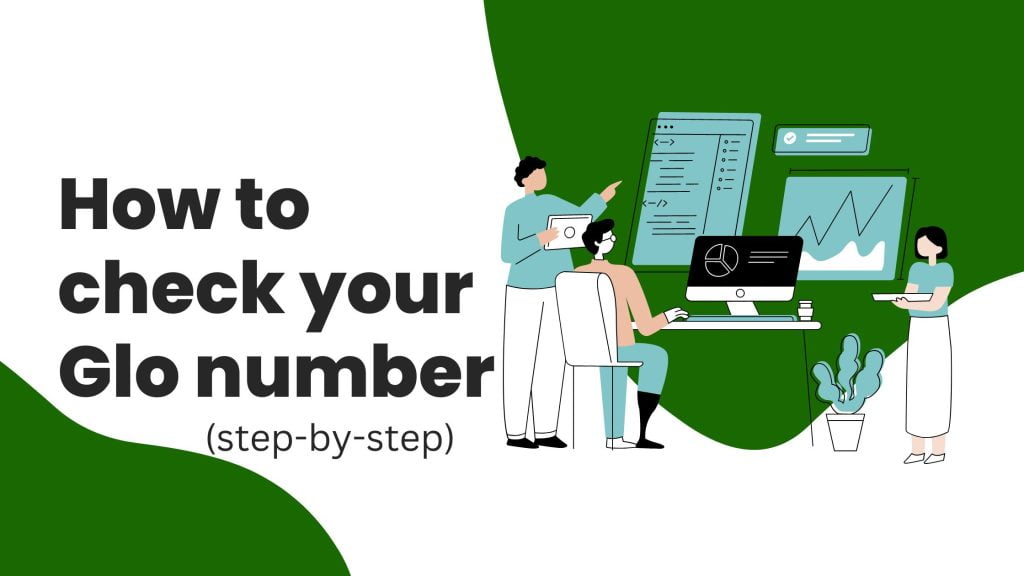 If you are using many SIM cards, it is difficult to memorize the telephone number of all of them. Hence, in this today's article, we will be discussing different steps which you can use to check your Glo telephone number very fast in 2022.
USSD code to check your Glo number the easy way? Please note that the Glo number can't only be checked with the USSD code but also with other methods like via SMS, calling the Glo number checking code: 1244, texting a free-of-charge message to another Glo number using 133, etc.
Now, let's get started to show you how you can check your Glo phone number.
How to check the Glo number for 2023 (step-by-step)
Are you doing something that is important while requiring you to enter your telephone number? If your Glo SIM card is new or for some reason, you don't know your number off-hand, how can you check it very fast in the blink of an eye? Please continue reading to know all the simplest methods in this article in 2022!!
As one of the top-rated network providers in Africa, Glo telecommunication company in Nigeria has good customer service. To make you experience smooth network usage, it has created a lot of ways you can check your Glo phone number, data balance, airtime balance, etc. easily.
There are many methods to check your Glo number and the following are the ones we recommended in 2022 with their step-by-step explanations.
Recommended posts:
Below are the best methods that you can use to check your Glo number.
1. USSD code method
Do you know that every telecommunication company has a unique USSD code that their customers can dial on their phones to check their numbers? One of the Glo USSD codes allows a customer to check phone numbers at their convenience. Please follow the instructions below for more info:
To check your Glo phone number, first dial the shortcode: *135*8#.
After you dial that code, your phone number will appear on the screen with the Nigerian country code, +234.
Hence, you will have +23408121027901 if, for example, your number is 08121027901.
To not worry about checking it in the next time, quickly copy it down and save it in your phonebook or write it down in your diary.
In case the USSD code above can't work for you, please use the codes below as an alternative method:
Dial the shortcode 

1244

.

After that code has been dialed via your Glo SIM card which you want to check its telephone number, a robot will call out your number. Hence, get ready to write it down.
Still, another code is *777# which can be used to check your Glo number. Please read below for more guides on how to use it.
S

imply dial *777#.

In the command prompt, select 4 "My Tariff Plan".

In the next pop-up command, select 3 to choose "My Number"

Success:

your number will appear on your phone screen.

Please continue reading other methods if in case the Glo USSD code for checking your number discussed above didn't work for you.
2. Facebook and WhatsApp methods
Another fastest method to check the telephone number of any Glo SIM card is Facebook or WhatsApp. Yes, of course, you can check it on social media!!
To check it on WhatsApp, open the WhatsApp app
Tap the three vertical dots at the top right of the screen)
Click on settings
Tap your name or the name you used to create a profile on WhatsApp to reveal your phone number
Alternatively, to check it on Facebook, open your Facebook app and click on the three vertical lines at the top right-hand corner of your phone
Scroll down & click on "settings & Privacy"
Click on settings
Click on personal information and scroll down to click "contact info"
If you linked your contact information like email address, location, website address, and phone number with your Facebook account, then your number and other contact information will be displayed on the "Contact info" page.
Read this also: how to recover your hacked Facebook account very fast.
3. Calling another number method
Want to check your Glo number while every one of the two methods above is not working for you? Indeed, another quickest method is calling another number.
To check your Glo number by calling another number, just go ahead and recharge your SIM card if it is without airtime and call any number that nears you.
As we all know, when calling another SIM card, our number must appear on the phone of the person we are calling.
For example, to make this method happen, just enter the number of your nearby friend on your phone dialer app, wait for the call to connect, and by the time the call start ringing, then request your friend to let you know your number. Perhaps, this is the coolest method, isn't it? Of course, it must!!
Glo website method
The website of Glo network can also be used to check the number of your SIM card.
To easily check the Glo number online on the Glo website, use a browsing device (mobile phone or laptop) preferably a laptop
Insert your Glo SIM card and connect
Visit http://hsi.glo.com/HSISelfCarePortal/ (portal designed by Glo for checking the telephone number of a SIM card)
After visiting that website and providing everything requested, then immediately, your Glo number and other necessary details will come up
How to check Glo number via SMS
Another important method to check the telephone number of your Glo SIM card is by texting an SMS message to another Glo SIM card.
In the event that you don't have airtime currently present in your main account balance, what should you do? Glo has the feature of a 'Please call me back" service which allows their customers to send 'Please call me back text messages to their friends free of charge.
How to use the SMS method to check your Glo number? Simply insert your SIM card into a phone, open the text message menu on your phone, enter
Other network number checking code
The USSD code to check the number of other networks in Nigeria is:
MTN

number checking code
*663# or *123*1*1

Airtel

number checking code
*121*3*4#

9Mobile

number checking code
*248#
Conclusion
If you know that this article has helped you know how to check the Glo number very fast in 2022, please share it with your friends and remember to subscribe to our newsletter for more important updates.
Read these also: