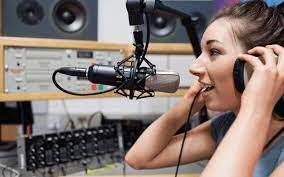 Radio presenter or broadcaster is the person whose job is to broadcast and present an information on radio show. To be a radio presenter in Nigeria, you must be required to learn how to speak fluently and flawlessly in two or more hours. If you want to know how to become a radio presenter in Nigeria,then find this article helpful for yourself now.
There are many radio stations in Nigeria looking for the service of radio presenter and broadcaster. If the intention of being a radio presenter is inside you in order to gain a job in radio station, then here we have discussed step by step how to become a radio presenter and broadcaster in Nigeria. Now, let's start.
Your employment of being a radio presenter in a radio station depends on on the service that you can render professionally. For, example, if you are good at Igbo language (one of the three recognized native languages in Nigeria), then you can be employed to present Igbo services if one of the missions of such radio station is to targeting Igbo audiences.
At radio station, they look forward to employ different types of professionals. What type of professional skills have you gained and can offer very well? Or are good at fluently speaking English language? If yes, then learn how to become a radio broadcaster or presenter in Nigeria below. Please note that becoming a radio presenter in any of the radio station in Nigeria doesn't require your languages, religion, race, et cetera, et cetera.
Read this also: top best professional courses in Nigerian university.
Here is how to become a radio presenter or broadcaster in Nigeria.
How to become a radio presenter in Nigeria
To become a radio presenter in Nigeria, you must have the following skills:
Excellent communication and presentation skills
Performance skills and a clear voice
The ability to generate original ideas
A personable and confident manner
A broad range of interests, including current affairs
Good research and interviewing skills
The confidence and the ability to sell yourself
An awareness of media law
The ability to take initiative and make quick decisions under pressure
Must have the skills to work with team.
Creativity and problem-solving skills.
---
---
Read these also:

1. Top famous nollywood actors in Nigeria this 2022.

2. Best degree courses for politician and their explanation.
---
---
Duties of a radio presenter
If you are aspiring to become a radio presenter in Nigeria or any country in the world, your duties or responsibilities are:
Research topics and background information for items to be featured on the programme
Plan and rehearse shows
Write and sometimes memorize scripts
Liaise with other members of the production and technical teams
Introduce and host programmes
Interview guests in the studio, by telephone or on location
Play music
Read short news, traffic, sport or weather reports
Provide links between programmes
Read from a script or autocue, or improvise
In radio, 'drive' the desk and operate some of the technical equipment for recording and playback, using computers to cue up and play music and jingles
Keep the programme running to schedule, responding positively and quickly to problems or changes and improvising where necessary
In television, keep in contact with the director and production team in the studio gallery, via ear-piece link
Meet with the production crew to assess or review a broadcast, and to plan the next one.
What to study to be a radio presenter
Becoming a radio presenter, you don't need to have a degree as many employers tend to find the experiences and practical skills of the employee. However, if certificate must be needed before one can gain radio presenter job, barchelor's degree, HND and foundation degree subjects may be useful and could provide you with relevant knowledge that can be used in the job.
The following courses are recommended for those who want to become a radio presenter:
Broadcast, radio, television or media production
Drama or performing arts
Journalism
Media or Mass Communications studies.
Certain courses have been assessed by the radio and television industries and are approved by ScreenSkills, the industry skills body. Details of courses can be found at ScreenSkills – Education & training.
A degree relevant to the area that you wish to work in, such as politics or economics, may also be helpful.
Five (5) qualities of a good radio presenter
A good professional radio presenter should have the following five (5) qualities:
Prepare Beforehand

: Trying to juggle too many things at once can result in mistakes. Structure your time by preparing beforehand so you can produce the best shows possible.

Be Authentic

: People like to listen to presenters that come across as genuine. Be proud of who you are and where you came from. You may not appeal to everyone, but at least your authentic and broadcast with confidence.

Talk to One Person

: Engage with your listeners by presenting your shows like you're talking to a friend. For example, "I hope you had a good weekend! We've got some awesome tracks coming your way soon, so stay tuned!".

Have Something to Say

: No one wants to listen to a boring person. As a radio personality, you should have something to say. Be passionate on-air to engage with your listeners.

Air Check Shows

: Once you have finished a broadcast, go back and listen to what was said. What went well and what didn't? Address these issues next time you are on air.
Conclusion
If you know that this article has helped you know how to become a radio presenter or broadcaster in Nigeria and also helped you know the professional skills needed to become, please share it with your friends and remember to subscribe to our newsletter for more important updates.
Read these also: