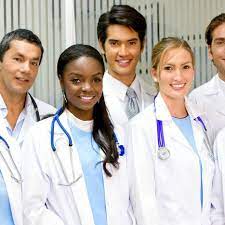 Medical doctor is one of the lucrative careers and opportunities that every UK and non UK citizen wants to become. Being a medical Doctor in UK, you can work for yourself if you don't want to be an employee to some one.
One of the best ways to make a lot of money in UK and other countries for this our time (21st century) is to become a medical Doctor who treats and diagnoses the disease of people.
How to become an MBBS holder in UK
There are many branches of medical Doctor and some are, physiologist, dentist, psycyhiatrist, dermatologist, pharmacist, etc. Any branch of Doctor you are, in UK, you are one of the best.
As a matter of fact, to have medicine and surgery degrees or become a medical doctor (MD) or obtain a Bachelor of Medicine, Bachelor of Surgery (MBBS) in UK, it would take five years to complete or four years if you are on a graduate entry program. The course involves a combination of basic medical science training, as well as clinical experience in real hospital wards.
Before one can fully be recognized as a qualified Doctor in UK, some of the educational programs which he/she must have done are:
5-year degree in medicine or its related course recognized by the General Medical Council.
2-year general medical foundation program.
5 to 8 year specialty training program. The length dependent on which specialty of medicine you choose.
In the same way, an international student who want to become a Doctor of Medicine in UK, he/she should have an MBBS or its equivalent degree from any recognized medical school. And he/she must have two years post MBBS experience including one year of internship at a hospital.
Becoming a Doctor in UK, you need to complete a medical degree and many years of training. Gaining admission to study medical doctor in UK is very, very competitive, hence, try to have good grades in your medical admission entrance exam like University Clinical Aptitude Test, UCAT, put in more relevant work and gain medical related experiences every day, have commitment and lots of enthusiasm.
Read these also:
How to become a Doctor in UK
To become a Doctor in UK, first, attend medical college, apply and sit for either MCAT, UCAT, IELTS, do some volunteer works and register for medical Doctor training when the application has started.
The more explanation on how to become a Doctor in UK are listed and explained below one by one:
Earn a degree in medicine
To be become a fully approved and accredited Doctor in UK, first, earn a degree in medicine from a recognized school in the UK or any other country.
Please note that the General Medical Council (GMC) in UK is responsible for regulating and licensing doctors nationwide. The first step in becoming a licensed medical doctor is to receive an undergraduate degree from a school that the GMC recognizes. It can take 4-6 years and you'll learn basic medical sciences as well as take part in some clinical training to prepare you to become a medical doctor in future.
You can also learn or adapt in some professional medical courses program like a minimum of four years from a recognized school. Indeed, it is a great option because if you complete your study, you can find something to do other than medicine.
How to earn a degree in medicine in UK
Before one can be able to earn a degree in Medicine in UK, he/she must have earned good A Level grades in Science subjects such as Biology, Chemistry, Physics, Agricultural science, etc.
The Advanced Level qualifications are one of the most important factors behind getting into medical school and becoming a doctor in UK. Most UK medical schools ask for an AAA or AAB at A Level, especially in the Sciences such as Chemistry and Biology. Once you complete your A Level, you can use it as part of your application to gain admission into any UK medical school of your choice.
In UK, at an A level, you may spend 2 years studying and preparing. In fact, every UK university uses A Levels to determine a student's eligibility for an undergraduate medical degree course.
Apply for doctor entrance exam
Another best way to become a doctor in UK is to pass an admissions entrance test, exam or interview like PLAB test with the university.
If you are intending to study for medical degree program in UK university, you'll participate their interview and also take an exam given by the university to help determine whether or not you qualify for entry.
The university may ask you about your work or medical experience and your interest for wanting to become a doctor. Note: the questions of their text/exams or interview will focus mainly on sciences such as biology and chemistry alongside more general testing of your thinking and writing skills.
Please apply and submit your medical doctor admission entrance examination on time because while some other subjects and universities may be more flexible as you work to complete your application, medical schools will not. They'll likely make you wait another year if you haven't submitted everything on time.
At this point, write an excellent personal statement, complete your interview, take the entry exam and provide the details of any relevant experience such as working in a hospital or attending medical events.
The medical doctor admission application of some universities in UK ended in October every year.
Gaining admission to study medical doctor in UK also requires references, please inform your references to submit their reference form on time with you was well.
Participate medical foundation program
After you have used 4 or 5 years to study medical doctor in UK and become graduated, now, you'll start your 2-year foundation program which will grant you a provisional license. Once you complete your first year, you'll receive your full registration so you can practice as a doctor while you complete your additional training.
While successfully participating your medical foundation program, note in mind that you'll still have a lot of years involving medical training while you'll have your own medical license after you finish it.
Engage in specialty training
After participating medical foundation program, the next step is to engage in specialty training, a 2-year program that UK medical doctor graduates must engage. There are 3 different types of specialty training pathways and they are: GP, uncoupled, and run-through.
Presently, specialty training involves three years for GP and for other specialties, it is five to eight years. Once you begin GP specialty training it will be three years long. If you choose other specialty training pathways, the length of training will vary between five to eight years according to specialty.
Their similarities are just that uncoupled training requires 2 applications while run-through and GP involves only one.
Conclusion
If you know that this article has helped you know how to become a medical doctor in UK, please share it with your friends and remember to subscribe to our newsletter for more important updates.
Read these also: