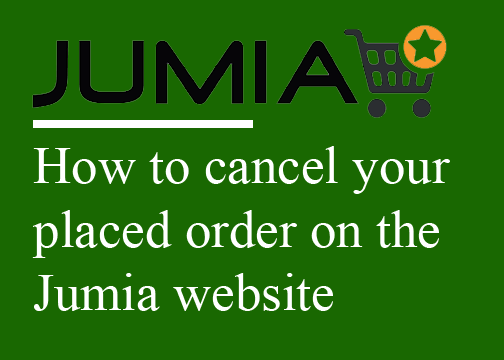 Have you ordered an item(s) or product(s) on the Jumia website and you have now become uninterested to buy it? There is a solution to that! In this article today, I will show you how to cancel an order you made on the Jumia website step-by-step.
If Jumia is a new thing for you, please be noted that it's an online shopping website where you can buy everything just like a shopping mall.
The benefits of shopping on the Jumia website are that it's safe, secure, and easy. That is, Jumia sells good items or products and it also delivers the product within two to three days.
Read this also: The Reality Of Products On Jumia (Are All The Products On Jumia Original).
If you've mistakenly ordered an item that you have already gotten, you can cancel it by pressing a little button click. Now, let me start showing you how you can unorder or cancel an order by yourself step-by-step.
How to cancel an order on Jumia website
Please follow the rules below carefully as everything you need to know about the cancellation of an order you made on the Jumia website contains in this article.
The step-by-step guides for how to cancel an order on Jumia are:
Step one: visit the JUMIA website, www.jumia.com
Login to your account or profile on Jumia by clicking here (also for more information on how to create a profile on Jumia, please click here)
After you have been logged in successfully to your profile, then click order on the left side of the screen (if you are using a desktop)
Now, a list of all items you ordered will appear on the screen for you to choose anyone to cancel
At the front of every ordered item, there is a button which is called SEE DETAILS and it's clickable, then click the one at the front of an item you wish to cancel as shown in the images below
That is, by clicking see details, every detail of the Item you ordered will be shown (for example, when it'll be delivered to you, the date you ordered it, ETC)
At this point, click on the CANCEL ITEM button as shown in the image above to cancel your order.
By clicking on the Cancel Item button, you will be directed to choose the reason why are canceling an order (we encourage you to choose "I was texting Jumia or I have seen another item on Jumia")
Note that an item must have a "WAITING TO BE SHIPPED" status before you can cancel it. However, you can cancel by telling a delivery team of Jumia when he/she will contact you.
For any order you want to cancel on the Jumia website, you must provide an authentic reason why you want to do that.
Immediately you have to click on the cancel order button, then choose I was texting Jumia as your cancelation reason as shown in the image below
If you have followed all the instructions I have been showing you in this article about how to cancel an order on the Jumia website, then click Submit button to finally submit your request.
After you have submitted your request, the next information you will see is as exact as the one in the image below.
Meanwhile, the amount you spent to order that item plus the shipping fee will be credited to your JumiaPay account for ordering another item.
Jumia doesn't cheat or scam people, if you don't like the product that has been delivered to you, you can return it free of charge.
If you have still got another item that you want to unorder, then click on GO BACK TO ORDER DETAILS and follow the instructions above again
Canceling your order on the Jumia website is free of charge in case you will ask how it works. Jumia team (staff) will contact you by telephone to know whether you are fully still interested in your order getting delivered to you.
In the process of contacting, you can tell the caller (Jumia staff) that he/she should cancel your order and get your money back.
Conclusion
If you know that this article has helped you know how to cancel an order on the Jumia website by yourself step-by-step, then please subscribe to the newsletter of this website for more important information.
If you have got any questions to ask which is related to this article or suggestions for the improvement of my writing, please I like to comment on them in the comment section.
Finally, share this article with your friends through Facebook or Twitter, please.