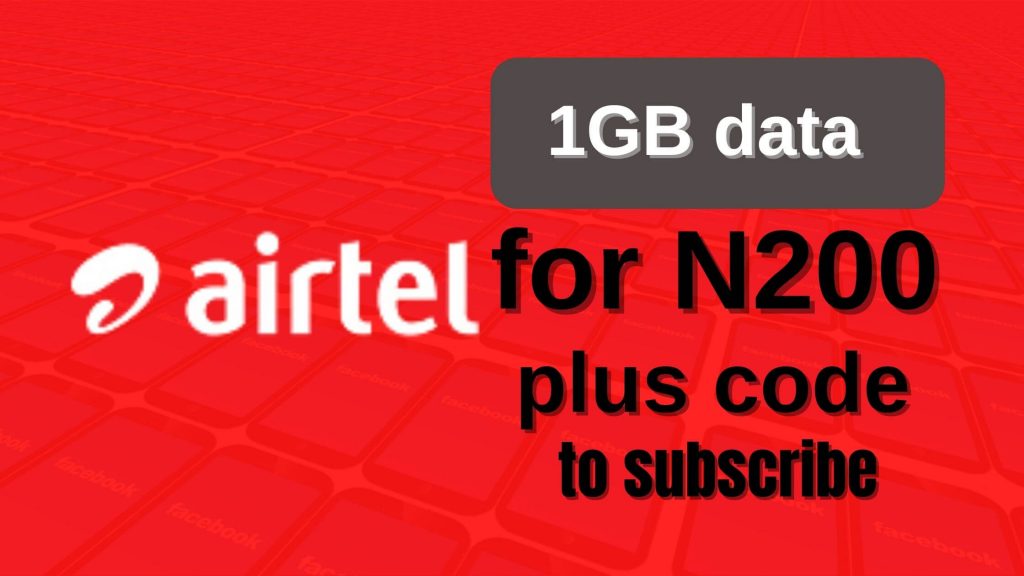 If you browse the internet too much regularly, you may probably find a way to get a huge amount of data on your sim card, right? You can follow the guidelines in this article to know how to 1GB on your Airtel line for just N200.
By default, 1GB which is equivalent to 1, 000 MB of Airtel network Nigeria limited can be purchased with one thousand Nigerian Naira but I will show you how to get it with just N200 (two hundred Naira) only today.
Do you want to get a cheat data bundle from the Airtel network and get 1GB N200? If yes, then continue reading this article as I am going to discuss everything with you step by step now.
Let's get started.
How to subscribe to Airtel 1GB data bundle with N200
Follow the instructions and procedures below to know how to get or subscribe to Airtel 1GB data plan for N200. If you don't follow the instructions below correctly, you'll end up getting 350MB.
Read this also: code for Airtel family and friends (complete guides to Airtel F&F service).
350 MB is not higher than the 1 GB data plan. In fact, it's 1, 000 MB in 1 GB. Meanwhile, Airtel sells 350 MB for N200 and it's valid for 3 days.
Now, to get a 1GB data plan for N200 which will be valid for 7 days, follow the guidelines below:
Make sure you are on the smart connect package, however, if you're not currently on it, then dial *311# to migrate from the package you are on to Smart Connect
After you have migrated to Airtel Smart Connect successfully, load a minimum of N200 recharge card
Your recharge card must be loaded with direct recharging code, *126*pin#, otherwise, you will not be allowed to use this service
Now, it's time to get one thousand MB (1GB) for N200 and to continue, dial *141*2424# through the Airtel sim card which you have just loaded recharge to
Make sure that you are on smart connect before you continue anything. If you are not on Airtel Smart Connect, you'll get an error notification that your request is unsuccessful as shown in the image below
If unluckily you cannot buy a 1GB data plan by using the code I shared with you, contact your customer care number for assistance
You can click the link below to know how to contact Airtel customer care through different channels but their official 24/7 number is 111 or 121. From there, you will choose the type of language you want to speak.
Read this also: Top best packages of Airtel network for browsing & calling plus how to join.
How much does it cost to buy a 1GB data plan on Airtel?
Airtel network sells one thousand MB (1GB) data plan at the price of N1, 000. If you use this code, *141*1000# to buy, you will get 1.5 GB automatically and it'll last for 30 days.
At the same time, you can get a 1,000 MB data plan or 1GB for the price of N200 only and the good news is that it'll last for 7 days. If you want to know more, then scroll up a little and read what I explained there.
To know the truth that Airtel sells a 1.5 GB data plan for N1, 000, look at the screenshot below:
1.5 GB is the equivalent of 1, 000 MB. GB stands for gigabytes while Megabite refers to MB.
For special requests or inquiries, you can comment with how you feel through the comment section or contact the customer care representative of Airtel network by dialing 111 through your sim card.
Conclusion
If you know that this article has helped you know how to cheaply get a one thousand MB data plan for N200, then please subscribe to our newsletter for receiving important related updates from us henceforth.
Also, don't forget to help us share this helpful article with your friends and loved ones. Please share it on social media like Facebook or WhatsApp or Twitter to make us improve and thank you for your time!!
Before you leave, remember to read the documents needed for the Airtel sim swap.