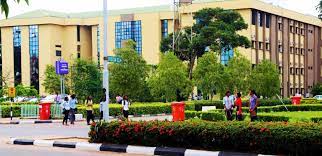 Radio station helps a large number of people get an information on the right time. Radio stations are too plenty in Nigeria established by government, private organizations and schools, etc. In today's article, I want to share with you the list of all Campuses in Nigeria that has radio station.
If the biggest tertiary institutions want to send a news and important updates to their students, using radio station is the best way. The radio station of a campus does broadcast within the neighboring environment or location of the campus like the other type of radio stations which broadcast Nationwide.
The best part of radio station of a campus is that every time it's open and broadcasting. It also provides an opportunity for the students and staff to place advertisement. If you are studying radio presenter related course, radio station of your campus also creates an avenue to practice your study.
---
---
Read these also:

1. Nile University school fees for all courses (2022).

2. Data plans of all networks in Nigeria and how to buy.
Here are the name of all campuses in Nigeria that have established or running radio station. We also discussed them with their frequency which you can directly tune your radio to.
Now, let's start!!
Campuses in Nigeria and their radio station
#
Name
Campus Name
Frequency
1
Spider FM
Kaduna Polytechnic
102.7
2
Ultimate FM
College of Education, Minna
103.9
3
Excel FM

Rivers State University
103.7
4
Diamond FM
University of Ibadan
101.1
5
Kanem FM

University of Maiduguri
97.7
6
Caritas University Radio
Caritas University Radio, Enugu State
98.7
7
Rhema FM
Rhema University, Aba
93.3
8
Heritage FM
Heritage Polytechnic
104.9
9
Unizik FM
Nnamdi Azikiwe University
94.1
10
Tansian Radio FM
Tansian University
107.1
11
Varsit

y

FM Radio
Adekunle Ajasin University, Akungba-Akoko, Ondo State
107.8
12
BSU FM
Benue State University
89.9
13
Okada Wonderland FM
Igbinedion University Radio
90.5
14
Uniben FM
University of Benin
100.1
15
Hillside FM
Auchi Polytechnic
94.1
16
Caritas University Radio
Caritas University
98.7
17
GOUNI Radio
Geoffrey Okoye University
106.9
18
Lion FM
University of Nigeria
91.1
19
BUK FM Kano
Bayero University
98.9
20
Unilorin FM
University of Ilorin
89.3
21
LASU Radio
Lagos State University
95.7
22
NOUN FM
National Open University of Nigeria
105.9
24
Unilag FM
Univ

e

rsity of Lagos
103.1
25
Nasarawa State University FM
Nasarawa State University
101.1
26
UNIUYO FM
University of Uyo
100.7
27
Lead City (University) FM
Lead City (University), Oyo State

89.1
28
Search FM, Minna
Federal University of Technology, Minna
92.3
29
Hope FM
Babcock University
89.1
30
Hebron FM
Covenant University
95.9
31
Great FM
Obafemi

A

wolowo University
94.5
32
Lead City FM
Lead University
89.1
33
ICEFMUJ FM
University of Jos
96.1
34
Unique FM
University of Port Harcourt
88.5
35
Samaru FM
Ahmadu Bello University
101.1
36
Click FM
Ibrahim Babangida University
89.9
37
Ultimate FM
College of Education Minna
103.9
38
Varsity FM Radio
Adekunle Ajasin University
107.8
39
ESUT Radio
Enugu State University of Technology
106.5
40
Rhema FM
Rhema University
93.3
41
DELSU FM Radio
Delta State University
103.7
42
KASU Radio
Kaduna State University
98.5
43
COOU FM
Chukwuemeka Odumegwu Ojukwu University
106.1
44
Kanem FM
Uni

v

ersity of Maiduguri
97.7
45
Tearchers' Radio
N.T.I
93.4
46
Madonna Radio
Madonna University, Anambra State
93.3
47
Ta

n

sian Radio
Tansian University, Anambra State

107.1
Conclusion
If you know that this article has helped you know the list of all campuses in Nigeria that has radio station, please share it with your friends and remember to subscribe to our newsletter for more important updates.
Read these also: