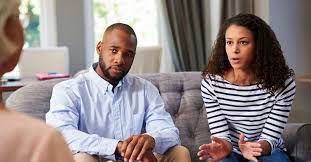 Is there shaking in your relationship or marriage? Do you want intervene counselor to help you work through conflicts and strengthen the bond between you and your partner? In this article, I will share with you top best marriage counselors in Lagos Nigeria this 2022.
The name of marriage counselors we listed and discussed below have been working tirelessly to enhance the relationship between two couples or marriages to a better. They are recognized as the top best because they professionally deliver counseling service at the right time. In fact, their name is very famous in Lagos Nigeria.
If you want to meet professional marriage or relationship counselors in Lagos Nigeria, please look forward to the ones we have listed and discussed below in this article. We have also shared with you everything about them including their contact details. Now, let's start to discuss top best marriage counselors in Lagos.
---
---
Read these also:

1. How to become a relationship counselor (explained step by step).

2. Net worth of Airtel owner and CEO according to Forbes (2022).

3. Top best Islamic love messages for your husband (top 40).

4. How to perform funeral prayer in Islam (step by step).

5. Best degree courses for politician and their explanation.

6. Why you must have to perform janaba ghusl (man and woman).

7. The most powerful Oba in Yoruba land this 2022 and their explanation.
---
---
There are some marriage counselors that have a website, when explaining such ones, we will remember to share with you their website address. And also, they are a female marriage counselors in case you may prefer to invite female one. If you are a Christian, happily, there a professional marriage counselors in Lagos that are also a Christian. Please any type of marriage counselors in Lagos in this article!!
Here is the list of top best professional marriage counselors in Lagos Nigeria in this 2022.
Top best marriage counselors in Lagos
The Counselling Ambassadors Organisation.
Madam Felicia.
Deekens Educational Consult.
23 24 relationship.
PsychNG Services.
High-Impact Family Centre.
Marriage Matters International.
INTIMACY CLINIC.
BTH Wellness and Therapy.
Families Alive International.
LeanOnMe Counsel.
1. The Counselling Ambassadors Organisation
The Counselling Ambassadors is a child parent development, marriage and family counseling center located at 19B, Community Road, Ikeja, Lagos State.
2. Madam Felicia
Madam Felicia is an online counseling platform that provides direct access to people with marriage counseling services. Their counseling and therapy services are provided through web-based interactions as well as phone, text and physical communication.
At Madam Felicia, they have a counselors who are licensed, trained, experienced, and accredited psychologists (Ph.D./ PsyD) providing marriage and family therapists (LMFT), clinical social workers (LCSW / LMSW), or licensed professional counselors (LPC) about the counselors.
3. Deekens Educational Consult
Deekens Educational Consult is another marriage counselor among top best marriage counselors in Lagos Nigeria that provide professional service of coaching or counseling on Marriage.
4. 23 24 relationship
23 24 is a relationship and marriage counselor providing quality Counsel and Advisory services to two couples or partners. They offer their every time and the good thing about them is that their service fee is friendly.
5. PsychNG
PsychNG provides online and concierge therapy; in-home and mobile therapy allowing you to remain in the comfort of your own home.
The marriage counselor PsyschNG, Toyin Abimbola is an MSc. holder in Clinical. She is Individual, and Family therapist, Emotional Intelligence trainer, Advocate of Mental Wellbeing.  Toyin Abimbola is a Clinical Psychologist with over four years' experience in mental health services.
She had her first degree in Psychology from Ekiti State University, her MSc in Psychology (Clinical) from the University of Lagos, and her clinical experience from Federal Neuropsychiatric Hospital, Yaba. As part of her passion for mental health and creating awareness, she volunteers for various NGOs like PostPartum Support Network Africa (PSN Africa).
6. High-Impact Family Centre
High-Impact Family Centre deploying evidence-based, psychotherapeutic solutions, we help individuals to re-discover themselves and become whole. They are located at 13, Balogun Street, Ikeja, Lagos.
7. Marriage Matters International
Marriage Matters International was established with a mission to bring sound teachings, relationship counsel and coaching to both singles and married. It is a membership-based online/offline learning community devoted to helping single and married couples have great relationships, solve relationship issues and be great parents.
The professional marriage counselors working at Marriage Matters International were being awarded with the following awards:
Certificate in Biblical Counselling from Christian Counselling Education Foundation (CCEF) Philadelphia USA.
Diploma in Professional Counselling from Attitude Development international (ADI) Nigeria
Integrative Nutrition Health Coach Certificate from Institute of Integrative Nutrition, New York City, USA.
Certified Family Systems Engineering Practioner, Nigeria.
Faith-Based Counsellor Certificate from International Institute of Faith-Based Counselling, Texas USA.
8. INTIMACY CLINIC
Intimacy Clinic is one of the top best marriage counselors in Lagos that solves emotional and psychological problems that could result to lack of efficiency, social irrelevance or even suicide. Emotional problems and conflicts are natural occurrences; they are the art of human existence that could lead to detrimental consequences if not well managed. We fill the vacuum of lack of access to Professional Counsellor in this part of the world and help people resolve their relationship and marital issues.
At INTIMACY CLINIC, they have also carved a niche for themselves in the area of Sex Therapy and thereby the foremost center where you can get all your sexual issues resolved. If you are confused about your relationship, or your marriage has become a battleground and you feel like giving up or probably you can't find a reason to live again, I congratulate you for being here, because, you have found your solution.
9. BTH Integrated Wellness and Therapy
BTH Integrated Wellness and Therapy is a mental and emotional health centre run by the Counsellor Chiadi Ndu. The Centre offers psychological support.
10. Families Alive International
Families Alive International is another one of the best marriage counselors in Lagos Nigeria that promotes healing through family strengthening, community awareness, social services, therapy, discipleship, and legal support, restorative programs, etc.
11. LeanOnMe
LeanOnMe Counsel is a marriage counseling center based in Lagos helping partners to resolve all kinds of marriage complicit and rebuilding their relationships. If you wan to meet them, visit their website at Muyibat Oyefusi Crescent Omole Phase 1 Ojodu, Ikeja, Lagos, Nigeria.
Conclusion
If you know that this article has helped you know top best professional marriage counselors in Lagos Nigeria, please share it with your friends and remember to follow our social media platforms for more important updates or subscribe to our newsletter.
Read these also: