Your website's name is a domain. Anything you see after a protocol sign of a website is its domain name. And after the domain name, the next thing is domain extension.
Domain extension (also popularly called TLD) can be anything. Depending on your business category and the type domain name registration that is registering your website, you can opt-in to buy a unique domain extension.
Domain extension can be .com, .org, .ng, .edu, .gov, etc. As we have said, domain extension you should choose is ideal to relate to the category of your business, for example, if you have an e-commerce website, then .shop or .delivery TLD is good to use as domain extension.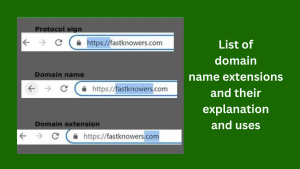 Many SEO experts have revealed that website's performance sometimes depends with the type of its domain extension. Additionally, they said that the less in price the domain extension is, the less the domain will perform in terms of loading, ranking and more.
Thus, we advise you not to too much choose a domain extension that is too cheap. .com domain extension is the most widely used one. Hence, we recommend you to buy it for your domain. Or get in torch with us for more recommendation. We are a website developer and designer since decades, we will help you turn your dream into reality.
The types of domain name extensions include; Generic top-level domains (gTLD), Country code top-level domains (ccTLD), sponsored top-level domains (sTLD), test top-level domains (tTLD), Geographic top-level domains, Brand top-level domains, and many more.
Quick tip: you can use our domain checker to search for an availability of a domain name.
Today's article will discuss with you the list of all types of domain extensions and their examples this year.
Now, let's start.
List of all domain name extensions and their examples
| # | Domain's extension | Domain extension's meaning |
| --- | --- | --- |
| 1 | .com | .com refers to commercial. It is the most popular and commonly used type of top-level domain for businesses, websites, and email. |
| 2 | .org | .org is a domain extension which stands for organization. It is created for nonprofit organizations. |
| 3 | .gov | .gov domain extension created for governmental body. It can be used by governmental agencies, programs, cities, states, towns, counties and more. |
| 4 | .net | .net means network. This is created officially for institutes that involved in network technologies such as an internet service provider or an infrastructure company. |
| 5 | .int | .int refers to international. It is meant for organizations, offices, and programs endorsed by a treaty between two or more nations. |
| 6 | .mil | .mil is created for military bodies such as police, navy and other military forces. |
| 7 | .cheap | Online retailers, discount sites, overstock sites, businesses who sell bulk products at discounted prices, bargain hunters & frugal-living bloggers |
| 8 | .church | Churches, youth organizations, spiritual communities, religion-based organizations, anyone who publishes spiritual or religious content |
| 9 | .coach | Athletic organizations, personal trainers & coaches, business, life, & health coaches, school & community club coaches or tutors, affordable travel, airline, train, car, or other transportation companies |
| 10 | .deals | Discount sites, bargain hunters, coupon sites, coupon pages. coupon-themed guides, directories and blogs |
| 11 | .engineer | Computer and software engineering companies, civil, electrical, mechanical, and architectural engineering companies, environmental, chemical, geotechnical, and bio engineering companies, engineer training or educational institutions, railroad engineers |
| 12 | .college | For college or educational body. |
| 13 | .education | Colleges & universities, public schools, PTAs & other school groups, education research organizations, any organization focused on educating its audience |
| 14 | .faith | For religion and Churches |
| 15 | .gallery | Galleries, professional photographers, camera and equipment retailers, photo studios & photography schools, wedding and specialty photographers, anyone who wants to share photos online |
| 16 | .healthcare | Primary/secondary care physicians, hospitals & clinics, healthcare insurance providers & brokers, company HR/benefits departments |
| 17 | .info | News, magazine or blog website. It stands for information |
| 18 | .life | Wellness and health experts, charities, coaches & personal development enthusiasts, lifestyle bloggers, anyone who wants to share personal stories |
| 19 | .gives | Philanthropic organizations and foundations, charities, nonprofits, corporate giving initiatives, volunteer organizations |
| 20 | .jobs | For websites with job opportunities and job listings |
| 21 | .menu | For hotel and restaurant website |
| 22 | .navy | Naval training schools, navy supply stores, military recruiters, credit unions, navy members and veterans |
| 23 | .plumbing | Plumbers & plumbing repair businesses, plumbing departments within home supply stores, contractors/subcontractors |
| 24 | .rentals | Real estate brokers/agents, city guides, college housing centers, & community centers, vehicle, equipment, or entertainment/event rentals, property managers, condo/apartment developers |
| 25 | .science | science-related websites or blogs |
| 26 | .show | Ticket sale/resale sites, performance halls, music clubs/bars, streaming video services, movie review sites, travel sites & city guides |
| 27 | .town | Travel agencies, resources & services, local business associations, city guides & resource sites, transportation businesses, hotels, hostels, lodging, etc. |
| 28 | .vote | It is for democratic elections and campaign websites. And must be used in a political/democratic process. |
| 29 | .works | Contractors, distribution companies, appliance wholesalers & service, auto/boat/heavy equipment businesses, companies with solution based products or services |
| 30 | .africa | A business that predominantly run in Africa or a services that are purposely deserved for Africans |
| 31 | .asia | This is a domain extension for companies, organizations, and individuals based in the region of Asia, Australia, and the Pacific |
| 32 | .ng | A domain extension for Nigerians |
| 33 | .berlin | The domain must have a connection to Berlin, Germany for example a company based in Berlin or a person from Berlin etc |
| 34 | .tech or .technology | Tech-focused businesses & tech startups, businesses that sell to tech companies, developers, coders, programmers, computer retailers, technology blogs, news sites, & review sites, hardware & software companies, R&D companies, tech product manufacturers |
| 35 | .surgeons | This is connected with Surgeons, primary/secondary care physicians, hospitals & clinics, healthcare providers, insurance providers |
| 36 | .support | IT/Tech support services, social services, customer service & support departments, independent consultants & consulting firms, staffing services |
| 37 | .radio | For Radio station website |
| 38 | .ltd | Private companies, limited by shares, limited companies, businesses with "limited" or "LTD" in their names, specialty products and services, businesses that sell limited-quantity products |
| 39 | .live | Live streaming sites, entertainment/music venues, news sites/blogs, ticket sale/resale sites, video production companies |
| 40 | .group | This is recommended for a groups based on hobbies or interests (running, crafts, gaming), group-based businesses (medical practices, law firms, financial advisors), professional associations, support groups |
Conclusion
Hope this article has helped you know the list of top domain name extensions in the word. Please share it with your friends and feel free to ask any question you may have to ask when using our domain name checker. For more information, please check out our blog.