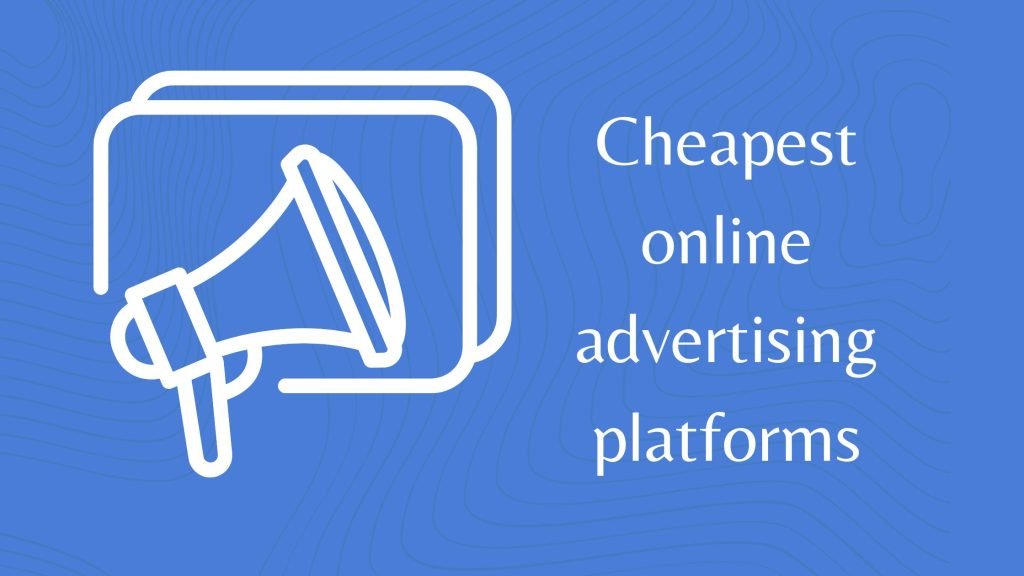 There are a lot of online advertising platforms out there, and most of them have their own advantages and disadvantages. In this post, I shall list and explain to you the top cheapest online advertising platforms in 2023.
Sometimes, especially when you are new to the journey of digital marketing, it can be hard to choose which platform is best for your business, so we've put together a list of the top eight (8) cheap advertising platforms.
Now, let's start.
Top cheapest platforms for online advertising
1. Facebook
Being the #1 social media platform that has a large audience, the first place you should look to when the need of getting traffic for your business arises is Facebook.
The best part? Your ads can be changed or tested at any time without having to start over from scratch! Simply create another version of your post/page with different text/images/etc., then upload it as quickly as possible before going live again.
2. YouTube short
YouTube is another best platform for getting traffic for your business because it has 1.2 billion users and more than 3 billion hours of video watched daily. YouTube is the most visited website in the world, ranking behind only Google Search and Yahoo in terms of traffic to sites on Alexa.
Being a huge place where we consume media today, YouTube helps us find news, watch shows or concerts and even learn about new products or technologies.
Related articles:
3. Reddit
Another one of the best advertising platforms that you can use to drive traffic to your website is Reddit. You can submit content, such as posts or direct links, which will be featured based on the interest of the internet community and has been described as "the front page of the Internet".
4. Google Search Ads
Google Search is the most popular online advertising platform. You can advertise on Google Search by targeting:
People searching for a specific keyword or phrase
People search for a specific website
Across devices, such as desktop computers and mobile devices.
5. Pinterest
Pinterest is also another great platform for advertising/marketing. It's a great way to drive traffic to your website and blog, which can help you build a brand and increase sales.
If you have an e-commerce store, Pinterest could help promote products on social media and drive more sales by getting people interested in buying them once they come across your Pinterest ad.
Pinterest advertising can help you get
More people visiting your site than ever before!
Website visitors who must be interested to buy your products or use your services.
6. Twitter
Twitter is another advertising platform mostly used by celebrities, businesses, news organizations, and journalists to connect with their audience.
If you have been searching for the best advertising platform, Twitter is your choice.
7. Snapchat
However, you can use Snapchat on your phone or tablet device, as well as on desktop computers through their website or through third-party apps such as Instagram or Facebook Messenger
Snapchat is an advertising platform that can be used on mobile apps that allows users to send photos and videos to potential customers.
They offer three main features: Stories (a collection of messages sent by you), lenses (special effects that can be added to your photos), and Discover (a curated feed of stories from influencers).
8. Content Marketing
Another great way to get traffic to your website is through Content marketing. It's free and very inexpensive if you know how to target your audience with content that resonates with their needs.
Content marketing can help you build trust and credibility in your brand, hence, it's an excellent way to build a community around the things you do.
Conclusion and further reading
Every social media platform offers ways to advertise with different types of ads and they each have their own benefits, so it's important to choose the right one for your business.
Apart from the platforms shown in this post, there are many places to advertise online and each platform has its own pros and cons. While Facebook is the #1 on this list to start your campaign, it's not the only option out there.
If you know that this article has helped you know the top cheapest platforms for online advertising, then please share it with your friends and remember to comment with any questions that you may have.