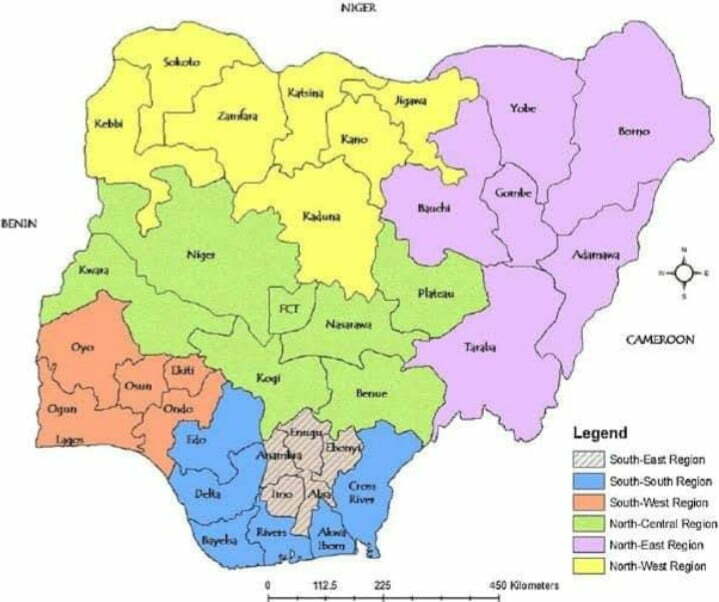 In this article, you will know everything about 6 (six) geo-political zones in Nigeria and the states in each every of them, languages and cultures.
Due to the large population of Nigeria, the former Head of State, Late General Sani Abacha supported the classification of thirty-six (36) states and capital (FCT), ethnic groups and languages into geo-political zone.
Nigeria is a populated country, therefore, it's consists of four hundred (400) ethnic groups and four hundred and fifty plus (450+) languages and cultures.
That is, ethnic group and language with common history, heritage and culture were classified under the same geo-political zone.
Nigeria is classified into Federal, State, Local government level and wards. For example, Muhammad Buhari is the president of the federal republic of Nigeria, Alhaji Yahaya Bello is the executive governor of Kogi state, while honourable Amodu Ibrahim is the chairman of Ofu Local government in Kogi state and honourable Nasiru Yahaya is the councilor of Ochadamu ward one in Ofu LGA in Kogi state.
Without the help of Nigeria being classified into six geo political zones, all of us may be fighting against each other. That is to say, geo political zones lessen indiscrimination in our country.
Read this also: state and capital in federal republic of Canada (you should know this).
Now, continue reading this article to know all six geo political zones in Nigeria and everything about them in an understanding way.
---
Conclusion and further reading:
If you know that this article has helped you, then remember to like our Facebook page or follow our Twitter handle for more.
Share this article with your friends and loved ones to support us to do this service for free of charge, please.
See this also: Nigerian national anthem and pledge (an acceptable way to sing them with audio format).
I am Abdulrazaq, a student and a type of person who love guiding people with any important thing I know. I established this blog in order to show people what is what and prevent them from making avoidable mistakes.