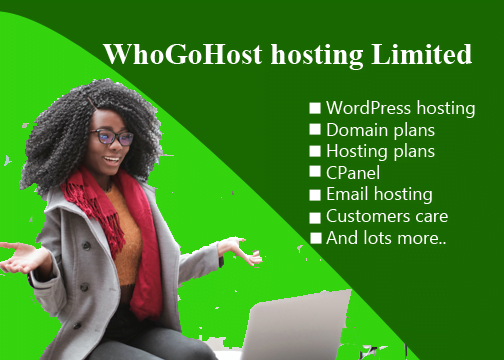 Do you want to create a website and need hosting and domain? WhoGoHost hosting limited is here to offer you cheap WordPress and email hosting for you! Today, we will talk about everything about their services.
We will also discuss their latest promo code, reviews, and lots this year.
Being the second hosting registrar accredited by ICANN in Nigeria, WhoGoHost Limited is the most reliable company to choose when it's come to buying domain names, hosting plans for websites and applications, etc.
They have different plans suitable for any project. Either you run a small business or a big business. Their shared hosting plan gives you a free SSL certificate to protect your data and that of your website visitors, unmetered bandwidth to ensure your website is available 24/7, unlimited disk space, and many more.
Now, let's start to explain to you everything about WhoGoHost hosting for WordPress, email, domain, and lots more.
Read these also:
1. Top web hosting companies in the USA (2022).
2. How much can designing and hosting a website cost in Nigeria?
3. How to register a .com domain for your website.
Why WhoGoHost WordPress hosting is recommended
As a part of our commitment to empowering you to start your own digital business, we are focused on recommending products and services that are very affordable and of high quality.
WhoGoHost WordPress hosting is a leading web hosting company in Nigeria providing reliable and affordable shared hosting, VPS, and dedicated servers. WhoGoHost is one of the few web hosts that offer Google PageSpeed Boosting technology to optimize your website for faster loading times.
It is a leading web hosting company in Nigeria providing reliable and affordable shared hosting, VPS, and dedicated servers.
Their email hosting plans are designed to meet your business needs by offering unlimited email accounts. Our customers can have unlimited domain names with WhoGoHost at an affordable price tag.
The advantages of WhoGoHost
They have a team of experts who are committed to your satisfaction. Their dedicated servers and VPS hosting solutions are built upon industry-leading technology, which makes them the perfect choice for your company's website.
In terms of 24/7 customer support, you can contact them via live chat, email, and phone. You can also contact them by filling out their contact form on their website or through social media channels like Facebook Twitter Instagram LinkedIn Google+.
Here are some features/advantages or benefits of WhoGoHost
1. Google PageSpeed Boosting Technology
The #1 advantage of WhoGoHost WordPress hosting is Google PageSpeed Boosting Technology.
WhoGoHost is a part of the Google Cloud Platform Partner Program, which means that we've been certified by Google to use their PageSpeed Insights tool for our clients. This powerful tool helps us to deliver faster page load times and improve your site's speed so that you can rank higher in search engines like Google.
2. In-House Premium DNS Servers
WhoGoHost DNS servers are the best in the industry. Our in-house DNS servers are located in Nigeria, which is one of the fastest and most reliable countries for hosting domains.
Our WhoGoHost DNS servers offer you a dedicated IP address, so you can be sure your website will always be up and running, even if your server goes down or gets hit by a cybercriminal attack.
3. Free Dedicated IP Address
A dedicated IP address is a unique address that is assigned to your account. It's dedicated to you, and only you, so it can be used for any purpose you want.
A dedicated IP address doesn't change at all even if you change hosts or move your site elsewhere. If someone were to try accessing one of my sites through their browser history and they saw the same URL appearing over multiple servers, they would know that this isn't just another member of the herd (or worse yet—somebody else's website).
4. More than 30 pre-installed scripts
You can also get a free installation of scripts. These include WordPress, Magento, Joomla, and Drupal. Customization is also available if you want to customize the scripts or install your own ones.
5. Supercharged Server Speeds
WhoGoHost uses premium quality hardware and software to ensure that your website loads fast. We also have a dedicated team of experts who monitor the performance of our servers 24/7 to ensure that your website loads fast.
WhoGoHost is a leading web hosting company in Nigeria providing reliable and affordable shared hosting, VPS, and dedicated servers. They are a part of the WhoGoHost.com group, which has been helping businesses since 2004.
The company's mission is to provide high-quality customer service at an affordable price by offering free domain registration and website-building tools.
Read this also: top best small business ideas in Abuja this 2022.
WhoGoHost email hosting
Email hosting is a service that allows you to send and receive emails through your domain name. WhoGoHost email hosting is powered by Google Cloud Platform (GCP). GCP is one of the most popular platforms for hosting websites, databases, and applications.
The WhoGoHost email hosting service provides users with a platform that allows them to integrate all their existing systems into one central location without having to worry about maintaining multiple servers or databases in order to accomplish their goals of data sharing across multiple departments within an organization.
WhoGoHost's email services include Free Email Accounts which you can create up to 10 free accounts per domain name registered on WhoGoHost's platform; these are shared with other members so they have access too – no matter what account type you choose!
Hosting and domain plans of WhoGoHost
WhoGoHost offers a wide range of hosting and domain plans that are sure to meet your needs. Whether you need a small server or a large one, they have the perfect plan for you!
The WhoGoHost Managed WordPress Hosting Plans include:
Basic – $5/month (1 website)
Standard – $7/month (2 websites)
Plus – $10/month (3 websites)
Though, however, the WhoGoHost Managed WordPress Hosted Domain Plans include:
Domain Name Registration ($9.99 per year)
Transfer Domains in our Control Panel ($29.99 per year)
Transfer Domains outside our Control Panel ($39.99 per year)
Renewal Plan for Updating Your Domain Name Registration ($19.95 per year)
Renewal Plan with Hosting Included In Our Server($29.95 per year).
Their customer care service
You can contact their support team 24/7. They have a dedicated team that will help you with any issues that you may have, whether it's for payment or technical support. Additionally, they offer live chat and ticketing systems so users can get in touch with the company at any time of day or night.
WhoGoHost customer care service contact information.
Phone number: 070022332233; email address: [email protected].
How to buy WordPress hosting from WhoGoHost

Visit their website at www.whogohost.com
Click "try WordPress hosting" or "purchase your hosting"
Choose your plan price (monthly or yearly)
Enter your domain name and click "continue to checkout"
Now, on this page, enter your email address, name, address, and other of your personal information.
Conclusion
WhoGoHost is a leading web hosting company in Nigeria providing reliable and affordable shared hosting, VPS, and dedicated servers. Visit their website for more.
Did you think that this article has helped you know everything about WhoGoHost WordPress hosting? Please share it with your friends and don't forget to subscribe to our newsletter or like our Facebook page for more important updates.