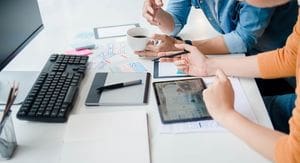 If you own a business center or there's a service you render, it is very ideal to go digital (online) in order to be able to reach people. Creating a website requires hosting, domain and designing.
In this article, we are going to discuss with you the cost involved in designing and hosting a website in Nigeria this year.
Creating a website is totally free as different open-source Content Management Systems (CMSs) like WordPress, Joomla, and more are available to build with.
In another word, you can create a brand website with as low as 50, 000 in Nigeria. Now you may ask; since the website is free to create using WordPress or Joomla, why is there any cost again?
Let's break down everything for you one by one right now.
At WordPress, there are millions of plugins and themes available to install for free on your website. If you follow the guide in this post, you will know how to create a website.
Before you can be able to create a website with WordPress, you must have a domain and hosting. And to get them, there are not free.
In fact, if you want an advanced professional layout for your website, you have to then purchase the paid theme.
Now, let's start.
Website design and hosting cost in Nigeria
Hosting
Shared hosting: ₦700 – ₦5,000/month
VPS hosting: ₦30,500 – ₦80,000/month
Domain
N1,172.25 – N8,830.95
Web designer
N50, 000 and above
UI/UX
N80, 000 and above
Graphic designer
N60, 000 and above.
Advertising fee
N100, 000 or more
Copywriting fee
N10, 000 to N50, 000 per article
Social media representative
₦50,000 to ₦500,000 per month
Read these also:
How to become a copywriter in Nigeria this 2022.
Drawing software for PC free download (2022).
Career opportunities for art students 2022.
Estimated cost for drilling borehole in Nigeria (2022).
How to become a web developer with no experience in Nigeria.
According to www.cleverroad.com, a business websites cost $3, 000 and above. But this may differ in Nigeria. Hence, let's look at the Nigerian price for designing, developing, and hosting a website this year.
Hosting
There are different hosting plans on the internet that serve different purposes. Depending on your budget, you can choose from a lower hosting plan or a higher hosting plan.
As a matter of fact is that the higher the hosting plan, the higher your website tends to be.
Hence, there are shared hosting, WordPress hosting, VPS hosting, and CDN. The minimum hosting price in Nigeria is N700 per month and the maximum is N5, 000 per month.
Price of hosting: N30, 000 to N200, 000 and above per year.
Domain name
A domain name is the name of your website, e.g, www.fastknowers.com. The bolded characters above "fastknowers" is the domain name.
The domain is cheaper than hosting. You can buy a domain from another company and host it on another company as a sub-domain.
Domain price: N1, 000 to N10, 000 per year.
Web designer
A web designer is a person who professionally designs websites. Their price is not fixed as their services differ. However, the minimum fee they sometimes charge for a service is N50, 000.
If you need a web designer service, feel free to get in touch with us. We design, develop and host websites at affordable prices.
Web designer fee: N50, 000 and above per project.
UI/UX fee
Another cost involved in successfully designing and hosting a website in Nigeria is UI/UX fee. UI/UX is a technical person who determines, checks, and manipulates the layout of a website for smooth use by visitors.
UI/UX charges an estimated fee of N80, 000 and above per project. If your website has multi-users and you want them to get satisfaction while using your website, then UI/UX service is necessary to introduce. They work hand to hand with your web developer.
A professional skilled UI/UX designs graphic user interface (UI) elements like menus tab, widgets, header, footer, etc. In some cases, a UI/UX is also known as a front-end web developer.
UI/UX fee: N80, 000 and above per project.
Graphic designer fee
The image speaks thousands more than a word. By adding images to your website, that means you are using the simplest way to transform information for your customers.
One image can explain the whole information about your product/services. Your customers are not going to read all your articles, to let them read important things about you and your business, let a graphic designer design a flier or mock-up for you.
Graphic designers are very essential in any web designing and development company. Graphic designers charge for designing a mock-up for N5, 000 per one.
However, if you hire one to design different mock-ups and fliers to be used on your website, they charge at least N50, 000 and above.
Graphic design fee: N5, 000 to N60, 000 per project.
Advertising fee
Nobody will know what service you render or the products you sell. Hence, the fastest way to reach out to people is through advertisement.
If you think Google will rank your website, you won't make any sales. Moreover, your website must stay at least one year or more before you would start getting small visitors from search engines if you write quality content on it.
Advertising channels especially Google Ads can rank you on the #1 first page in the Google search engine even though you launch your website today.
The advertising fee is not fixed. You can use millions of Naira to put into advertising. The best part is that you will get more visitors and sales in direct proportion to the amount you used in advertising.
Depending on your business type, you can decide to run billboard advertising to let non-internet users know about your products or services.
Price for advertising in Nigeria:  N5,000 to N500,000 and above
Copywriting fee
If you need interesting copies on your website which please your customers to buy from you or use your products, then hire copywriters to help you out.
Copywriters research, plan and create written content for the purpose of advertising goods and services on your behalf of you. Their content can help you succeed in advertisements, email marketing, etc.
Price of a copywriter in Nigeria: N10, 000 to N50, 000 per article on average.
Social media representative
If you have just launched your website, the best way to let people know about it is by promoting it on social media. You don't have to manage social media accounts by yourself.
To achieve the best result, likes and followers, hire a professional social media representative to be represented and responsible for optimizing your website's social media goals.
They respond to your customers' queries via social media, manage your website's social media visibility, and review social media campaigns.
Price of Social media representative in Nigeria: ₦50,000 to ₦500,000 per month.
Note that this price depends on several factors the number of accounts you want them to manage and the type of work you want them to do.
Conclusion
The cost for developing, designing, and hosting a website in Nigeria is between N50, 000 to N300, 000 in Nigeria.
In fact, the cost is solely determined by your, for example, the number of pages and posts you want on it, the type of website, what you want to achieve from it, etc. Also, the cost also depends on where you hire a web developer and the people who do the job for you from.
If you are hiring a person from the USA, you would not pay him/her N50, 000. He/she will refuse to collect N300, 000 Naira.
Also, if you are hiring someone from Lagos, the price will be higher than hiring someone from the village.
If you want to create a website, please create it with WordPress. It is the best open-source content management system in the world.
Besides that, it powers over 35% of websites in the world according to Statisca.com.
Furthermore, WordPress has many features and tools available that you can install on your site for free. And we have written different articles which cover something about WordPress.
If you need help with designing and hosting your website in Nigeria, please feel free to get in touch with us. Thank you.