As business owner who wants to get a website, you may have a question regarding how to register a .com domain for your website. A .com domain is a domain extension that is open to everyone to own.
In today's post, I shall show you the benefit of having a .com domain extension for your website and how you can register it step-by-step.
.com domain extension simply refers to "commercial", "communications" or "company"That is, it's intentionally created for a website whose main aim of the establishment is profit making, business, commerce, etc. However, many types of businesses can register .com domain extensions.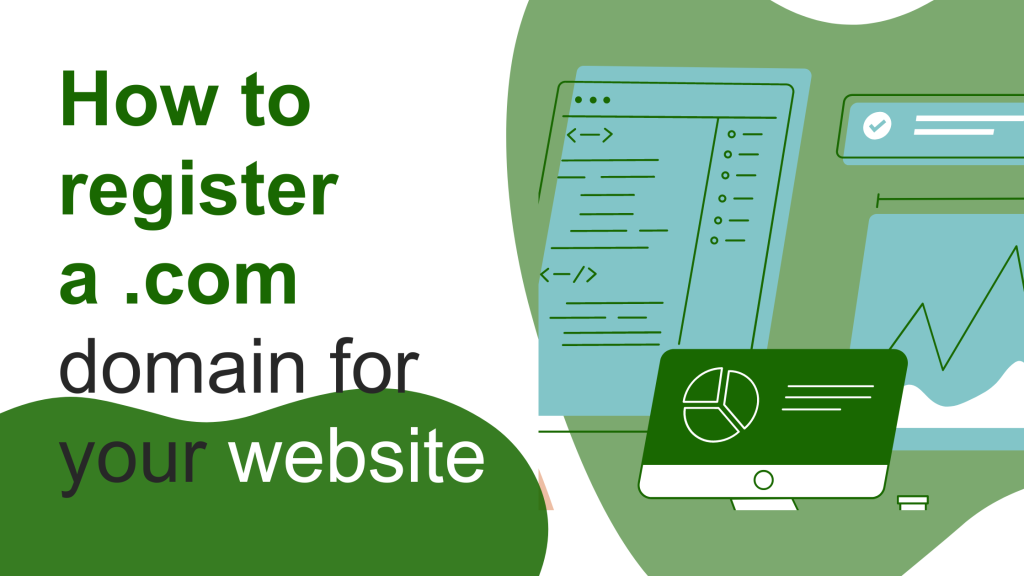 Aside from that, it refers to a company that has a global presence. If the service you offer or product your website promote is not meant for a particular region, tribe, or nation, then, choose .com for your website.
You can still get your country, regional or tribal domain extension for your company as a subdomain when you start growing or reaching different customers. You may see our expert guide on top domain name extensions in the world.
Read these also:
1. How to check your domain expiry date (step-by-step).
2. FAQs about buying a domain name (the most needed ones).
3. How to create a Gmail account for your business.
4. Differences between wordpress.com and wordpress.org.
It is very recommended to choose a .com domain extension for your website. Perhaps, many world's top companies are using .com.
For instance, Adobe.com. However, Adobe is one of the companies that have a domain for each of the countries they operate. .com domain is a global website while others are meant for the country by country. Hence, the content you see on their .ca (California) website may not be the same as that on their .uk (United Kingdom) website.
I am not going to talk more about this because it isn't our today's main topic. Now, let's start to show you how to buy a .com domain extension for your website step by step.
How to check domain name availability
The domain name availability can be checked using the tools like Namecheap, Godaddy, and Hostgator domain checker.
you can also use our domain checker tool for free. Please go to https://domain.fastknowers.com/ for more step-by-step guides on how to use it.
What is a domain and why would you want one?
A domain is your website's address. It's the first thing people see when they visit your site, and it can have an impact on how they feel about you and your business.
A great domain name will reflect who you are as well as what services you offer. For example, if you own a local nursery business in California called "Nursery By The Sea," having a .com extension would help people remember that it was located somewhere near San Diego because they could type your business name into their browser bar and get directly to your website without having to type out all those extra letters (e.g., nurseriesbythesea).
Where to buy a domain
If you want to buy a domain name that's registered in the .com domain, there are two options:
You can pay money to the registry (the organization responsible for keeping records of who owns what domains) and they'll register your new site for you. This is generally referred to as "buying" a domain name.
Another option is that someone else already has the domain you want, but they don't use it anymore so they're selling it cheap! You could consider buying this one from them if there's no other way around it (for example if you need something immediately).
How to register a .com domain
If you want to register a new dot com (.com) domain, the first thing to do is go to the domain name availability checker, enter your brand name or keyword that you want to buy a domain for and click the search button. You'll see all of the available domains to choose the one that relates to your brand.
Now it's time to register it. Click buy button to continue.
Note: you will be redirected to a third party website where you will be able to buy both hosting and your selected domain name.
Frequently Asked Questions
What is the purpose of your website?
Is your website purpose just to showcase your portfolio? If the purpose of your website is showcasing a product or services where people should order, then buy a .biz or .shop domain extension.
What should you do if the domain name of your brand is not available?
Have you checked that someone else has already registered domain name?
Thankfully, our domain checker shows the domain name extensions that are available and the ones that are taken or not available. So, if the .com domain extension for your brand is not available, you can go for a .net domain name extension.
But before you do that, you have to know that your customers will hardly distinguish you and your competitor (the website that is having a .com domain extension.
Conclusion
If you know that this article has helped you know how to create or register a .com domain name for your business, then please share it with your friends and remember to subscribe to our newsletter for more important updates.