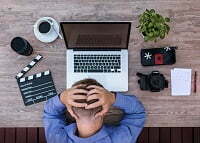 Do you know something has changed in this year? Year 2022 it's very tougher in the sense that any other previous' can't compare with. As the situation changes, you have to change your mindset, lifestyle, behavior, etc. for survival. Here, we shall discuss with you Why you have to start doing something on your own for this 2022 and how you can succeed step by step.
The first thing which every one should know for this year is waking up the ability to think about what to do on your own and stop depending others. Moreover, the person who are depending is also a dependent. The who is independent and doesn't get frustrated of all other dependents is God, the Creator of the universe.
Before you were born, God has made what you need to have to succeed. You may be creative or imaginative in nature. Struggling to find out the tool(s) to succeed is very, very crucial especially young man/woman.
Now, let's briefly explain why you have to start doing something different on your own.
Why you have to start doing something on your own
What this article is about to reveal to you is why and how you have to stop depending on your family member like uncle, Aunt, etc. and develop a mentality of doing something on your own. Yes, of course! First of all, your uncle or Aunt has children and they have to care for them and their own selves.
You may ask if you are an orphan, should you start on your own, right? A child between 1 to 15 years needs deep care and advice from parents. If your own parents died within these years, your grandparents or uncle or Aunt should sponsor you. Although, some wicked families members completely engulfed the properties of their late brother/sister without spending a dime towards the wellbeing of his/her children.
After suffering from this unbearable witness, go out and start doing something on your own. A child of 16 years is matye enough to care for his/herself they had allowed to be trained by their guidance or trainer during their teens years.
Scientifically, a plant frowning under a tree can never can't be healthier than the ones growing under nothing. The secret is that the plans growing under a tree uses a left over photosynthesis used by the bigger trees.
Read this also: how to become a relationship counselor (explained step by step).
Being depending on other person is like a plant growing under a tree, hence, you would not be left undisturbed to succeed. You can do good thing for them while they would revert you negative thing. They can make your life extremely difficult.
What you have to do now is find a way to start doing something on your own. Don't scare, God is still perfect and he knows what to do.
Now, let's look at the top best ways about how to start doing something on your own while you don't have any supporter.
How to do something on your own
Determine what you are good at.
Make a plan about it.
Start immediately.
Be consistent.
Be prayerful.
Don't be scared.
Don't change your mind.
Succeed and let public know.
Support others.
Help those that didn't support you.
1. Determine what you are good at
The first to start doing something on your own is determining what you are good at. What you are good at is what you really do every time even though you are not getting paid.
Don't ever try to follow what other people do. You may be good at business, football playing, writing, comedy, singing, speaking etc. Here, we can't recommend what you should start to do. Sit down and think about your talent, career, etc. and how to make money from doing it.
Without determining what you are good at and start doing it to earn from it, others will surely rent you to help them develop their own.
Read this also: how to sell things on Amazon and make money successfully.
2. Make a plan about it
Immediately you have determined what you are good at, the next step to take is make a plan about it. If it is a career like singing, comedy, writing or speaking, then make career plan about. If it is a business, then make business plan about it.
You shouldn't make a plan to earn within the first to three years you have started. In fact, in some cases, it is after five or more years you would start earning money from your career or business.
What you have to know is noting the status of the existing doers of that career or business, if they are successful, then one day you would. Because what happens to the people in front must surely happen to those at the back.
3. Start immediately
After making a plan, start immediately. It is not necessary to inform your family member or relative before you start. Perhaps, there are some family members who are a dream killer.
Informing your dream to your family kills dream. The only people in the world that love your success in growth in career/business are your parents. Hence, when going to do something about your wellbeing in future, you have to inform them to put blessing to it.
If your parents are late, to prevent your dream from being killed, start any plan you have but remember to pray to God to lead you through because even though you don't have anybody, you must have Him.
4. Be consistent
Another step to start doing something on your own is consistency. Don't be hurried to have everything in life at once. Even though you are not earning as high as your competitors, be consistent. Surely, that place you would be there.
In life, something doesn't go in a way which most think it should do. Success is not a dream. In fact, the best time to dream that you would be successful is dreaming while you are not sleeping.
It funs me any time I hear people saying their dream. They say that in their dream, they are usually chilling in jet or big houses, hence, one day they would own big houses and private jet. I laugh in silent at them because they don't know that a true dream is the one they are undergoing while their eyes are open.
Read this also: top 16 successful entrepreneurs in Nigeria and what they produce.
5. Be prayerful
As you have just intended to keep off doing something for others in order to start doing something on your own, be prayerful. Even your family members are not worthy to be trusted. They can directly or indirectly cause you harm.
It is only prayer you can use to enable you expertly fight with your enemies. Remember that it is a person that usually get cheated that should refuse not to be continually cheated as the cheater will not know when to stop cheating.
The people you spent your time for will surely condemn you to other people immediately you stop doing something for them and start doing on your own. Your family members are your your biggest enemies.
For you to succeed, don't fully depend your aunt or uncle if your parents are late or they can't take care of you. God that created them like that has given something to use to succeed. Please re read step one for more.
6. Don't be scared
Anything you experience, negative or positive, keep it in mind. Don't become scared as a result of little negative experience you have witnessed. A road to success and self dependent is usually rough.
If you are a type of person who scares, you will not become someone you would ever wanted to be in life. One thing to know is that for one to become successful or self dependent, there must be failure and failure and failure.
While doing something you love doing, learn from the experiences, i.e, if you have made mistake here, you will never make such mistake there. Try to have a record book to make a record of anything you come across in life so that you will never forget them.
7. Don't change your mind
While you have started doing something on your own, you may not live well, for example, no sale, no customer, client, invitation, etc. because you are new to it. No matter what you are facing, don't change your mind to go back to where you came from.
Don't change your mind for any reason. Just simply employ the knowledge you acquired while you were doing something for somebody to develop your career or business. Nobody is the owner of knowledge, if you do so like we recommend, you would may do even better than your former boss/leader.
8. Succeed and let public know
Now, make it succeed and let public know that it has happened. As a matter of fact, the key/notable people in the world didn't get help from their parent. Some of them are an orphan right from their childhood.
Once you become successful, thank to God and send acknowledgement and appreciation to the people who helped or simply advised you because it is not when someone give you money is a help. If person doesn't like you to succeed, he/she would not give you any advise even when you are going wrong.
If you are an orphan in a family, some family members feel pain to help you or advise you while they do everything for their family. In some cases, then only advise they can give you is that one that will enable you continually serving them. To help you this year, they would say let it next year, and if next year come, they would also say next year.
The only thing some family members says is keep promising you unending promises while they help themselves or child with the exact type of help you are demanding them to help you with.
Now, the best time to dream is stop associating or doing work for them in the name of getting help from them. They don't want you to become somebody better than them or their child because they are not your parents. Re read step one to know how to determine what you are good at and start doing it on your own, God will bless it for you.
9. Support others
Once you become successful in business or career, God has employed you to help other people. Don't feel like as you were being helped by people you thought they should help you, you don't have to help other people.
If you don't support others, you would not get people inspired to succeed. While supporting other people, let them know what you passed through, motivate them and also make them believe that they are going to succeed.
In life, it is not everything you have to keep silent about. If you a successful man/woman, people are there searching to know your history, what you did to become such type of person, etc. Hence, you can support or motivate others through your social media handles or helping them with a scholarship or investing in their business.
Read this also: how to apply for Tony Elumelu Foundation (TEF) grant 2022.
You can support the entire people in your birthplace or a place where you were trained by doing the important thing they don't have like road, light, borehole, hospital, school, market, church, mosques, employment, etc.
10. Help those that didn't support you
Last but the lest, meet those of your family member or relative and help them including those that didn't help you. Help them in such a way to make them know that it is good to be good to a child especially the one who is an orphaned.
Enjoy and spend time with your family members especially with your children and more with wife.
Top best things to do on your own
If you are searching for the top best things you can start doing on your own as a young man or woman, here are their list. With going to school, you can do them and have extra money on a daily basis.
Now, top best things to do your own are:
Driving/riding.
Writing.
Coaching.
Carrying a tutorial.
Web design.
Video recording.
Graphic designing.
Master of Ceremony (MC).
Music player at event.
Dresser.
Fashion designing.
Sales boy/girl and lots more.
3 things you need to successful
For anyone to succeed in life, he/she must has to need three things which are:
Determination; choose what you are good at, be determined and disregard about what other people are saying.
Consistence; be regular and consistent. Do not give up no matter how the situation is changing.
Believe; last but the least, believe. Don't believe what other people had promised you with.
Please share this article with your friends and remember to subscribe to our newsletter or follow us on Facebook for more important updates if you know that it has helped you know why and how you have to start doing something on your own step by step.