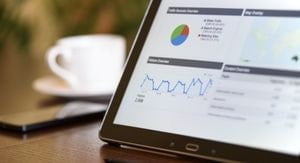 Are you searching for the meaning of affiliate marketing? In today's article, I will discuss with you what affiliate marketing is and how you can start it in Nigeria this 2022.
The tips we shared in this article will help guide you to become a successful affiliate marketer.
Affiliate marketing is the type of marketing where a middle person (you) gets paid by the owner of a product or service when someone buys from you.
As an affiliate marketer in Nigeria or anywhere in the world, you earn very high.
Before you become a professional in any brand/career, there are some skills you would need to possess. Happily, affiliate marketing doesn't require one to own a degree or master's.
But the most skills you must have acquired if you want to start an affiliate marketing are "copywriting" and "digital marketing".
I have written the step by step guides about how to become a copywriter and digital marketer. Feel free to have a read at them once you have finished reading this current post.
Now, I hope you have understood what does affiliate marketing mean? If yes, that is very smart of you. Please continue reading if you still haven't fully understood.
Surely, you will understand very shortly.
Let's start.
What is affiliate marketing and how to start it in Nigeria
It is a very, very nice idea to learn to become an affiliate marketer in Nigeria this year.
Being an affiliate marketer, you must just simply recommend other companies products or services to people (your audience) and get paid anytime people buy the products or use the services you recommend to them.
The most important thing about affiliate marketing is you make money even while you sleep.
You don't need to suffer yourself manually tracking how many people see your affiliate post or advertisement as robots do the job on your behalf.
By doing affiliate marketing, you will be given a unique code (always in the script). A link that is given to you is different from other people to make tracking a lot easier.
You can send the link to your audiences via social media, blog posts, email, text messages, etc. Continue to send your link as many times as you can to make more sales and money.
Affiliate marketing can however be grouped into Pay-Per-Click, Pay-Per-Sale, and Pay-Per-View.
The three main types of affiliate payment mechanisms are: Pay-Per-Click, where a money is paid based on how many audiences click on the affiliate link, Pay-Per-Sale where a money is paid per sale (lead) when a new sale is secure, Pay-Per-View is where you get paid for when people viewing your affiliate banner or videos.
I hope you have known what is the meaning of affiliate marketing and how money can be made from it. Now, let's start to see how you can become an affiliate marketer in Nigeria this 2022 even if you don't have a website and money.
First of all, you don't need to pay before you start affiliate marketing in Nigeria. Affiliate marketing is where to come to make money.
If you don't have money, don't doubt to start affiliate marketing. But rather, join to change your financial status.
You will know all the tips/guides you would need to start affiliate marketing in Nigeria. Also, please note that you don't need to have a website before you start.
A website is only helpful when you want to make higher sales than how you are presently having, reach out to new people, etc.
With a Facebook account only, you can start an affiliate marketing business in Nigeria and make like N300, 000 plus per month. But you need to make sure your Facebook audiences (friends and followers) are highly stuck with you (or understand your language).
Hence, that is why I suggested earlier that for one to start affiliate marketing and become successful in it, he/she needs knowledge of copywriting and digital marketing.
Copywriting skill helps you to know the tone to use when you are writing copy for your affiliate product or services to your audiences.
People are not very generous to buy a product or service they come across no matter how nice the product or service is when the copy that explains the product's or service's benefits is not well written.
In conclusion, as a copywriter and affiliate marketer, you know how to write pleasant copy to your audiences in such a way they would not hesitate to buy or take action.
While digital marketing skill on the other hand simply teaches you how to find out the keywords which your audiences are searching for on search engine, how to create easily search engine-found content, and how you can advertise to reach your potential audiences.
Please note that it is not necessary to learn copywriting and digital marketing as an aspiring affiliate marker. You can hire someone that is specialized in them to render these services to you.
But, it is very, very important (we can't say it is an added advantage) to learn copywriting and digital marketing first before you start affiliate marketing.
According to a professional Nigerian affiliate marketer, Adebusoye of www.adebusoye.com, he suggested that there are only six steps to becoming a successful affiliate marketer in Nigeria.
But here are our top hand-picked tips on how to start affiliate marketing in Nigeria this 2022.
How to start affiliate marketing in Nigeria.
Ask questions
Read books about affiliate marketing
Learn copywriting
Pick a niche
Build audience
Keep a diary every day
Apply and share knowledge
Exercise frequently
Keep a good eating diet
Be select of what you do
Take a short break at work
Be organized
Observe your workplace or environment
Studying other people behavioral pattern
Learn how to save money
Sleep at the right time
Do what you love
Best affiliate programs that pay high in Nigeria
How to make money blog,
Travel blog,
Tech blog,
online tool service website
A niched forum
And many more.
Top best companies to join their affiliate program in Nigeria
Jumia Affiliate Program,
Uber affiliate,
Konga affiliate,
ExpertNaire Affiliate,
Web hosting affiliates, e.g, whogohost.com, upperlink.com, domainking.com, etc,
Food delivery app affiliates, e.g, JumiaFood, KongaFood, etc.
Football betting affiliates, e.g, Bet9ja, BetKing, Nairabet, etc.
Travel affiliates, e.g, wakanow.com,
Copywriting affiliate, e.g, Grammarly.com,
News/gossip, tech, relationship, or general/uncategorized blog, join the Amazon affiliate program.
You can also read Oluboba's article on his digital marketing blog where he highly suggested the top best Nigerian-based companies to participate affiliate marketing program in 2022.
In his blog post, he pointed out that www.wakanow.com, www.whogohost.com, etc. are the best company to do affiliate marketing with if your niche is about travel and hosting/web development, respectively.
Hope this article has helped to show you top tips on how to start affiliate marketing in Nigeria.
Please feel free to share it with your friends and remember to follow us on Facebook for more digital marketing (business) content. Thank you.