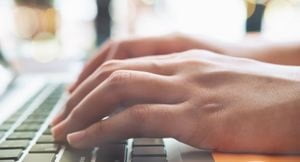 In this article, we shall show you what it needs to take to become a successful copywriter in Nigeria this year one by one.
As a professional copywriter in Nigeria, you earn at least N350, 000 or more per month. Most importantly, you would also have a chance to do what you normally love doing.
Copywriting is the process of writing an article that engage readers to buy or use the services or product you are writing about. It is very technical.
This type of marketing is one of the fastest ways people are making money nowadays. Many companies are presently hiring full-time, part-time, and freelance copywriters.
If you learn how to become a copywriter, I assure you will become happy with your career pursuit and monthly earning in the next three months.
Roles of a copywriter
The main role of a copywriter is writing an article or creating content about a product or service which a company offers. You can be employed to write posts about their products or services on their Facebook page, Twitter handle or on their website.
As a copywriter, you are supposed to direct video creator how to create it if it is intended to be used in advertisement. You also write articles on company's blog, send newsletter to company's email subscribers, etc.
Becoming a copywriter is very easy. You don't need to pay anybody before you can learn. If you know how to write correct and inviting tunes of language, you have by 80% become a copywriter. To boost your earning as a copywriter, that is when you would apply a few ICT methods.
In this era, you must offer some free services to people before they pay you money. You can't just start copywriting service today and hope to earn money from it tomorrow.
It is not all about get rich quick scheme. Copywriting service is a service that only gives out to you what you put in.
Presently, learning copywriting in Nigeria is very, very fast. You won't pay money to anybody, you won't buy books. Most importantly, you would not need to attend any seminar for learning to become a copywriter.
That is to say that copywriting can be learned online. Please follow the guides for more information.
Read these also:
1. How much does it cost to create a website in Nigeria this 2022.
2. Differences between a blog and website (vivid explanation).
3. Why you have to start doing something on your own this 2022.
4. Top best accredited domain registrars in Nigeria this 2022.
Here are the steps to become a copywriter in Nigeria even if you don't have any experience with it before.
How to become a copywriter in Nigeria this year
#1. Understand how language works
The first step to becoming a copywriter is trying to understand how language works. You must know how to write correct information.
We are not saying that you should write the big grammar in your writing but correctness. When it's come to video copywriting, you must be proficient and also possess pleasant voice. You can attend the school of language
#2. Practice regularly
Another step to becoming a copywriter is practicing writing posts regularly. Everyday, make sure you create post (copy) about something. As you are practicing, build an audience.
You can't become an expert in anything without regular practicing. In fact, practice brings expertise, hence, if you don't practice, you wouldn't become an expert.
#3. Write copy to people for free/cheap
To become a high paid successful copywriter, produce copywriting services for your friends or other people free of charge or very cheap. People would not know your service until you render it to them.
At the early time of your effort or dream to become a successful person, offer something to people very cheap or free of charge. People love free things.
Write copywriting post service to people free of charge. They would find you for paid one in future once they have understood the benefits of your service.
#4. Make connections with people
Connection-making in every type of business is important. In fact, find one person who you know that he/she is better than you. Let him/her show you what he/she has done to become a copywriter.
If you want the status of a person and make him/her to become your mentor, you would definitely become such type of person.
At this point, all your dreams should be about how to become a copywriter.
Make connections with people and try to get a mentor. Follow the instructions and guides given by your mentor, you would surely become a copywriter.
You can find mentors online or physically.
#5. Partner with the best copywriter
If you don't know how to do something, follow the procedures which the person that knows it applies to get what you want to be done.
Every you go to Nigeria, you must see two or more things made by copywriters, hence, learn from them. If you want to become a copywriter, read articles about entrepreneur, digital marketing, and many more.
#6. Care about your reader
As a copywriter, always note that you are not writing that content for yourself. It is also important to consider the user experience of your copy.
If you write, care about your readers. If the reader satisfaction is very poor, you would not be considered as a copywriter because a copywriter is a person who write copies that lets reader become more engaged even if it is not worth it.
Learn how to create a post that attracts people to share it, comment or it, and also take your desired action (use or buy your product/service.
#7. Pick a niche
Niche is the topic you are familiar with writing about. If you are just starting out, you are prone to write posts about different topics but as time passes, switch from that habit to choose a unique topic.
You can choose to pick relationship, digital marketing, nutrition, religion, etc. your niche. If you place your career at the standard position, CEOs of companies will demand your services.
Make sure you write quality copy/posts on a regular basis.
#8. Open a website
The website speaks a million words. As an intending copywriter, owning a website is a must for you. People will find you and the services you render via your website.
Hence, make sure you hire the best website developer to create and design your website for you. Sometimes the cost to create a website in Nigeria can seem to be too pricey but it worth it.
You will lose employment or contract in future if you don't put opening a website into consideration because a copywriter is closely related to author, book writer, publisher, composer, etc., hence, website is a necessary they must own.
For more information on the cost involved in creating a website in Nigeria, please refer to this article here.
#9. Become more humble
Be humble by practicing your career. Try to meet new people everyday through different channels such as social media, website, advertisement, etc. If you earn 200, 000 Naira this month, be humble to earn higher than that in the next month.
Humility is the striving of a person to gain higher level of success, fame, sale, etc. without making other people fall down. Anything you do to succeed is right but don't ever cause harm to others.
#10. Find a company
If you are consistent with practicing your copywriting career in Nigeria, many companies will become glad to bid (employ) your for your service. Perhaps, if they don't bid you, you can reach out to them.
Before you find a company to work with as a copywriter of their products or services, make sure you have already done many copywriting services (make fame) in the past.
That is when writing copy on your website or companies/your friends free of charge or very cheap as discussed earlier will become helpful to you.
Note that if you are finding a company to employ you for your copywriting service in Nigeria, they would also search about you.
If you have a website or a company you are already their copywriter, just simply sight them in your application request.
#11. Become a freelancer copywriter
Freelancing is the process of rendering your services to multi-companies at a time usually via online. You can be a fulltime copywriter of a company and still offering freelancing services to other companies.
Many entrepreneurs reveal that freelancing earns them money more than their fulltime job.
As a freelance copywriter, you can write copies for a company outside your country. You render your services online and get paid online.
#12. Learn SEO
As a copywriter, one of the most important skills you have to learn is search engine optimization. SEO is the process of writing a copy or script which brings presence of people to engage it through search engine like Google.
Being a copywriter, people will hope that you have already a professional at SEO. Learning SEO will add value to your copywriting service.
Before you perform real SEO, you need to open a website and start driving traffic (views of people) on it.
Try to make your website or YouTube channel ranks #1 on search engine anytime people search a keyword that relates to your services like "how to become a paid copywriter", "things to know to become a copywriter in Nigeria", etc.
Job opportunities for copywriters in Nigeria
There are many job opportunities for a skillful copywriter in Nigeria. Some are:
Become a staff copywriter at an agency/company.
Rendering copywriting service for your friends and small businesses.
Freelance copywriter.
Try to study a course that relates to copywriting in a tertiary institution in case you would meet a company/agency where education is important in their employment requirements.
In Lagos, the salary of copywriters ranges from N90, 000 to N600, 000. The salary depends on the years of experience and employment status.
This is quite okay as you would also do freelance copywriting services if you want to earn more than your salary.
One article usually costs between N5, 000 to N10, 000 in Nigeria. The amount you as a copywriter would be paid if you are to write a freelance article depends on the length of an article, its quality, category, etc.
Many companies that need the service of copywriters always target 1, 000 to 1, 500 words. You have to be cautious to discuss their products or services within the required number of words.
The nicer your copy, the higher you would be hired and recommended to other companies.
Qualifications to become a copywriter in Nigeria
Indeed, becoming a copywriter doesn't need many qualifications. Many employers seeks for the services you can render not your certificate.
To become a copywriter of a company in Nigeria, you must have had at least bachelor's degree in English, journalism, mass communication or other related course.
You can compress the decades into a day by reading the books written by the professional copywriters as they would really help you during your journey to become like them.
Some nonfiction books you can read if you are intending to become a copywriter in Nigeria this 2022 are:
| S/N | Book's Name | Book's Author |
| --- | --- | --- |
| 1 | The copywriter's handbook | Robert W.Bly |
| 2 | On writing well | William Zinsser |
| 3 | Breakthrough Advertising | Eugene M. Schwartz |
| 4 | The Ultimate sales letter | Dan Kennedy |
| 5 | The Adweek copywriter's handbook | Joseph Sugerman |
| 6 | The Boron Letter | Gary Albert |
| 7 | Scientific advertising | Claude C.Hopkins |
Why learning how to become a copywriter is lucrative
All agencies, companies, and businesses have gone digital this century, hence, they need an expert who is capable of describing and teaching how their services work or how people can use their services.
The best people who are suitable to carry out this service are a copywriter.
Hope you see companies that have a lot of posts on their blog. Those posts are written by their copywriters.
It is very important to learn how to become a copywriter in Nigeria as there are companies looking for their service on a daily basis.
There are about seven (7) categories of copywriting and it is very important to strive to learn all of them if you want to earn very huge as a copywriter in Nigeria and any country in the world.
Copywriting categories are:
Blog posts/Article writing.
Social media/Community management.
Emails newsletter writer.
Search engine optimization (SEO).
Digital advertising..
Video director.
Podcast scripts composer.
Categories of companies that need copywriter's services in Nigeria
Sales company
A company that deals in selling products or services use copy (text) to communicate with their buyers/customers. Hence, there is a high level of need of employing copywriters by sales companies.
News and media
While blogging isn't normally considered copywriting, any blog post intentionally used to influence a sale could be written by a copywriter (aka "content writer"). This is referred to as "middle of funnel" or "bottom of funnel" content.
Product Seller
E-commerce and catalog companies frequently pay copywriters to come in and touch up their product descriptions.
Lead magnet copy
Even though it's a short copy, a copywriter will often create multiple variations of an opt-in web page or pop-up to give a freebie in exchange for an email address
Developer
Copywriters will tell you about the features and benefits of an app, website, etc. which developers develop. The also explains the pricing.
Billboard
Copywriter help company which is trying to advertise their services or products via billboard. All those inviting tone of copies you read on the billboard are written by copywriter.
They know how to write to convince readers to take action (buy/use products/services).
How to make money from copywriting in Nigeria
From the discussions we have so far made in this post, it is understood that copywriters earn in different. They can be self-employed, become a staff of a company/agency, freelance, and many more.
The amount of Naira to make as a copywriter in Nigeria varies from years of experience, rate of your skills, category of copy you write, who you write for and many more.
You can insert an advert into your copy (blog post and YouTube channel). You can also make money by mentoring/coaching other people on how to become a copywriter.
There are some self-employed copywriter who I know that earn at least N500, 000 per month.
According to Idara Jack of www.smartbusinessinfohub.com, he said "a person working as a Copywriter in Nigeria typically earns around 250,000 NGN per month. Salaries range from 150,000 NGN (lowest) to 450,000 NGN (highest).
This is the average monthly salary including housing, transport, and other benefits. Copywriter salaries vary drastically based on experience, skills, gender, or location".
Hope this article has helped you know how to become a copywriter in Nigeria this year? Please if you have found it helpful, share it with your friends, and let's hear anything you may have to say via the comment section.