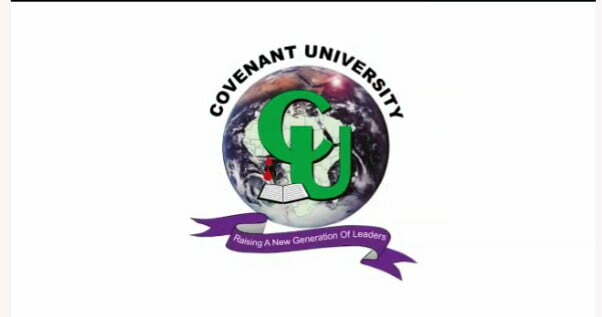 The Covenant University, Ota post UTME form for 2021/2022 academic session's application has been announced by the university's management.
All intending post UTME candidates of Covenant University are encouraged to start applying early to ensure a smooth transition to Covenant.
The admissions officers at Covenant University consider all information you present in your application. Meanwhile, the consideration for admission is holistic, not just the UTME scores or Covenant University screening admission Scorer (CUSAS).
They are hoping to find out who you are, as a person, and what you will bring to the campus_ your personality, skill set and potentials. Feel free to stop by their campus or make further enquiries to the admissions' Officers.
I am here to help you throughout the process of applying for Covenant University, Ota post UTME application for 2021.
Your decision to apply for Covenant University is the first step in this exciting journey and an important part of a great academic pursuit.
At Covenant University, you'll not only find yourself surrounded by some of the countries' best students but also be learning from faculty who are tops in their fields and dedicated to the art of teaching.
The instructions below will help guide you through the application process and answer all your questions regarding to 2020/2021 Covenant University's academic session.
Requirements of candidates for Covenant University Post UTME in 2021
Before you apply for any application, you must have in the first place known whether you will be eligible to get applied successfully or not.
And that is what I want to show you right now (eligibility for the application of Covenant University post UTME)
Prospective candidates of Covenant University are to obtain the JAMB forms, choose Covenant University and sit for the Unified Tertiary Matriculation Examination (UTME) of the Board as prescribed in the relevant advertisement for the 2020/2022 admission exercise

Applicants must complete the Covenant University Application Forms, available online. Use the Application Requirements checklist section below to prepare your application for submission
Review the website information for your programme of interest, specific programme admission requirements and application deadlines. All materials submitted in support of the application must be received by the published application deadline.
How to apply for degree admission in Covenant University in 2021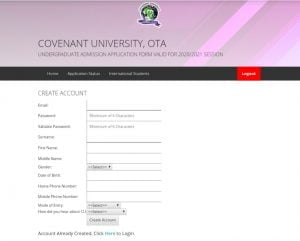 Applying for Covenant University post UTME is very simple and note the application can only be processed online.
1. International students should visit here for more information on how to apply.
2. Nigerian aspirants should visit here to start your application.
What prospective students of Covenant University should do in 2021
It is the responsibility of the applicant to make sure that all admission materials are received by the designated application deadline. Because neither the Admissions Officers nor the Head of Departments can be responsible of informing the applicant about erroneous or missing materials.
All materials (original, photocopied, or electronic document) submitted in support of an application become a part of Covenant University application record and cannot be released to the student or a third party.
If application materials are forged, falsified, or altered, the Admissions Officer will notify all relevant officials. Submission of such materials will disqualify an applicant for gaining an admission.
Post UTME application fee of Covenant University in 2021
The application form fee for the 2020/2021 academic year is N7,000 (Seven Thousand Naira Only)
Post-UTME Screening fee is N2,000 (Two thousand Naira only). Transaction charges apply _N600 (Six Hundred Naira Only) for bank / over the counter transaction.
Payment can be made at these authorized banks_ Access, Zenith, UBA, GTB, Stanbic, Keystone, CMFB etc.
You are required to walk into the bank, provide applicant's name, make payment and receive the PIN and RECEIPT NUMBER to be inputted on the form.
The application form can be saved with a view of completion at a later date. An application cannot be submitted if the application fee is not paid at the end of the form
Meanwhile, the screening schedule would be accessible via the Screening Booking. All candidates are required to pay the sum of Nine Thousand Naira Only (N9,000.00) which entails Seven Thousand Naira (N7, 000.00) for the form and Two Thousand Naira (N2,000.00) for post-UTME screening.
Documents needed to be uploaded to Covenant University's candidate profile
Below are the documents you must upload to your profile on Covenant University if you want to gain an admission successfully.
Recommended: Post UTME Form Of Niger Delta University (NDU) For 2020 Is Now Out
1. Statement of Purpose
First thing you would upload to your profile when applying to sit for 2020/2021 Covenant University's Post UTME or pre-admission excercise is writing a letter why you want to study there.
A statement of purpose (not more than 500-word count) should be prepared and submitted online with the application. The personal statement should address your intellectual interests, academic and professional objectives, visions, and goals for life. Please review the academic programmes for details listed by specific undergraduate programmes.
2. Uploading of Credentials
The application would only be considered completely if you upload the following credentials:
Birth Certificate
Scanned 2020 JAMB result with your clearly visible passport photograph
WAEC or NECO Result (if available at the time of uploading)
Letter of Sponsorship by Parents
Please note that all the documents must be in PDF format and not more than 100kb.
3. Principal and Pastoral Reference Letters
Three official recommendations are required for your application to be completed. These recommendations must be from persons in positions to appraise your potential for undergraduate study at Covenant University. These persons should include the following:
Spiritual Leader
principal or any teacher from your school and an Alumnus of the Covenant University (Optional)
The university requires the use of the online recommendation system, which utilizes a secure system that will:
Automatically email your recommendation providers with instructions for online submission of the recommendation
Allow applicants to track recommendations received or not received and follow up with recommenders who still need to submit their appraisals
Expedite the processing of the recommendations, which will be included in the online application once submitted
Automatically notify you when recommendations have been received.
Covenant University Post UTME 2021 deadline
The post UTME registration portal of Covenant University is still ongoing, we therefore actually for now don't the deadline for this application.
However, we shall update this article immediately if an information of the deadline of the post UTME registration of Covenant University for 2021 is being disclosed. That is to say, visit here regularly.
Please if you can find out that this article helped you know everything about Post UTME application of Covenant University in 2021, then please share it with your friends, do let us know if you have any questions and like our Facebook page.
Related: how to upload WAEC or NECO results to your JAMB profile in 2021 correctly (ultimate guide)