Are you a prospective student of Coal City University in 2020 and searching for the procedures of how to apply for its admission without making mistake? Keep reading this article because in it, I am going to show you everything about Post UTME of Coal City University.
Coal City University is one of the best private universities located in Enugu state in Nigeria, in case you don't know the type of University it is.
Prospective student of Coal City University must have scored 160 points and above in JAMB examination in 2020 and his/her O'Level result must be uploaded on his/her JAMB profile.
Candidates must also get a minimum of five (5) credits in his or her O'Level examination.
However, candidates who didn't choose Coal City University as their first choice should change it to first. For guidelines of how to change course or institution from one choice to the other, please click here.
See this also: JAMB CBT centres, JAMB head office and zona offices (branch) in all thirty-six (36) states in Nigeria (their location and vivid address).
How To Gain Admission Into Coal City University In 2020 With Post UTME (Step-By-Step)
It's very important to know how to gain admission into Coal City University through JAMB and post UTME.
As a result of that, we're going to discuss any place about the application of Post UTME of Coal City University in 2021 with step-by-step procedures. So, let's continue!!
Currently, CCU admissions are only issued to candidates whose O'Level results are available in JAMB portal.
To ensure you won't miss the opportunity of gaining admission into Coal City University, make sure you upload your result on your JAMB profile using the services of a CBT Center or any JAMB Offices.
Meanwhile, you are expected to choose Coal City University as your first choice of university while siting for the Joint Admission and Matriculation Boards' (JAMB) Universal Tertiary Matriculations Examination (UTME).
The post UTME registration fee of Coal City University in this year 2020 costs N2, 000 and it must be paid on the university's website.
Read this also: if school has finally admitted you, what documents should you need to have for the course and deparmen registration in 2021.
How To Apply For The Post UTME Of CCU In 2020
The application procedures of Coal City University are as follow:
To apply for the post UTME of Coal City University, please click on this link.
Then select the type of program you want to register (Degree programme)
Enter your JAMB registration number correctly
And finally click Submit tab located at the bottom side of the page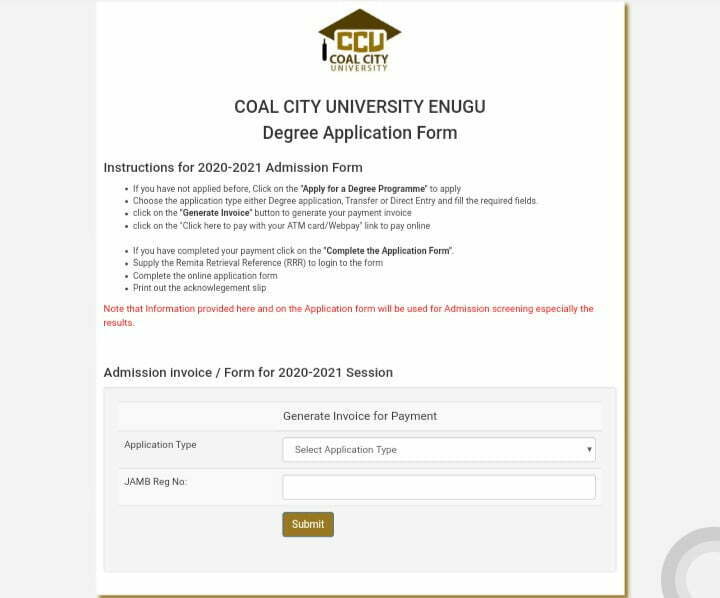 After that, an RRR invoice number will be generated for you by the system automatically
Make payment of two thousand Naira online with mobile phone or going to any nearest commercial banks
After the payment has been made successfully using any suitable methods, then go back to the university's website by clicking here to complete your registration
Once you are on the portal, you will be asked to enter your RRR number, then enter the one you made payment with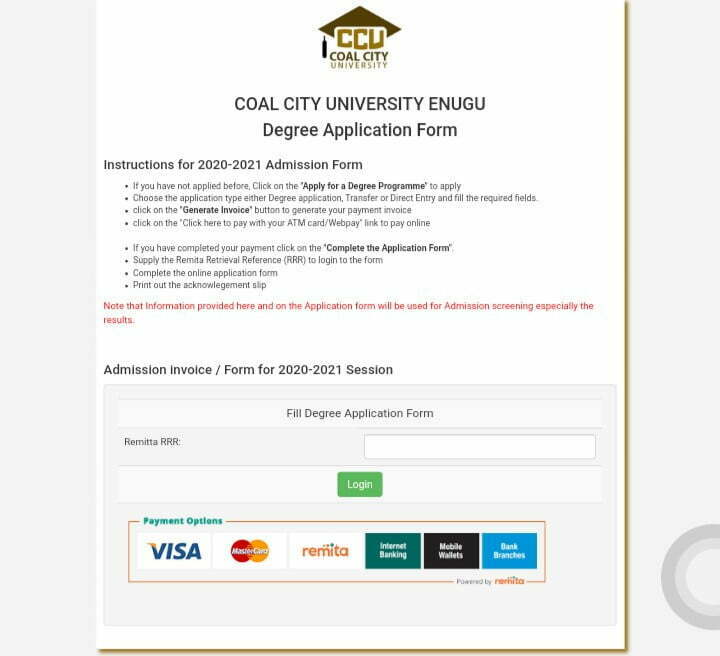 If your payment is successful, the portal would open itself for further registration
Upload your recently snapped passport photograph in red background and print your registration confirmation slip.
Ensure to enter your personal email address so that any information from Coal City University should be communicated with you at the right time.
It's very good idea to be checking the website of Coal City University regularly for more information.
Read this also: how to check the admission list of an institution to know whether you are being admitted or not in 2020.
Things To Know More About The Admission Application Form Of CCU
Top things to know right now about the post UTME registration of Coal City University is that its deadline has not yet Known but it'll likely end in December 2020, this is number one.
The second thing to know for now is that its admission lists of the successful admitted students for 2020 have not yet out.
After you have completed your post UTME registration on the portal of Coal City University, remember to print or download the registration confirmation for your proof that you have completely registered. It'll help when doing admission clearance (course and department registration).
Another important thing to know is that you shouldn't pay for any body for assistance in gaining admission. It's a very big crime offence, thus, avoid doing it. However, gaining admission into Coal City University is based on your academic performance (Post UTME score, O'Level grades and JAMB points).
See this also: how to weigh your acedemic performances (O'Level grades, JAMB points and post UTME score) to know whether you'll gain admission or not in 2020.
Conclusion and more to read
If you know that this article has helped you know how to apply for the post UTME examination of Coal City University in 2020, then please remember to join the newsletter of fastknowers.com.
Also if you have any question in mind, please don't forget to ask in the comment section of this article.
You may also have friends who are looking for the descriptive information like this, if so, then share it with them.
What you should know in mind is that it's a pride to study in private universities, hence Coal City University is one of them, therefore, try to gain admission into it.
I have even forgotten to remind you about the scholarship application of Coal City University. Do you want to read more about it? If yes, then click here to continue.
Read this also: JAMB examination centres (JAMB CBT) in Enugu state in 2021.