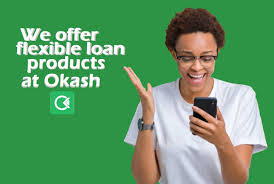 OKash is a Micro-lending company which was established in 2018 by Blue Ridge Microfinance bank in order to be providing financial assistance to the people who are in need. In this today's post, I will show with you step by step how to apply for a loan by using Okash mobile app.
If you want to apply for an instant loan using your mobile phone, you must have heard a lot about Okash loan app. As a matter of fact, Okash is the best loan app in terms of anything for the people who want to use their mobile phone to apply.
Here, on this page, we will be discussing Okash mobile app, its interest rate, requirements, how to apply, how to repay Okash loan, etc, step by step.
How to download Okash mobile application
You can download OKash from Google Play and apply for your Okash loan account in seconds by simply select your preferred bank account, link your active bank card for repayment, fill out a set of questions and get a decision on your loan application in minutes without signing any document.
OKash is good because it does not limit your work, income, or other conditions. As long as you are 20-55 years old, all you need is an Android device, a data connection, a means of identification, as well as valid bank account and card.
Read this Jamb cbt apps to pass JAMB in 2022 (listed & compared)
It is a convenient mobile app that allows users to obtain short-term cash loans.
In one of our previous articles, Okash loan app is listed among the best loan apps in Nigeria for quick loans without any collateral and importantly everything is paperless.
How to register for Okash loan application very fast
Okash loans can be applied by individuals, salary earners and business owners through the Okash mobile app which can be installed from Google play store.
Now, the step by step guides of how to apply for Okash loan using mobile phone are:
Click here to download and install Okash Loan mobile app on your device
Register by creating an account
Login into your Okash account
Fill the required spaces with valid information
Check your loan limit and choose the amount you want to apply for
Choose loan duration and click "apply" button
Then, wait for a few minutes to get a notification message that your application is under review
Once the application is reviewed and approved, your loan will be transferred to your Opay wallet from which you can then withdraw to your local bank account.
Okash loan app requirements
Applying for Okash loan and make your application get approved very fast, the following are the application requirements.
Okash loan app application requirements are, you must provide:
Valid bank details account number, account name)
Valid means of identification
ID Photo
BVN number
Birth certificate and must be 20 – 55 years
Monthly income
Complete Okash loan application because incomplete application will not be regarded
Interest rate of Okash loan
Okash interest rate is 0.1% -1% daily with 36.5% per annum and a one-time application fee which can range from N1,229 – N7,000 in Nigeria.
Benefits of using Okash to apply for a loan
Applying for a loan using Okash mobile is very interesting and below are some of the best benefits of Okash loan:
Okash is fast, secure, reliable and very simple to use
The service of customer care representative representative at Okash is very great
No collateral and document or paperwork
No hidden charges
You can obtain up to N50,000 loan at the first time.
Remember to read top thirty advantages and disadvantages of social media platforms.
How to repay Okash loan manually
Okash uses automatic repayment system that instantly debits your bank account balance when it is time.
However, if you want to repay your Okash loan manually, then simply follow the simple step by step guides below:
Open the Okash app on your mobile device
Login into your account
Click on the "Make a repayment" option
Fill in the required details
Cross check for accuracy
Attach any required details after cross checking
Select the "repay" button
Finally, once the transaction is successful, you will receive an alert to confirm that the loan has been repaid.
How to contact Okash customer care
Do you want to know how you can contact customer care of Okash? If yes, then please forward all of your enquiries, complaint, request, etc to the OKash customer care service department via:
Conclusion
If you know that this article has helped you know how to apply for a loan using Okash mobile phone, please share it with your friends and don't forget to subscribe to our newsletter for more important information and updates from us.
Read this also: list of all commercial banks in Nigeria and their current CEO