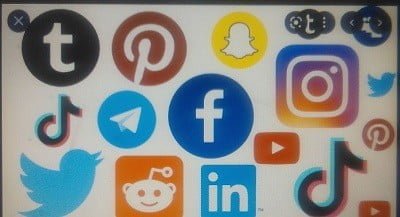 Social media platforms are a useful tools for any digital business which help in bringing advantages such as engaging with audiences and boosting website traffic. However, there can also be some disadvantages of social media. In this post, I will show with you top thirty advantages and disadvantages of social media platforms.
There are millions of people using social media platforms. Hence, it's a great opportunity for your business to reach a large pool of people that are interested in your products or services.
Social media has strongly influenced the lives of people and everything in the whole world. We are totally dependent on technology and social media that one cannot even imagine living without it.
From making connections through worldwide connectivity, online businesses to digital marketing, creating brand loyalty to awareness, social media has tremendously helped our lives.
Perhaps, we are happy to have social media in our lives because with it, we can seamlessly access and update any information. Perhaps, nobody can deny the fact that using social media too much can cause major health issues which can have a disastrous impact with our lives.
Using social media regularly can cause disruptions in your lifestyle, the pattern of work, and sleep patterns. It can additionally lead to an unproductive mind by lessening the ability to focus, think, and reason out.
Read this also: health effects of masturbation and how to prevent (step-by-step)
Top thirty advantages of social media platforms
Below are the list and explanation of top thirty advantages of social media platforms to an individual, business, education, community, nation and the world at large.
Share anything with others very fast
One of the top thirty advantages of the introduction of different social media platforms in the society is it helps individual or organization share anything with others faster, however, in the cause of sharing things with others, there are some users who get a lot of disadvantages. Please continue reading to find out more.
Social media is the best platform to post anything you feel like. Be it a song, a poem, an artistic creation, a tempting dessert recipe, and much more.
It enhances and showcases the creativity of a person and helps in reaching it out to millions of users. You never know by sharing your artistic creations can pave the way for your success until you use social media platform.
Helps in building communities
Another one of thirty advantages of social media platforms to the world is it helps in community building, thus, if you don't want to earn any amount of disadvantages when building connection with other people, simply connect with them using social media.
It is not a news that we are all living in a diverse world where there is an existence of different types of people, i.e., from different communities, religions, and diverse backgrounds.
Social media helps in the unification of people by connecting them through the same platform. It helps to build relationships among communities by creating a feeling of oneness.
For example, foodies can join the food blogger community, students can join student groups while game lovers can join communities that relate to games and so on.
Connectivity
One of the thirty most important advantages of social media platforms is connectivity, hence, it can connect innumerable users from any place at any time without causing any disadvantages in the process any more.
By using social media and its connectivity, the information could be shared across the world and building relationships with each other also become easy. Hence, it leads to worldwide connections.
Social media creates a feeling of closeness and bond amongst each user.
Brand reputation
Social media platforms can help in increasing business reputation by building strong relationship amongst people, placing a brand reputation promotion (advertisement) leads to an increase in sales thereby increasing profits.
Businesses get great help from the reviews and comments given by the users. Many business firms have increased revenue just because of social media and because of the likes it received from the users.
Being making a reputation of brand a one of top thirty advantages of social media platforms, business owners and customers cannot get any disadvantages.
Informing and updating
Another most important advantages of social media platforms is it is used in delivering information and updates in the right time to the people who need them most.
Through social media, you could keep yourself updated with the information about any happenings in the world or in someone's life.
Apart from television, radio, or newspapers, social media can help you to provide correct information by showing the true picture of contents and resources. It helps in showcasing the real-world globally.
Read this social bundle code for Airtel network (step by step guides)
Creating awareness
Social media is very advantageous because it can be used to create awareness in the minds of people. It acts as a medium of information that helps people to do innovations and achieve success through the enhancement of skills and knowledge.
Without experiencing any couple of disadvantages, social media platforms have made every one aware of every happening around the world, thus it is one of the top thirty advantages.
Enhancing education
When it has come to the platform that boosts education, social media platforms are proved to be beneficial in the field of education.
It makes learning easier by connecting educators or teachers and experts all over the world with the learners. It also helps in improving skills by enhancing knowledge and creativity.
Social media platforms create flexibility in the learning process where learners and educators can connect at their own pace of time.
In conclusion, as social media platforms is very useful in educational field, it can now be counted as one of thirty advantages, do you think it has disadvantages in educational field? Please let me know via the comment section.
Promoting business
In the field of business, social media acts as a great promoter. It also serves as a medium to post anything which leads to promotion and paves the way to success.
Social media helps in promoting business profitably and connecting with the users in the right way. It builds relationship among users and creates sales for your business, which is essential for the growth of any business.
Improving mental health
Are you stressed or depressed? Or are you tired of loneliness? If yes, then with social media, you can kick them out. Social media platforms help in maintaining mental health by removing sad from the hearts of people.
Social media platforms act as a great stress buster or mental health reliever by connecting to various people across the world and building positive relationships with them.
There are various groups in social media, and you can come across many people who may help you to fight with stress issues, depression, and isolation.
It can build healthy relationship with people by generating positive vibes and a happier mood. Social media is advantageous because it improve mental well-being.
Interacting with customers
In business, one of the core things which customers consider before buying a product or service is the interactions of the other customers.
Social media platforms help in improving customer interaction by delivering the products and services and getting feedback on the same.
Different types of users will provide different comments and reviews, which could help you in improving the areas you need to work on to provide customer satisfaction.
See also 35 things that you can do to make your girlfriend happy.
Top ten disadvantages of social media
Technology, whether it comes to laptops, gadgets, or social media, everything has its advantages and disadvantages, disadvantages of social media depend on how we utilize it.
Either we are using it positively or not. It is we human being who have to decide about how much time we have to spend on social media so that our work doesn't hamper. We have to set a specific time limit for the proper usage of social media because technology cannot replace anyone in our lives.
According to Globalwebindex, one user is spending an average of 3 hours per day on social networks and messaging
It is good to have a break when using social media break in order to improve your physical and mental health. For example, you can use social media for a fixed number of hours for work or for a fun time.
Now, top ten disadvantages of social media platforms are listed and explained below step by step.
Ineffective use
Social media can be used ineffectively, for example, using social media to push for sales without engaging with customers or failing to respond to negative feedback may damage your reputation, hence it is a disadvantage.
Ineffective use of social media platforms one of ten top disadvantages of social media platforms and if you think that it can bring advantages in any means, please let's hear you via the comment section.
Evaluation
While it is easy to quantify the return-on-investment in terms of online sales generated by social media advertising – there are some less tangible benefits.
It can be hard to measure and place a monetary value on the brand awareness and reputation that social media can bring. It's difficult to know how social media effects sales in-store.
Causing distress to someone's feelings
I really feel sad when I see people using social media as a platform to hurt the other person. I wonder why it is so.
The unnecessary trolls, feedbacks, comments on another person's life makes me feel very disappointed. What is the need to do all this? Is social media for all this? I don't think so. You can use it for a noble deed instead of hurting someone or giving them pain and suffering.
Some people are not posting anything to hurt others, just sharing their point of view, but who's reading the content and not agree with them may become upset or disappointed with their opinion. It causes disputes in family, friend circle, business, etc.
Decreases quick-witted skills
I would totally agree that social media has decreased real-time face-to-face conversations with our buddies. People have started relying on text messages by simply typing a text.
Internet users are not quick-witted; they take time to think and then reply. It has a terrible impact on their mental health.
Can you imagine which element is missing nowadays? The element of love, friendship, enjoyment, fun time, peace and much more is being missed out knowingly or unknowingly because of a lot usage of social media.
They can express the same feeling using write words when they are in front of others.
Recently, we have explained to you how social media platforms is one of the thirty advantages as it contributes immensely in educational growth, meanwhile, here social media causes disadvantages to some other people when it has come to acquiring a skill.
Opening up for embarrassment
It's easy for posts to go viral on social media. People keep a close eye on the good and the bad on social media. If you aren't careful about the content you post, you can end up embarrassing your company and getting caught in an awkward situation.
On social media, you may be criticized by other people, hence, that can make you quit anything you are doing which brings criticism.
Conclusion
If you know that this article has helped you know the the top thirty advantages and disadvantages of social media platforms, then please share it with your friends and remember to subscribe to our newsletter for more important updates from us.
Read this also: Facebook active status (how to turn it off and on) step by step