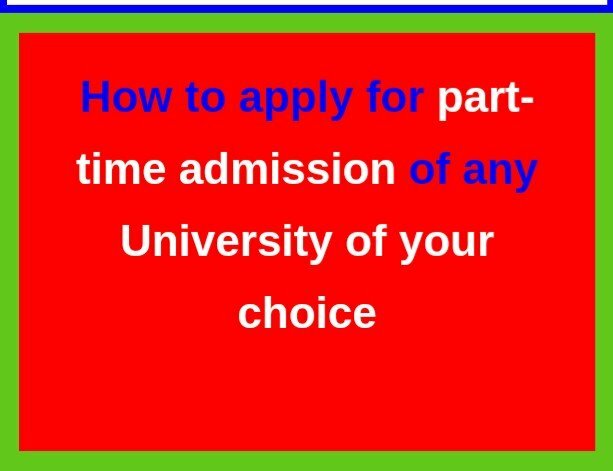 Do you want to run part-time programme in one Nigerian universities? If yes, the I am now going to show you how to apply for part-time admission into the university which you like in Nigeria.
In this article, you'll know the benefits in studying part-time programme and the eligibilties of interested applicant for applying.
Do note that part-time admission is only offered to a qualified applicants. Thus, there is nothing like bribing in this case.
If you don't want to get scammed by an unscrupulous online fraudsters around who claim that they can help you in gaining part-time admission, then read what I am explaining below.
Read this also: how to pay to JAMB directly and buy an E-Pin by yourself (very fast and scam free).
Why Do People Apply For Part-Time Programme Of A Nigerian University
If you're doing business or an employee in Nigeria or outside, you may find difficult to study in school every time, right?
So as a result of inadequacy of time to be in school in almost every time, part-time programme is designed to help.
In Conclusion, part-time programme allows you to come to the school in one time in a semester (on the examination day only).
As I have explained to you the reasons why people apply for part-time admission, now let's proceed to show you how to apply for it in every university of your choice.
How To Apply For Part-Time Admission Of Every University Of Your Choice In 2021.
If you don't have advanced level certificate, you can also apply for part-time programme of the university through JAMB portal and below are the procedures.
The Joint Admissions and Matriculation Board (JAMB) shall ensure that online application platform is made available throughout the year for the non-regular entrants, please note.
All candidates, irrespective of any institution they wish to apply for their Part-Time or Distance Learning programmes must register their admission first with the Joint Admissions and Matriculation Board (JAMB).
Below is the procedure of how to register for part-time admission on JAMB portal and gain admission into the university of your choice:
Prospective Part-Time, Sandwich and Distance Learning candidates are advised to visit the JAMB e-Facility portal via https://www.jamb.org.ng/eFacility./Login
Click on the Part-Time Registration Link (Part-Time Students)
Proceed to make a payment of Three Thousand Five Hundred Naira (N3,500) only via Remita.
After the successful payment, revisit to your account to fill in your information
Finally, submit registration form online.
See this also: how to change the course and institution on JAMB profile (step-by-step guides) in 2021 by yourself.
When Applying For Part-Time Programme, What Notices Should You Take Note Of:
Applying for part-time admission can be carried out by candidate (his/herself) or kindly visit any of the JAMB Accredited CBT Centers
You shall not be considered for admission into any institution of your choice without the above registration.
Candidates who sat for UTME or Direct Entry Examination but wish to apply for any of the institution Part-Time or Distance Learning programmes do not need to request for new JAMB REG number during online registration. (Kindly supply your previous REG Number and proceed with the registration)
After Successful payment and registration on the JAMB Portal you are to proceed to the institution of your choice to purchase their Part-Time, Sandwich or Distance Learning admission forms.
Make sure to Upload your O'level results on the JAMB CAPS Portal as admission to any of the Part-Time or Distance Learning programmes will be through the Central Admission Processing System (CAPS)
Part-Time, Sandwich or Distance Learning Candidates will not Sit for any UTME Examination conducted by JAMB but only from their respective institution.
It's very important to know that different universities charge part-time programme candidates differently and it's based on the course which candidates wanted to study.
Conclusion
Read this also: courses that are approved to study on part-time programme and the ones that are unapproved in all Universities.
In conclusion, below is the information you need to know:
Candidates for Distance Learning, Part Time and other related modes of study will apply through JAMB before approaching their preferred institutions to process their admission with JAMB Registration number.
JAMB Application Fees for part-time programme would be three thousand five hundred naira (N3,500) only.
Meanwhile, all categories of candidates should be processed to JAMB through CAPS.
Distance Learning, Part Time and Sandwich candidates need not sit for UTME and sitting for it does not disqualify them.
Part-time candidates would pay to their preferred institutions a Processing Fee that would be determined differently by the institutions.
If you know that this article has helped you, please subscribe to newsletter of this website for more important information via your email address.
Always want this website to be developed? Please share this article with your friends on Facebook or Twitter and remember to comment with your question.
Please like our Facebook page or follow us on Twitter and roll with me!
Read this also: top 20 universities in Nigeria which are recommended as best to study Pharmacy in 2021.