Ofu LGA (Local Government Area) is one of the developing and largest LGAs in Kogi state and in this article I am going to show with you the list of all wards in it.
How many Local Governments (LG) are in Kogi state? Did you know? If you don't know, then click here to know them now.
Read this also: list of all states in Nigeria and their slogan names (plus everything) step by step explanation.
Keep reading this article as I am about to show you everything about every ward in Ofu LGA of Kogi state and some of their counselor.
How many wards are in Ofu LGA of Kogi state
Ofu Local Government Area of Kogi has presently gotten eleven (11) wards only and they are now listed and explained below:
Iboko/Efakwu ward
Igo ward
Ochadamu ward
Alloma/Okula Ward
Ofoke ward
Ogbonicha ward
Ugwolawo ward I
Ugwolawo ward II
Itobe/Okokenyi ward
Ejule/Alla ward
Aloji ward.
Present councilors of every ward in Ofu LGA for 2021 and everything about them
The following names below are the Councilors of every eleven (11) ward in Ofu LGA of Kogi state. These people below were chosen by Alhaji Yahaya Bello, the governor of Kogi state.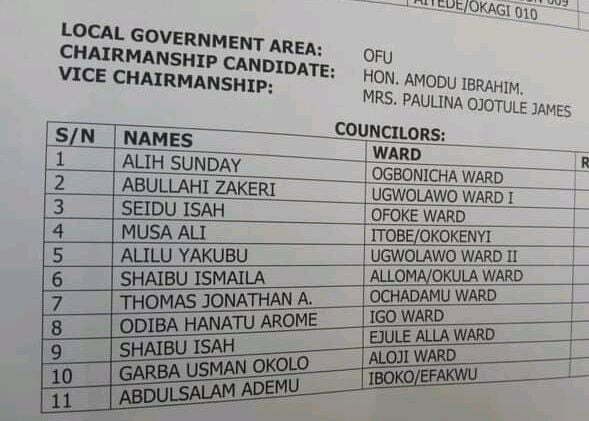 As you can see from the picture above, the present chairman of Ofu Local Government is Honourable Amodu Ibrahim while the vice chairman is Miss Paulina Ojotule James.
The names of the people (officials) above were being selected and registered by governor Yahaya Bello as permanent position, i.e, they are not a care taker.
Meanwhile, the voting of all local government chairman in Kogi had been done on 12th December, 2020 while all Councilors were being sworn in on 15th December, 2020.
Villages in some popular wards in Ofu LGA
The most popular wards in Ofu LGA of Kogi state are: Ugwolawo ward I, Aloji ward, Ejule/Alla ward and Ogbonicha ward.
But I will show you the villages in: Ogbonicha ward, Ejule/Alla ward and Ugwolawo ward I (one) right now.
1. Villages in Ogbonicha ward
Ogbonicha is one of the most popular and famous ward in Ofu LGA of Kogi state. In fact, it's the home or parental town of the then Kogi state governor, Late Prince Abubakar Audu.
The following are the villages under Ogbonicha ward: Ofashe, Omodododa, Ede Fly, etc.
2. Villages in Ejule/Alla ward
Ejule is one of the biggest villages in Ofu LGA of Kogi state. Many Honourable men and women are residing in Ejule because of its fame.
Below are some villages in Ejule ward: Alla, Agojeju, Okele, Ofakaga, etc.
3. Ugwolawo ward I (one)
Ugwolawo is the headquarter of Ofu LGA, thus it's very large. Due to its large in size and population, it's divided into two (2) parts, ward I (one) and II (two).
Now, the following are some villages in Ugwolawo ward I (one) of Kogi state: Allome, Ofolijinwa, Olofu, Atoda, etc.
4. Ochadamu ward
The list of some villages under Ochadamu ward are as follows: Ofokopi, Akpagidigbo, Umomi, Alobi, etc.
Ochadamu is indeed one of the strongest and famous wards in Ofu LGA of Kogi state.
Conclusion
If you haven't read about six (6) geo-political zones in Nigeria, the you should have to click here and read now. Thank you.
Before I finally conclude, if you know that this article has helped you know the list of all wards in Ofu LGA of Kogi state, please share it with your friends and loved ones.
Finally, to get informed about any post I will be posting related to this henceforth, don't forget to subscribe to the newsletter of this website by clicking here right now (note that it's only your email address we want and we wouldn't publicize it).
If you also want to get in touch with me on Facebook, then this is the link to my Facebook profile [click here].
Lastly, read this article: how many tons of cashew nuts are distributed from Nigeria (especially Kogi state) yearly (cashew nuts statistics for 2020).