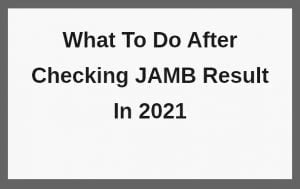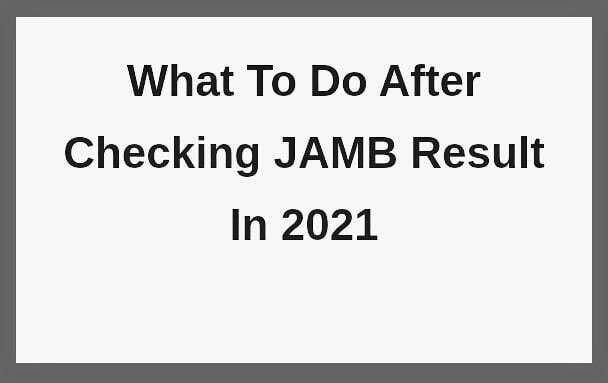 Are you searching for what you can do after checking your JAMB result?
In this post today, I will show you top best eight (8) things you should start to do after you've checked the result of JAMB examination which you've just sat for in 2023.
Do you have any person who wrote JAMB examination? If you have, then I am going to show you the things which that person should do after he/she has checked his/her JAMB result.
Every year, JAMB releases the results of millions of candidates, and it doesn't offer an admission to 50% of the applicants. So in this process, candidates should think to know what he or she will do next.
This thinking is not only to be made by those who've scored very good in JAMB examination but also by those who failed entirely. 
Read this also: how to buy JAMB E-Pin in 2021 by yourself for registration (seven proven methods you should use to save time).
What to do after checking JAMB result
For those who have passed JAMB, this is not say that your admission is 100% very sure, you must apply some strategies in order to secure an admission by yourself. 
"I have written and passed JAMB, when will JAMB start to be giving admission?" is the frequently made statement or question of many candidates. However, every candidate is needed to know any information (latest news) about the admission of their chosen institution.
For those who failed JAMB. It is does not implies that you are a lost person, let you in fact start to do some works for another coming year as you are studying.
In this article, we have listed eight (8) advisable ways for both failed and passed candidates should do after they have checked their JAMB score.
See this also: approved JAMB registration centres (JAMB CBT) in every state, local government and location in Nigeria for 2021.
Below are what candidates should be needed to do after they have checked their JAMB results.
1. Check your score & scale it
If you wrote JAMB, you would not directly gain an admission into university. However, check your JAMB score and see whether it can make you Gain an admission into your choice of institution or not.
Now how should you scale your work (educational performance)? Scaling your work is not different from calculating the aggregate Cut-Off mark and to know how to calculate the aggregate cut-off mark, click here.
2. Check the cut-off mark of the course you want to study
After you have confirmed that you have crossed first choice's cut off mark, then think about the competition of your course.
If your course is very competitive, then decide to change your course. You should read this article to know how to change your course and institution.
3. Decide whether you change institution or course
We've already said this earlier. That is, if you had scored very low in JAMB examination and the course or institution you want to study in requires high score, then kindly go and change your institution and course.
Please be informed that changing of course or institution in order to gain admission must requires any body to pay money to JAMB through any cyber cafe or approved JAMB head office.
However, you can check our article on how to change a course or institution on JAMB portal) by yourself with your device and internet connection (step-by-step guide).
4. Wait patiently for admission while doing what you love
After the completion of writing JAMB examination or if the three things we discussed above recently (i.e, number 1, 2 and 3), candidates frequently say "I have written JAMB let them admit me na". calm down first, don't let your blood pressure rise above normal.
5. Continue doing what you enjoy
We csn know that many candidates will be on fast until their names get included in the  admission list. This is not necessary because, you are not the one to admit yourself.
Therefore, forget the admission process for those who have its post. If you have done the necessary things, then forget that you wrote Jamb and continue with your life.
6. Acquire a skill
JAMB always releases first batch admission list between August and September. Hence, you don't have to waste time. 
Let you find a chance and learn any handwork you are fit at.
Skill acquisitions is the thing that is developing the world in this era. Thus, a person who has acquired a very lucrative skill can live on his/her own independently.
Now, if you want to know how to find a career for your child as a parent.
7. Get updates about your school's post UTME exam
As an institutional aspirant, you should always be informed about any current news regarding your institution.
8. Ask questions about your school admission process:
You need to know everything that is going on in your school of choice.
For example, when every institution start their post UTME Application and examination we will post it on this blog so as to not let you miss any important updates. 
Conclusion
Hope this article has shown you the top things you should do after checking JAMB result.
Please if you have any questions, feel free to ask in the comment section and also like our Facebook page for getting more  important updates in future.