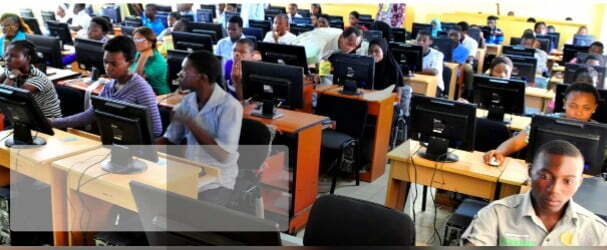 Do you think that as you're not a computer expert operationally, you will cannot write JAMB examination or are you here aimfully to know the keyboards which are useful when writing JAMB examination on the computer? Anyway, we shall show you 9 (nine) useful keys for JAMB candidates in this article today.
Computer that you'll write your JAMB examination with will get mouse installed. However, if you don't know how to use mouse, you will consider using keyboards on it.
Now, you're going to use the keyboards, right? Do you know what each of the keyboards is using for? If you don't know, then continue reading.
See this also: how to apply for national ID card in order to get your NIN and register for JAMB in 2021.
If you know how to control the movement of mouse on the screen of computer very fast without making mistake, you shouldn't need to use keyboards any way. Keys were designed by jamb for those who are computer illiterate.
9 useful keys on the keyboard of computer for JAMB candidates 2021
Most candidates complained that they don't know how to use mouse, hence it's caused them to fail in JAMB examination. Thus, JAMB has worked 9 useful keys for such candidates.
You're now going to know all the keyboards you should be using to write JAMB examination very fast and convinient in this upcoming examination, 2021.
| | | |
| --- | --- | --- |
| | Familiarity with the use of mouse | Non familiarity with the use of mouse |
| 1 | While writing jamb examination in an approved cbt center, you can use the mouse which is installed on your system to select answers if you're familiar | If you're not familiar, then you can use either A, B, C or D on the keyboard to select answers |
| 2 | The NEXT tab on the screen of your system while an exam is in progress can be clicked to next question | You can also press the right arrow key on the keyboard to next question if using the mouse was not being accustomed with you |
| 3 | In the same vein, you can move your mouse to any question number to take you directly to the question, for example, you can jump to number 15 while you haven't answered the previous questions | Jumping to the question cannot be done by pressing keyboard, however, for emphasis, use P for previous question and N to next question |
| 4 | Move your mouse pointer to the calculator tab to activate if you want to use it | If you want to use the calculator, raise up your hand so that one technical staff to attend to you for activating the calculator for you if you are not familiar with using the mouse |
After entering your jamb registration number and logging in successfully, it is advisable for you to watch the two minutes video which was recorded by jamb on how to write your exam before you start. For 9 useful keys which you can use to write jamb, further instruction and information, read this article carefully.
The keyboards that are useful for JAMB candidates in the examination hall are:
P. This letter p is responsible for showing candidate a previous question(s), i.e, if you are on question number 6 while you want to go back to question number 5, then simply press P on your keyboard
N. Letter N on your computer's keyboard is responsible for displaying a next questions, for example, if you have finished with question 12, just press letter N and you will be next to another question, number 13
Another important letter of your keyboard on your cbt desktop is letter S. This letter plays a very risk role, by pressing it, this means you are finished and wanted to submit. However, if you have mistakenly pressed letter s, the system will ask you whether you want to intentionally submit or not, thus by clicking letter Y that means you had pressed letter S intentionally
Letter R stands for return. This works so fine when you have pressed S which means to submit. By pressing R as soon as immediately you pressed S, your system will then return you to the main exam
Y stands for YES and it tells the system that yes you are finished and intentionally want to submit
Letter A on the keyboard of your system means for option A. For example, if you are on question number 7 while the correct answer is option A, then kindly press letter A to choose/tick your correct answer, option A
B is for ticking option B as a correct answer of your question
Letter C is also referred to option C
Pressing letter D means option D is the correct answer of your question
9 Keyboards On Computer For Writing JAMB Examination Very Fast And Their Meanings
The joints admission and matriculations board, jamb has introduced this invention for the candidates who may complain that they don't know how to hove a mouse pointer on their system while an examination is ongoing.
Let you read the texts below for more understanding.
1. P means Previous Question (where you want to move back to the previous question for a while).
For example, if you you're not confirmed to the answer of previous question, just press the key P to move your computer back.
2. Keyboard N you press during JAMB examination makes your computer next you to the next question. You will continue pressing Key N until you've finished answering your questions.
3. Key S means that you've throughed with answering your questions. Do if you press it, your examination will be submitted.
You may ask that if person has not yet finished answering his/her examination and mistakenly press keyboard S, what he/she should do? Don't worry, below is the answer.
Read this also: how to create JAMB profile and buy your epin with phone (smartest and fastest way)
4. Keyboard R represent Return. If you mistakenly pressed key S which stands for Submit, the system will immidiately notify you the following.
Do you really want to Submit?
Upon that, two options (Yes and Return) will show up. In this time, if you are not completed, then press R to make you return.
However, if your village people are following you, you will again mistakenly press Y which means yes while you're not throughed with your examination.
5. Key Y represents Yes as you've been known in the previous paragraph.
Y simply means that you have completed your examination and thus you're glad from the bottom of your heart that the keyboard S which was being pressed wasn't done in mistake. I.e, you say Yes, 100%.
Note that once you have confirmed your submission, you will cannot go back to continue from where you stopped. After submission, do not use the browser refresh button to reload any question.
6. Keyboard A you press means that the answer of the current question on the screen of your computer is A. So, clicking A will make computer mark your answer as option A.
7. Key B means an answer is option B.
Note that when you are reading question, think very broad before you press any key because every had a using.
8. Keyboard C means that the correct answer to the question you're reading is option C. This means that clicking C make computer to mark option C.
9. Key D on the computer keyboard represent option D.
Pressing C mark that your best option is D.
Read this fun content also: 4 (four) type of hand writing approaches you should read now for fun or amusement.
Conclusion
If you have never been sit for JAMB examination before, please note that once your time has ended, your computer will turn off immidiately.
Answer with rest of mind and leave the rest for God. Don't spend much time to answer single question.
In order not to miss any educational guides like this henceforth, just remember to like our Facebook page or follow us on Twitter.
Also, if you think that this post may be helpful to other people, share it with them to make them engaged thereby encouraging me to do more.
To prove your support and engagement, comment with any thing you may want to know more about it through the comment section.
Read this also: accredited JAMB CBT centres in every state in Nigeria for JAMB registration and examination in 2021.