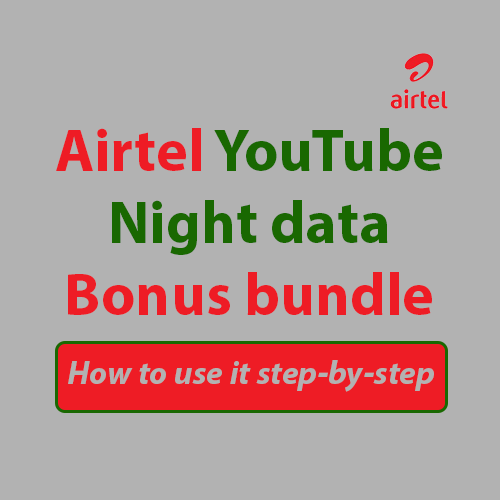 Do you need help with how to effectively use the data bundle on your Airtel line which is meant for watching YouTube videos at night?
Today, we have got you covered as we're going to show you how to use the YouTube data bonus bundle in your Airtel line the night watching and streaming videos.
Download the free PDF about it or watch the step-by-step video. Ideally, feel to continue reading and then return back here after you have read this up for downloading the PDF guide.
Now, let's start.
Airtel Nigeria is the best network provider in Nigeria that gives its subscribers a large pack of bonus data bundles for streaming on Youtube at night only.
Now, if you are having a youtube night data plan on your Airtel sim card, how should you use it?
In this post, you will know everything.
As its name implies, Airtel youtube night data can only be used at night. It starts from 12 AM midnight and once it is 5 AM, the airtel youtube night bonus will be discontinued, hence, further data deductions will be started from your active data balance.
Airtel youtube night data is given to an Airtel customer who subscribes to a data plan above N500 yand if you don't subscribe above N500 to enjoy data in the night on the Airtel network, read more in this post for how to activate the Airtel night data plan.
Read this also: how to know the number that loaded your Airtel recharge card.
How to use Airtel data bonus bundle at night (step-by-step)
As we have earlier let you know in this article, Airtel gives free data for watching videos on youtube only at night when you buy a data bundle above N500.
However, another way to subscribe to the night data bundle on the Airtel network for doing anything online from 12 AM to 5 AM is by dialing *312*3# and following the prompts.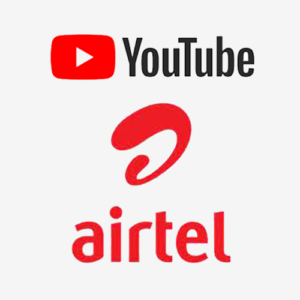 Before you start using Airtel youtube night data, you should first know your available balance by dialing *140#. Then after that, simply follow the step-by-step guides below for how to use youtube night data on Airtel.
Insert your Airtel sim card into your browsing device
Open your data connection, for example, wi-fi, modem, ethernet, etc.
After 12 AM (midnight), then start watching any video you like on youtube
While the youtube night data bundle is on your sim card, you can download and upload any video of your choice during the night
Stop watching videos on Youtube once it is 5 AM if you don't want to use your main data bundle, i.e, Airtel night data lasts from 12 AM to 5 AM
Airtel night data bundle is untransferable, for example, you cannot share it with other SIM cards regardless of any type of network it is
It expires concurrently in the same way that your main data bundle will expire
If you are not getting Youtube night data while you are subscribing to a data plan above N500 regularly, then you can contact your customer care for correcting something for you on your SIM card by dialing 111.
Best of all, the good news is that the Airtel YouTube night data bonus can be used on any type of network coverage.
That is, you can enjoy the Airtel YouTube night data bonus even though you are not migrating your Airtel sim from 3G to 4G.
Conclusion and more reading
If you know that this article has helped you know how to use the YouTube bonus data bundle the night in watching videos for free on the Airtel network, then please share it with your friends and subscribe to our newsletter or like our Facebook page for more future important updates.
At the same time, you may comment with anything you have in mind to say via the comment section, and remember also to like our Facebook page or follow us on Twitter.