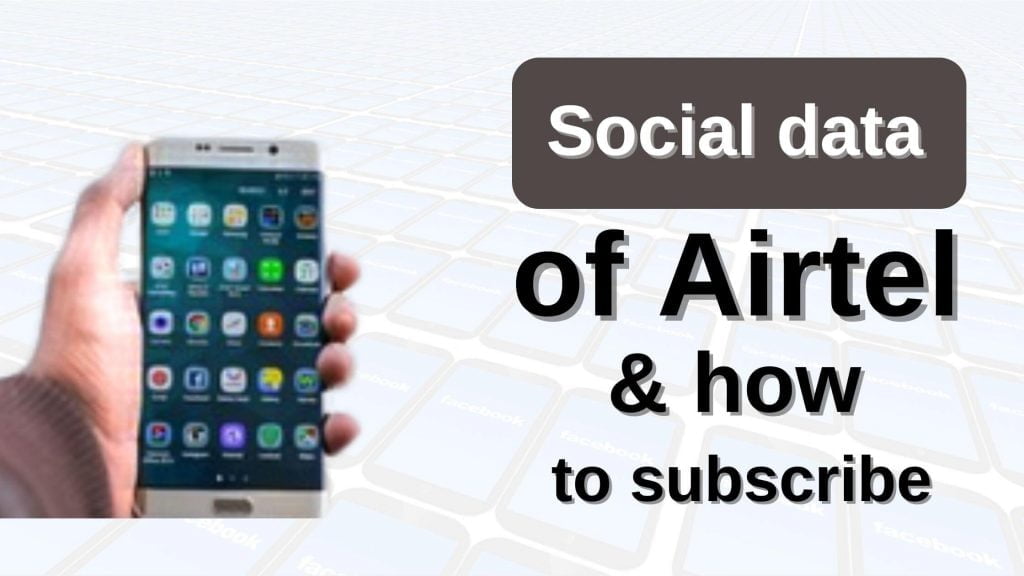 Airtel Nigeria is one of the best network provider companies which has a large number of customers that use social media to connect with their friends, promote their business, and lots more. If you like to know how to subscribe to the Airtel network social data bundle, this post is for you.
Are you interested to know the USSD code that you can use to subscribe or opt-in to Airtel social bundle? Or do you want to buy a social bundle pack for your Airtel sim card? You have come to the right place where you will be taught everything about social bundle code for the Airtel network step by step!
Airtel social bundle can give you access to use WhatsApp, Facebook, Messenger, Instagram, Twitter, LinkedIn, Snapchat, Pinterest, TikTok, etc, for free of charge or with little data usage.
Meanwhile, as its name implies (social bundle), a data bundle of the social package of Airtel network can never be used to download or upload anything on any other unsocial website(s). That is, you won't be able to use Airtel social data bundle to browse on Google or download anything online.
Read this also: how to recover your hacked Facebook account (step by step).
But you can use the social bundle data plan to watch and upload videos and pictures on Facebook, upload and watch any video or download pictures on WhatsApp, you can perform any task on Twitter seamlessly, use Facebook Messenger to send and receive messages, in fact, everything for free of charge or with little deduction of your data bundle.
Now, let's start.
Airtel social bundle data plan and USSD code to subscribe for it
Perhaps, the social bundle for the Airtel network is categorized into nine (9) different types and they are:
WhatsApp-only social daily bundle
All social daily bundle
All social weekly bundle
All social monthly
Zero Facebook
Airtel YouTube Video Packs
Free basics social bundle
Airtel Instagram social bundle
Facebook and WhatsApp social bundle
Below are further explanations of the social bundles for the Airtel network and we will show you in the process the way which will be helping you choose the right social bundle pack on your Airtel line.
| | | | | |
| --- | --- | --- | --- | --- |
| SOCIAL BUNDLE NAME | USSD CODE | DATA ALLOWANCE | VALIDITY IN DAYS | SUBSCRIPTION FEE (N) |
| WhatsApp Daily | *948*4# | 10MB | 1 | N25 |
| All Social Daily | *991*4# | 20MB | 1 | N50 |
| All Social Weekly | *688*3# | 50MB | 5 | N100 |
| All Social Monthly | *688*1# | 600MB | 25 | N300 |
Stay socially connected online, chat, browse and stay up to date with Airtel social bundle plans which can be used for Facebook, Twitter, Whatsapp, We Chat, e.t.c.
Airtel Zero Facebook social bundle and code to subscribe
Facebook Flex is the brand new and flexible way to use Facebook and it is only exclusive to Airtel subscribers in Nigeria!
You can share, like, comment, chat, and update posts for free with Free Mode and you can switch to Data Mode to enjoy viewing photos and videos.
When using a Facebook social bundle, you can at in anytime go back to Free Mode whenever you want!
With Facebook Flex, you choose when to use data. It's easy to switch back and forth. Facebook Flex also lets you stay connected with your family and friends all the time, even with zero data balance!
With Facebook free mode, you can:
Chat with friends and family
Comment on any post
Like things you find interesting
Share photos and videos free of charge
With Facebook data mode, on the other hand, you can also enjoy seeing:
Photos and videos shared by your family and friends
To get everything started, please make sure that your mobile data is turned on.
Then, go to www.facebook.com or open your Facebook Android app.
You are not seeing Facebook Flex on your phone?
Simply go to your Facebook Menu or Bookmarks and click "Facebook Flex".
Airtel YouTube social pack plans
Airtel YouTube video packs are data plans that allow you to watch YouTube videos on your device at affordable rates.
YouTube plus social bundle packs are standard data plans that give you free access to YouTube at Night from 1 AM to 5 AM.
You can simply subscribe to Airtel YouTube night bonus social plan by dialing the code *323# to select any of the YouTube social bundles you like from the packs.
Now, how to subscribe to an Airtel YouTube social bundle pack that you like? The following are the recommended USSD codes that you can use to buy the YouTube night data social bundle on your Airtel line:
| PLAN NAME | USSD CODE | TOTAL VOLUME DATA | PRICE | STANDARD DATA | YOUTUBE DATA | VALIDITY (IN DAYS) |
| --- | --- | --- | --- | --- | --- | --- |
| YOUTUBE PLUS 1.0 | *323*31# | 4.5GB | N1,000 | 1.5GB | 3GB | 30 |
| YOUTUBE PLUS 2.0 | *323*32# | 9.5GB | N2,000 | 3.5GB | 6GB | 30 |
| YOUTUBE PLUS 2.5 | *323*33# | 15GB | N2,500 | 5GB | 10GB | 30 |
| YOUTUBE PLUS 3.5 | *323*34# | 17GB | N3,500 | 7GB | 10GB | 30 |
| YOUTUBE PLUS 4.0 | *323*35# | 19GB | N4,000 | 9GB | 10GB | 30 |
Airtel free basics plan bundle
Free Basics is a joint initiative of Airtel network and Facebook towards bridging the digital divide and building a knowledge-based society in order to enable affordable internet access to local and international content, which can act as key enablers to drive "Digital Nigeria" on the smartphone network.
Airtel Free Basics is a service from Facebook that lets you visit websites on your phone free, even with zero data balance!
Just go to www.freebasics.com to get access to Facebook, Onetouch, and 30 plus other internet websites free.
There is no cost to you. Meanwhile, you can do many things with Airtel Free Basics social bundle, like as follows:
Use Facebook to connect with friends & family
Get up to date on global and local news
Buy and sell things
Get sports updates
Find health and education information
…and lots more!
Importantly, some of the top best websites which you can browse for free of charge on Airtel's free basics social bundle is:
Entertainment Store
Goal.com
PASS.NG
Wikipedia
Yuzah
Messenger
SuperSport
MatchUp.NG
Jobberman
Nairaland
Ask a Doctor
BBC News
How to use Airtel free basics social data bundle on your Airtel line? Just simply follow the instructions below:
Open your phone and scroll to settings
Turn on mobile data. Don't worry, Free Basics won't deduct airtime from your balance
Go to the internet on your phone browser
Type: www.freebasics.com
Click "Continue" to accept the Terms. Now you can use Free Basics!
Airtel Instagram data bundle plan
| | | | | |
| --- | --- | --- | --- | --- |
| S/N | DATA | PRICE | VALIDITY | USSD CODE |
| 1 | 250MB | N100 | 1 day | *141*105# |
| 2 | 1GB | N200 | 1 day | *141*205# |
Facebook and WhatsApp social bundle
| | | | | | |
| --- | --- | --- | --- | --- | --- |
| S/N | USSD CODE | PRICE | AUTO-REWATL OPT-OUT/IN CODE | DATA (MB) | VALIDITY |
| 1 | *141*254*1# | N25 | *141*254*1# | 100 | 1 day |
| 2 | *141*54*1# | N50 | *141*254*1# | 200 | 7 days |
| 3 | *141*104*1# | N100 | *141*254*1# | 500 | 30 days |
Airtel social bundle data plan (price by price and code)
The Airtel social media bundle plans are cheap and fast just like the normal data bundles and it seems to be unlimited data from the Airtel network.
Below are the subscribing codes of all Airtel social bundle plans on price by price basis:
For 1,500 Naira
You can subscribe to this Airtel social bundle plan by dialing *688*1#. But please note that you'll be credited with only 700MB and N600 worth of airtime valid for 25 days.
Read this also: how to subscribe for the data plan of Airtel network (data that lasts very long) step by step.
For 300 Naira
You can subscribe to this plan by dialing *688*1#, everybody is eligible and the volume data is 600MB, and N500 worth of airtime is valid for 25 days.
For 100 Naira
You can activate the Airtel social bundle for N100 naira by simply dialing *688*3#, you'll be rewarded with 200MB and N100 worth of airtime that will be valid for 5 days.
For 50 Naira
If you are to buy Airtel social bundle plan on your line with N50, your plan will be valid for 7 days and this plan will give 40MB valid for 1 day.
To subscribe to this plan, simply insert your line inside a mobile phone and dial the code *688*3# to activate the N50 Airtel social bundle.
For 25 Naira
This is the least plan of the Airtel social bundle. Dial *948*4#, and you'll be credited with 25MB which will then be valid for 1 day.
It is very important to know that Airtel social data bundle plan for N25 can only be used on Whatsapp.
How to check your Airtel social data bundle balance
Airtel social bundle plan is a package created for subscribers who use social media platforms such as WhatsApp, YouTube, Facebook, Twitter, and Instagram.
The process you should take to check your social data bundle balance on the Airtel Nigeria network is as easy as reading ABC.
Meanwhile, after buying a data bundle, it is very good to regularly check your Airtel social bundle balance so that you should know when it will be finished in order to know when to subscribe for another one.
To check your Airtel data balance, simply dial *140# and wait for an SMS from Airtel to get sent to you concerning your data balance.
Or, you can simply dial the code (*141#), then press the number 6 and finally you will receive an SMS about your overall Airtel data balances including your social bundle bonus.
If you know that this article has helped you know how to subscribe to Airtel social bundle data plan and their respective code, please join our newsletter and don't forget to share it with your friends.
Read this also: how to transfer airtime from Glo to Glo network step by step.