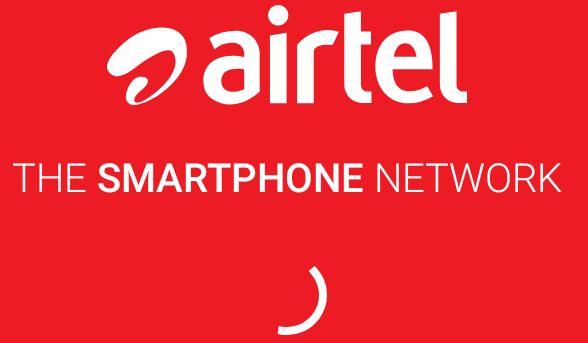 With the Airtel network, you can check your data usage by dialing the recommended USSD code, mobile app, or website. On this page today, I will show you how to check Airtel data balance online/offline using seven different methods.
Are you searching for the way(s) how you can easily check your Airtel data balance online? Or do you want to check your Airtel data balance in order to know if you have any bonus data bundle on your Airtel line?
How to check data balance in Airtel SIM card online
Via Airtel mobile app
In order to be able to check your Airtel data balance online, download the MyAirtel app from Google Play Store on Android phones, and the App Store on iPhones.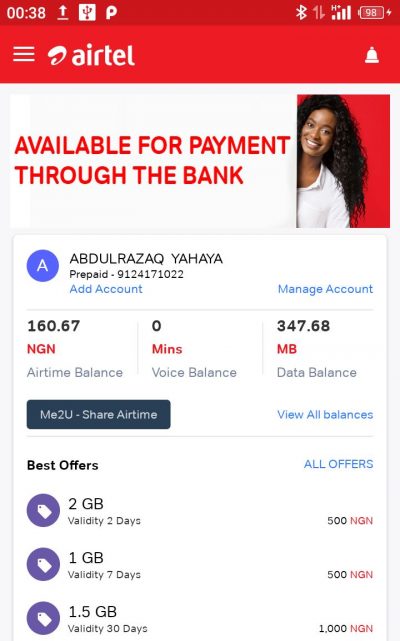 Please use the following steps to download the MyAirtel app on your device:
Open the Google Play Store on Android, or the App Store on iPhone
Tap Search Column
Now, type "MyAirtel" in the search bar
Different apps which relate to your search will be displayed
Find the official Airtel mobile app by checking the ones that have the Airtel logo and website
Tap the Install or Download button
Open the MyAirtel app which you have just installed that has a red icon with a white brush-stroke logo with "Airtel" in white letters below it.
Tap the icon on your home screen or apps drawer to open the MyAirtel
Login to your MyAirtel account. Simply use your mobile number and password to sign in to your Airtel account.
If you do not have an account, you will be asked to enter your mobile number and fill out a form to create an account
To check your data balance, the dashboard of the MyAirtel app displays your data balance, daily limit, and number of days left in your current data plan
Via Modem
In case you can't check your Airtel data balance online by using the method above, this method will help you check your data balance via modem.
To check the data balance in your Airtel SIM card via Modem, simply follow the steps below:
Insert your Airtel SIM card into the Modem
Plug the Modem into your personal computer (PC) or laptop
Go to the Dialer or USSD code section of the modem
Dial *140#
If the modem was correctly plugged into your laptop in the first place, then your data balance details will be displayed to you
Meanwhile, some Modems must be connected to the internet before you can take any action, for example checking your data balance with it, hence, always remember to have an active Airtel data plan before you continue.
Contact Airtel customer care agent
If you want to know the data balance of your Airtel SIM card online without dialing any USSD code, you can simply contact an Airtel customer care representative by calling 111 or sending an email to [email protected].
To contact an Airtel customer care agent to help you know your Airtel data balance, please note that you can do very fast if you use any of the methods below:
You can contact Airtel by calling their free 24-hour Call Centre or by emailing: [email protected]
Note that the call is 24 hours toll-free
Just call their Call Centre free of charge at any time and they'll answer your questions and help you to make the most of Airtel services
To call Airtel, simply dial 111 via your Airtel phone number
You can also dial +234 802 150 0111 if you are not using an Airtel SIM card or if you are abroad
Or kindly visit Airtel Nigeria at  Plot L2 Banana Island, Foreshore Estate, Ikoyi Lagos, Nigeria.
For more important information, kindly visit the website of Airtel at www.airtel.com.ng or call Airtel customer care to request your data balance details and they will gladly let you know.
Using the website of Airtel
You can use the website of the Airtel network to check your data balance.
To use the website of Airtel in order to check your data balance online, please follow the instructions below carefully:
First, click here to go to the website of Airtel network in your web browser
Click the icon that resembles a person which is located at the upper-right corner of the website as it opens the login page
Enter your mobile phone number or service ID, as well as your password
Then click the red button that says log in
If you have not registered yet, click on the Register option at the top of the page
You will be prompted to fill out personal information and create a new password
If you forgot your Airtel password, simply click the tab "Forgot password?" and follow the prompts to reset your password
If you have more than one data plan associated with your Airtel SIM card, you can click the account you want to check in the sidebar to the left
Now, your data balance is listed below "Account Overview".
Look for the box that says "Prepaid"
The amount of data you have left is listed in MB below the "Internet" header along with how many days you have left in your data plan
Check using broadband data usage
To check your Airtel data balance online, navigate to the Airtel website in a web browser.
If you visit the website using your broadband internet connection, you do not need to log in.
Meanwhile, if you are visiting the website from a different connection, use the following steps to log in:
Click the icon in the upper-right corner.
Log in with your mobile number or service ID.
Enter your password.
Click Log In

Click Broadband, the icon that resembles a computer monitor below the header that says "Choose your product".
The box in the upper-left corner tells you how much total data your plan has. The box to the right of that tells you how much data you have left, and the box in the upper-right corner tells you how many days your data bundle has to expire.
At this point, you can now check your Airtel data usage which is in the bar at the top of the page.
Dialing a USSD code
To check the data balance of any Airtel SIM card by dialing a USSD code, just simply open the phone number app on your mobile device which usually has a green icon.
Further steps and instructions on how to check Airtel data balance using the USSD code method are discussed below:
Tap the icon to open your phone app
Dial *141# and press the call button
Use the dial pad to dial the USSD code and press the green button to send the call.
A different menu will pop up for you to select.
If you see an offer before the menu pops up, tap Ok to continue
Enter 9 and tap Send. Note that 9 is the menu option to check your balance and selecting it will display more options to check your data balance
Alternatively, you can dial *140# and click send, hence, you'll receive your data balance and full details of your data plan as well
If you assume after you have just checked your data balance that you're going to be out of date shortly and you want to buy a new plan, simply dial *141#, select "1" and click send.
Then choose either the daily plan, weekly plan, monthly plan, or mega plan.
Read this also: cheapest MTN data plan for 2021 and how to subscribe
Texting message method
To check Airtel Data Balance by sending a text message (SMS) to the Airtel network, just simply send BALANCE to 141.
Sending BALANCE to 141 is just an alternative to making a request to Airtel to show you the data balance details of your line.
Once your request is successfully sent, you will receive a text message from Airtel detailing your data balance information.
Top notable USSD codes of Airtel network to check balance
Are you an Airtel subscriber looking for ways to easily check your balances, be it data, SMS, or Airtime balance?
After buying a plan from the Airtel network, you have to regularly keep checking your remaining balance to know when it will finish or expire.
If Airtel is your network provider, then don't worry anymore because it is one of the top best network providers we are having in Nigeria.
If you use the internet too much like me, then you likely use a lot of data and you may find a way to lessen the amount of data you use. For this reason, you have to check your available data balance on your Airtel line to make sure you aren't using too much to browse.
In order to help you know how to check some important balances on your Airtel line, below are the top best and most notable USSD codes for checking balances on the Airtel network.
| S/N | USSD CODE | FUNCTION |
| --- | --- | --- |
| 1 | Airtime balance checker | *123# |
| 2 | SMS pack balance checker | *123*7# |
| 3 | Night data balance checker | *123*197# |
| 4 | Phone number checker | *282# |
| 5 | Special offers checker | *566# |
| 6 | Data balance checker | *140# |
| 7 | Minutes balance checker | *121*1# |
| 8 | Family and Friends checker | *311# |
| 9 | YouTube night data balance checker | *140# |
| 10 | Borrowed airtime balance checker | *500*1# |
Checking your data balance on Airtel is very, very simple and easy. Simply dial *140# via your Airtel SIM card and wait for an SMS from Airtel including all the details about your data plan.
After dialing *140#, you'll see the remaining data balance, popularly known as MB, and also when the data plan will expire. If you didn't get the SMS, then it might be because of a network error and there are chances for you to dial the code many times the next time.
Conclusion
If you know that this article has helped you know how to check Airtel data balance online and offline, please share it with your friends and remember to like our Facebook page for more important updates.
Read this also: how to migrate to Binge Plan on the Airtel network (step by step).