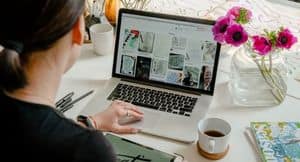 In today's article, we shall discuss with you the top best topics that every web design company should blog about on their website to attract people who will easily give them web design projects.
Web design is one of the best lucrative digital marketing services this year. If you are a web designer, you know how to design and develop any type of website for yourself and also others.
In order to let a large number of people know that you offer web design services, introduce copywriting tactics.
What if you don't have money to hire or employ a copywriter, should you wait to save up money first or you should start creating a copy (post) yourself?
Have you just started a web design company and looking for clients? The fastest way to make people give you projects is by showcasing your skills via a website.
To get this done, you need a highly skilled copywriter.
If the topic of this article interests you, then continue reading to find out all the steps to write needful compelling pageviews attracting articles on your web design company website.
Your readers are your customers and they are determined by the type of topics you write on your website.
Hence, it is recommended to write about what you sell or the service(s) you render if you want to easily make sales or get new customers.
For example, if you sell a book, posting topics about the type of book you sell will help you attain newsbook buyers on your website.
Now, if you have a skill like web design, what topics should you write about on your blog post or website's pages to rank higher on search engines?
Let's get started.
Topics a web design company should write/blog about
What is the difference between web design and web development?
How long should a website design take?
Should I hire a web design agency or a freelance web designer?
How can you do SEO on your newly designed website?
How much money does a web designer make?
Is it a must to have a degree in web design or its related course before you can become a web designer?
How to develop and design a website this year
Top best web design agencies near me
Is web design the same as web development
Between web design and web development which one is harder to learn
Why a website is important in business and how to get one
Top best domain name registrars this year and their plans and pricing
Who should create content on a website; owner or web designer/developer
Things to know before hiring a web designer
Top best website themes for blog, online store, forum website, etc.
How to hire the best web designer in my location
Breakdown of prices involved in designing a brand new website.
Does having a website for my business worth it
What design should I suggest my web designer render for me
Should I suggest the design template for my web designer or he/she should be the one
What to do if you are not satisfied with the design your web designer rendered for you
Do web designers refund my money if I am not interested
To best web designer for online store website.
How should I create a greater landing page for my business for high sales
How many pages should a company website have
Best diagram (anatomy) of a professional website's layout
Differences between Squarespace, WordPress, Joomla, Wix, etc.
Top best page builders and how to use them to create a page and post
Should I redesign my existing website or I should develop and design a new one
How much should I really spend on website design and development
What are the differences between frontend, backend, and full-stack web designer
What type of web designer should I hire
What is the difference between a page and a post in the world of website
What qualities should a web designer must possess before you hire him/her
Is there any difference between UI/UX and web designer
Is a web designer and also a graphic designer
Can the price of web design be negotiated
What blogs should I regularly articles from if I want to create a website
How much do web designers earn per month in "location"
What features should I recommend my web designer add to my website
Top best ways to find out the keyword which people search
Use keyword research tools like Google keyword planner, SEMrush, Ubbersuggest, etc.
Carry out a survey.
Build the right audiences
Visit popular web design companies' website
Observe people's behavioral pattern
Join forums that discuss web design and development topics, e.g, Quora.com, Stackoverflow.com, etc.
Without writing any single of the topics listed above on your blog, you can still find new clients for your web design company. Let's read them one by one.
However, according to www.targetmarket.com, keyword research is one of the best ways to find topics to blog about if you want to reach out to people who need web design services.
How to advertise your business on Google for 2022.
How to become a blogger in Nigeria (step by step).
Cost for designing and hosting a website in Nigeria.
How to write a formal letter to a company (step by step).
How to find clients for your web design company
Show off your expertise and knowledge as a web designer online and offline
Always post about web design and development
Post about web design topics only on your blog post
Prove that you are a trusted web designer
Showcase your older projects to your customers
Learn how to create convincing copies
Run advertisement
Request any website owner to leave you a review on Google or on your website
Create at least two websites and make one for your company's website and the other one for your own
Design your website to be very professional because people will regard your own design first before they do real business with you
Do not go after people's money, rather, render minor web design services like installing plugins, and themes, changing DNS, transferring domains from one registrar to another, etc. for free of charge.
Assure your clients that you will refund their money to them if they are not completely interested in your web design service
Receive half payment from clients
Coach people who want to design a website but they don't have the financial ability to continue
Create social media handles for your web design service and stay updated on them regularly.
I hope this article has helped you find out the top best topics to write or blog about on your web design and development website and how to create a copy that conveys to people to feel glad in giving you projects.
Finally, please share it with your friends, and remember to follow us on Facebook for more digital marketing and