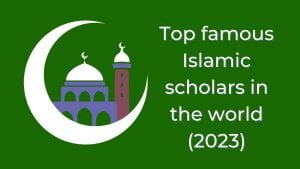 Do you like to know the list of top famous Islamic scholars in the world this 2022? Scholars are the English term while the Arabic term is Allamah.
Islamic scholars are very important in society. They are the ones who interpret the word of Allah (God), his prophets, and the deeds of his prophets to mankind.
Being the appropriate religion to be accepted by everyone, Islam the honest about itself. Globally, 80% of people practice Islam.
Happily, there are also a lot of Islamic scholars who teach people about the good things to do and advice them to stop doing what is wrong.
The top famous Islamic scholars in the world as of 2022 are listed and discussed below one by one.
Top 20 world's famous Islamic scholars this 2022
#1. Zakir Naik
Dr. Zakir Abdul Karim Naik is an Indian Islamic scholar, speaker, and preacher born on 18 October 1965 in Mumbai, India.
He is known generally as a Dawah coordinator and participant, and Founder of Peace TV, Peace TV Bangla, Peace TV Urdu, and Peace TV Chinese.
Zakir Naik attended Kishinchand Chellaram College and studied medicine at the Topiwala National Medical College & BYL Nair Charitable Hospital and later the University of Mumbai where he obtained a Bachelor of Medicine and Surgery (MBBS).
Naik is a married man blessed with three children; Fariq Naik, Zikra Naik, and Rushdaa Naik. His wife is Farhat Naik.
#2. Khalid Yasin
Khalid Yasin is an American Islamic scholar and preacher born on 1 February 1946 in Harlem, New York. He was a Christian before and presently lives in Manchester, England where he lectures Islam in the United Kingdom and also other parts of the world.
Shaykh Khalid Yasin is currently an executive Director of the Islamic Teaching Institute (ITI), a premier Organization dedicated to the work of Da'wah (conveying the message of Islam).
He is an educated man who studied the Arabic language in Madinah, Saudi Arabia.
He has written hundreds of books in the last fifty years about Islam as a religion and its epistemology, jurisprudence, and historical abundance.
The title of the notable Islamic books he has written are Strangers, From the Root to the Fruit, The Purpose of Life, Dawah Technique Course, Muhammad – The Man & His Message, etc.
#3. Mufti Menk
When we call Mufti Menk, everybody knows him, right? He is a Zimbabwean known as Islamic Scholar, and an Islamic motivational speaker born on 27 June 1975. He is the head of the country's fatwa department and is widely known globally.
Mufti Menk has been repeatedly named one of The 500 Most Influential Muslims in the world by the Royal Aal al-Bayt Institute for Islamic Thought in Jordan in 2013, 2014, and 2017.
He studied Shariah at the Islamic University of Madinah and holds a Doctorate in Social Guidance.
Menk is one of the top famous Islamic scholars in the world who successfully got a spouse(s) and has Seven(7) daughters and Two(2) Boys making 9 children in Total.
---
Read these also:

1. Top motivational speakers in the world in 2022.

2. List of all notable Islamic scholars of our time for all countries in the world.

3. Top best universities in South Africa this 2022.

4. Mufti Menk lectures for 2022 and how you should get them.
---
#4. Nouman Ali Khan
Nouman Ali Khan is a Pakistani-American Islamic speaker and Arabic instructor who founded the Bayyinah Institute for Arabic and Qur'anic Studies after serving as an instructor of Arabic at Nassau Community College for several years.
Nouman was born on 4 May 1978 in  Berlin, Germany. His foundation, Bayyinah Institute was founded in 2005 currently located in Dallas, Texas.
He studied Arabic and Quranic Studies and is now known as an Islamic Speaker, teacher, and scholar. He completed his elementary education in Saudi Arabia and continued Arabic grammar in Pakistan.
#5. Billal Phillips
Abu Ameenah Bilal Philips is one of the Canadian Islamic teachers, speakers, authors, scholars, founder, and chancellor of the International Open University.
Billal Phillips was born on 17 July 1947 in Kingston, Jamaica but presently lives in Qatar. He is one of the top famous Islamic scholars in the world who studied at the Islamic University of Madinah.
He is globally known as the founder of International Open University (IOU), an institution that is committed to international development for over 20 years. This institution is globally recognized for its teaching and pioneering research within the sector, and for driving innovation.
#6. Rezaul Karim
Syed Muhammad Rezaul Karim is a Bangladeshi Islamic scholar and Islamic religious speaker born on 1 February 1971 interested in Hadith, Fiqh, Islamic Movement, Politics, Tasawwuf, etc.
Rezaul Karim is a researcher, author, and data science enthusiast with a strong computer science background coupled with 10 years of research and development experience in machine learning, deep learning, and data mining algorithms to solve emerging bioinformatics research problems by making them explainable.
He is married to Selina Akter and has been blessed with a son and two daughters.
#7. Habib Ali al-Jifri
Habib Ali Zain al-Abidin al-Jifri is another Islamic scholar and spiritual educator born on 16 April 1971 in Jeddah, Saudi Arabia, and presently located in the United Arab Emirates.
He is the founder of Tabah Foundation, a research institute based in Abu Dhabi, UAE.
He began his intensive training in Islamic studies in early childhood. He is married to Habiba Fatima and they were both blessed with children.
#8. Yusuf Estes
Yusuf Estes is an American Christian born on 1 January 1944 in Texas who converted from Christianity to Islam in 1991.
He served as a Muslim chaplain for the United States Bureau of Prisons during the 1990s and has served as a delegate to the United Nations World Peace Conference for Religious Leaders held at the UN in September 2000.
When he was not a Muslim, he was actually a businessman and a missionary-type preacher. He is married to Khadija and they were both blessed with children.
He has studied different Ahadith and learned Qur'an a lot.
#9. Abdul Rahman Al-Sudais
Abdul Rahman Sudais, also known as Al-Sudais, is the Imam of the great mosque of Mekka born in 1962.
Al-Sudais obtained a degree in Sharia from Riyadh University in 1983, a Master's in Islamic fundamentals from the Sharia College of Imam Muhammad bin Saud Islamic University in 1987, and received his Ph. D.
Sheikh Imam Abdul Rahman Al-Sadais is married to his cousin Fatima bint Ali al-Sudais and has 9 children from that marriage.
#10. Mohammad Yaqoobi
Mohammad al-Yaqoobi is a prominent Iraqi Twelver Shi'a Marja born on 9 September 1960 in Najaf, Iraq. He is the second most widely followed Marja' in Iraq, the most widely followed being Ali al-Sistani.
He had a BA in Civil Engineering from the University of Baghdad in 1982 and joined the Hawza Najaf in 1988 to various Islamic scholars, most notably Ayatollah Abu al-Qasim al-Khoei, under whom he was ordained with his religious turban, and Ayatollah Mohammad Mohammad Sadeq al-Sadr.
Al-Yaqoubi started teaching Qur'an studies and recitation at the Darwishiyya Mosque at the age of 11. He delivered his first Friday sermon at the age of 14.
Read this also: how to choose a husband in Islam (according to Hadith and Qur'an).
#11. Tariq Jameel
Tariq Jamil is a Pakistani Islamic television preacher, religious writer, one of the top famous Islamic scholars in the world, and a member of the Tablighi Jamaat born on 1 October 1953.
Being the recipient of the Pride of Performance award, Tariq Jameel has been named twice in The 500 Most Influential Muslims in the world.
Tariq Jameel is an alumnus of Government College University, Lahore, and received his Islamic education from Jamia Arabia, Raiwind, where he studied the Qur'an, hadiths, Sufism, logic, fiqh, etc.
#12. Sharif Sheikh Ahmed
Sharif Sheikh Ahmed is another one of the top famous Islamic scholars in the world, a politician in Somalia who served as an executive President from 2009 to 2012. He was born on 25 July 1964 in Shabeellaha Dhexe, Somalia.
He is the founder and leader of the Himilo Quran political party and also the founder and head of the Forum for National Parties of Somalia. He is the chairperson of the Council of Presidential Candidates of Somalia.
He studied at Libyan and Sudanese universities in the mid-1990s, where he earned a bachelor's degree in Law and Islamic Shariah.
#13. Yasmin Mogahed
Yasmin Mogahed is an American educator, Islamic scholar, and motivational speaker specialty in spirituality, psychology, and personal development born in Egypt on 11 March 1980 (age 41 years).
Mogahed is the first female instructor at the AlMaghrib Institute.
After she was raised in Egypt for some years, she went to the USA where she earned a BS in psychology degree from the University of Wisconsin Madison, the same university from where she did her MS in journalism and mass communication.
#14. Omar Sulaiman
Omar Suleiman is an American Islamic scholar born in 1986. He is a civil rights leader, writer, and Islamic public speaker. He is the Founder and President of Yaqeen Institute for Islamic Research, an Adjunct Professor of Islamic Studies, and a member of the Ethics Center Advisory Board at Southern Methodist University.
Suleiman holds bachelor's degrees in accounting and Islamic law, and master's degrees in Islamic finance and political history.
He completed doctoral studies in Islamic thought and civilization at the International Islamic University Malaysia.
#15. Ja'afar Mahmud Adam
Ja'afar Mahmud Adam was a Nigerian Salafist Islamic scholar and member of Nigeria's Jama'at Izalat al Bid'a Wa Iqamat as Sunna, a religion-political organization based primarily in Kano with Maiduguri as a place for his Ramadan Tafsir.
He was born on 12 February 1960 in Daura and he died on 13 April 2007 in Kano.
See this also: types of janaba baths and how to perform them.
#16. Yasir Qadhi
Since 2001, Yasir Qadhi has served as Dean of Academic Affairs at the Al-Maghrib Institute, an international Islamic educational institution with a center in Houston, Texas. He also taught in the Religious Studies department at Rhodes College in Memphis, Tennessee.
Yasir Qadhi was born in Houston, Texas, and completed his primary and secondary education in Jeddah, Saudi Arabia. He graduated with a B.Sc. in Chemical engineering before he further went to the Islamic University of Madinah.
He currently resides in Memphis, TN with his wife and four children.
#17. Khalid Saifullah Rahmani
Khalid Saifullah Rahmani is an Indian Islamic scholar, author, and jurist who serves as the general secretary of the All India Muslim Personal Law Board.
Presently, he is the general secretary of the Islamic Fiqh Academy of India.
He received his primary education at home and studied at Madrasa Qasimul Uloom Hussainia for two years. He later specialized in Islamic law and jurisprudence at Amarat-e-Sharia, Patna
#18. Muhammad Taqi Usmani
Muhammad Taqi Usmani is a Pakistani Islamic scholar and former judge who is the president of the Wifaq ul Madaris Al-Arabia and the vice president and Hadith professor of the Darul Uloom Karachi.
Shaykh Taqi Usmani has spent his life in the service of Islam with constant effort and hard work.
#19. Maria Ulfah
Maria Ulfah is a Malaysian qāriʾah and manager of the Central Institute for the Development of Quranic Recitation.
She is the winner of two Indonesian national Qur'an recitation contests and is internationally recognized as one of the world's master reciters and teachers of recitation.
#20. Yasser Al-Habib
Sheikh Yasser al-Habib is the head of the London-based Khoddam Al-Mahdi Organization, as well as Al-Muhassin mosque in Fulmer, Buckinghamshire, and the writer of The Lady of Heaven-born on 20 January 1979.
Al-Habib studied traditional Islamic sciences. And in 2001, he founded Khoddam Al-Mahdi Organization in Kuwait.
Conclusion
If you know that this article has helped you know the top famous Islamic scholars in the world in 2022, then please share it with your friends and remember to subscribe to our newsletter for more important updates.
Read these also: