Many people get confused about the domain name of a website or website hosting service. If you are just starting out, then all these different terms may sound too technical.
We created this article for beginners who often ask us questions like "what is a domain name and how do domains work? Perhaps, you may have heard that you need a domain to make a website.
We will answer what a domain name is and how it works. Our goal is to make you understand and choose the right domain name for your next website.
Now, let's start.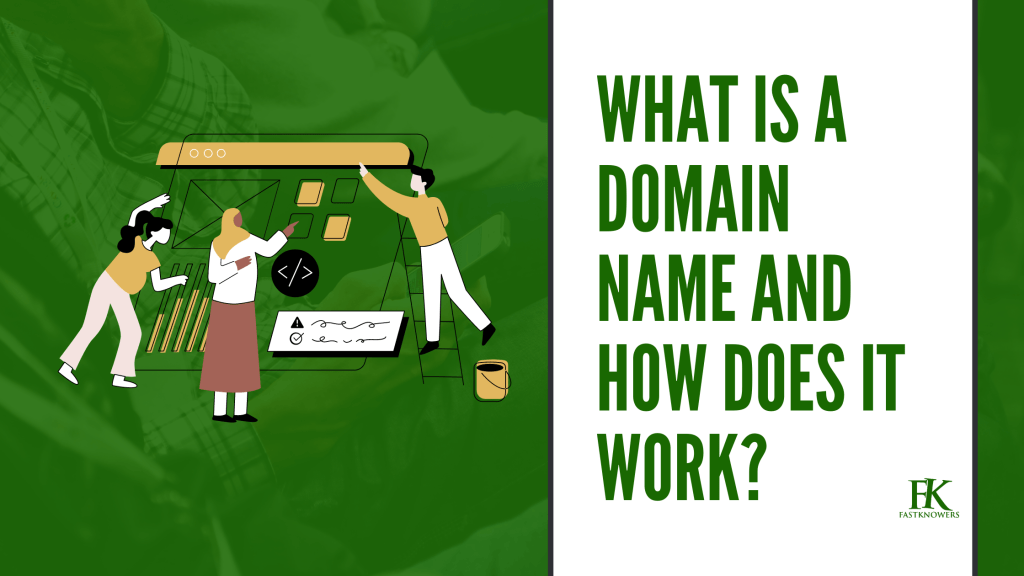 A domain name is the address of your website that people can type in the browser to visit your website.
For example, a domain name is the address of your house if your website is a house.
The internet uses an IP address that looks like this: 66.249.66.1 to assign to any website which is quite difficult to remember.
Thus, companies invented a service called domain names for us.
With the help of these companies, you can visit any website through their domain name, for example, www.fastknowers.com without using their IP Address in a lots of long string of numbers.
How does domain name work
The domain name only works when you enter it in your web browser.
After entering any domain name in your web browser, first of all, your request will be sent to a global network of servers that form the Domain Name System (DNS).
These servers then look up the name servers or DNS servers associated with the domain and forward the request to those name servers.
If it is Fastcomet a company that hosts your website, then your name server information is:
ns1.fastcomet.com
ns2.fastcomet.com
The name servers are computers managed by your hosting company. Your web hosting provider will forward your request to the computer where your website is stored.
This computer is called a web server which fetches the web page and pieces of information associated with it.
Finally, it then sends this data back to the user's browser.
What is the difference between a domain and hosting?
A domain name is the address of your website, then web hosting is the land where your website lives.
A website is made up of files like posts, pages, plugins, themes, images, and more. All these help your website in many ways.
Hosting is the place where your website's files are stored. Such a place is called a server and it is offered as a service by hosting companies.
To create any kind of website, from a personal, or small business website to an eCommerce store website, you need both a domain name and web hosting.
Hope you have known that hosting and domain are two separate services, and you can buy them from two different companies but it is ideal to buy both from one company.
Do you wonder what would happen if you buy them from two separate companies?
Nothing will happen. But you will need to edit your domain name settings and enter the Name Server information provided by your hosting company to send user requests for your domain name.
As you are a beginner and non-techy, that is why we recommended that you should get both your domain name and hosting from the same company to allow you to easily manage them under the same company stress-free.
However, some factors may lead you to buy a domain name from different companies, for example, getting a specific domain name extension like .ng, .tech, etc. as some companies don't sell the one of your choice.
You can read our guide on how to configure your website when you buy a domain name and hosting from different companies.
Domain names are the same in every respect. Their distinction is only their extension which are available in different formats.
The most popular domain name extension is .com. Note that once you have registered a domain name with a .com extension, for example, www.fastknowers.com, that is yours for ever unless you decide to sell it while you or other people can register a www.fastknowers.org.
Domain name extensions are available in many options like .org, .net, .tv, .info, .io, and more.
You can read our article in which we disclosed why you should use a .com domain extension.
Let's take a more detailed look at the different types of domain name extensions available.
Top Level Domain – TLD
The Top level domain (TLD) name extensions, or also known as generic top level domains (gTLD) are a generic domain extensions that are listed at the highest level in the domain name system.
There are forms of TLDs, but the most popular ones are .com, .org, and .net. We don't recommend you to use .biz, .club, .info, .agency, and many more.
Country Code Top Level Domain
Country code top-level domain (ccTLD) domain name extensions are country specific domain names which end with country code extension like .uk for the United Kingdom, .de for Germany, .in for India, .ng for Nigeria.
We recommend you to buy a domain name that has these types of domain name extensions if you want to target audiences in a specific country.
Sponsored Top Level Domain
Sponsored top-level domain (sTLD) domain name extensions are a category of TLDs that has a tag or sponsor representing a specific thing
For example, .edu domain name extension is widely known for education website, .gov for the government, .mil for the military, .tech for technology and more.
Second Level Domain
The Second level domain (SLD) name extesnions are generally refer to the name that comes before the top level domain or TLD.
For instance, in fastknowers.com, the fastknowers is the second-level domain of the .com TLD.
Some domain registrars use the this technique to create a hierarchy for their Country code top-level domain (ccTLD).
For instance, the .au represents Australia. When it has the com.au, net.au, etc., then in this case, the .com is not the Top Level Domain but a sTLD of .au TLD.
Hope you've understood.
Similarly, in the .co.uk domains, .co is the Second Level Domain of .uk TLD.
Most times, some people don't have enough money to buy both domain name and web hosting to create their website, that is why many WordPress hosting companies offer free domain to allow people to manage both services under one account while not worrying about changing name server settings for their domain.
You can buy web hosting from FastComet and get your domain name of your choice for free regardless of any domain name extension it is. They offer our readers a 60% discount on hosting.
However, when you are registering a domain name, keep these quick tips in mind:
Pick a .com domain name that is the most popular and easy to remember
Make sure your domain name is shorter
Make it easy to pronounce and spell
Do not use numbers or hyphens
Use the domain name availability checker website like www.fastcomet to assist you.
Which company is in charge of domain name
Domain name registration is a type of business that any company can venture in.
But before a company can do a domain name registration business, the company's teams must have skilled in tech, marketing, and others.
Though, they would also need to buy a certificate from Internet Corporation for Assigned Names and Numbers (ICANN), a company that manages the domain names system.
ICANN is a non-profit organization that creates and implements the policies for domain names.
ICANN gives permission to companies called Domain Name Registrars for selling domain names. These domain registrar companies can use their tech knowledge to make changes for you.
Domain name registrars can sell domain names, manage its records, renewals, and transfers to other registrars.
Frequently Asked Questions
We have been helping people to buy a domain name that is right for their website for years, thus, we have got a bunch of answers to the questions which we frequently get asked by them. Explore them below for more information.
What will happen if I don't renew my domain?
First, people who visit your website will be notified that the domain name has expired, and other services you used that domain name with may stop functioning.
Second, if you can't renew it as early before 30 days after expiration, it can be purchased by another person.
How long can I register a domain name?
You can register for three year or more. For three years and above like for up to 10 years, contact the company that you want to buy it from.
But note that some domain name extensions have their own maximum length of registration time.
What is a sub-domain name?
A subdomain, as its name implies is a child domain under the main domain name. For example, blog.fastknowers.com is a subdomain of fastknowers.com blog.
Once you register a domain, you have permission to create subdomains for it by yourself.
Websites commonly use subdomains to create child sites under the same domain name.
For example, a business website can create a subdomain for their blog or their online store as store.example.com or blog.example.com.
The good news is that you can install WordPress and design your subdomain website in a different way from your main website.
For more information, see how you can create a subdomain for your domain name on WordPress. 
Can I move my website to a different domain name?
How can I cancel my domain name registration?
You can cancel your domain registration at any time. But note that once you have cancel your registration, the domain will become available for others to register.
How can I know who owns a domain name?
To know the owner of the domain name, you can use Whois tool. However, if the domain name is using domain privacy, then you'll can't see their details but the proxy information provided by their registrar.
Can I sell my domain name?
Yes. The domain name is sellable as there is a huge demand for good brandable custom domain names.
The business of selling domain name is a lucrative one. You can list it on domain name registrar website like GoDaddy as a premium domain or you can sell it through word of mouth among your friends, or business partners.
Do I need a domain privacy?
Domain Privacy is an add-on service sold by domain registrars when you are buying a domain name from them. This add-on allows you to show proxy information instead of your actual personal info.
It is not compulsory for you to buy if you want to show your personal details public. However, if you want to keep your details private from hackers or competitors, then buy it for a small cost.
Can I buy more than one domain name?
You can buy as many domain names as you like.
What is the difference between HTTP and HTTPS?
HTTP refers to Hypertext Transfer Protocol. It is the internet protocol technology used to access information on the web.
However, it is succeeded by the HTTPs which indicates Secure Hypertext Transfer Protocol. HTTPs indicates that a website is using SSL, which is a secure protocol to transmit data like username, password, credit card details, etc. on the internet.
Do URL and a Domain Name have a difference?
Yes. The URL is short for Uniform Resource locator. It is a web address that takes you to a specific page or file on a website.
A domain name alone locates a particular website. For example, if you entered fastknowers.com in your browser, it will convert it will be converted into a URL like https://fastknowers.com and take you to the homepage of the website associated with that domain name, Fastknowers.
Each page, post or file, image you see on the internet has a unique URL. 
Is www a part of domain name?
No. WWW is the abbreviation for the World Wide Web. A domain name doesn't use www in their website addresses.
Hope this article has helped you know what a domain name is about and how it works. You may also need to read our guide on how to register a domain for free when you buy web hosting in order to help you start your next website with little money.
If you found this article helpful, please like our Facebook page and comment with any questions you may have below. You can also share it with your friends on social media.