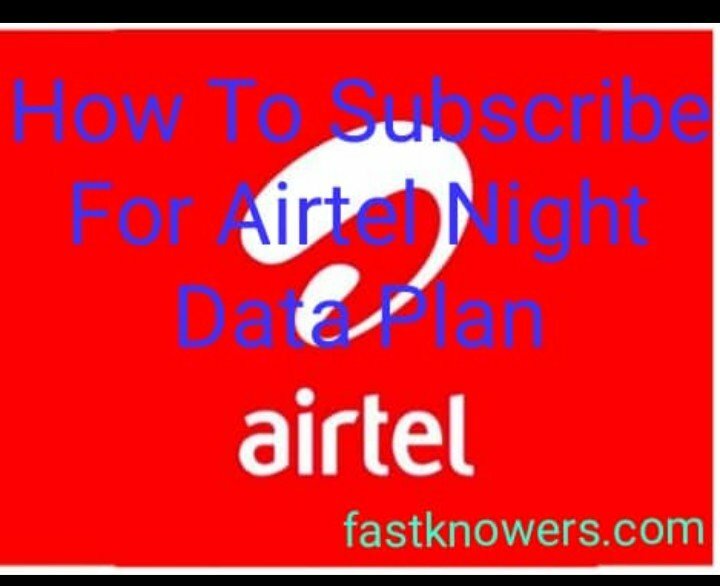 If you're a type of person who does not get chance to browse the internet in a day, then you should know the code to subscribe for night data plan of Airtel with the cheapest price as you must get chance in the night.
Night data plan of Airtel works from 12:00 am to 6:00 am in every night. In case that you did not know, night is the resting moment or time of a hustling person.
It's not good to pay for what you don't use, thus, don't subscribe for data plan which you cannot use its 70% before it's expired.
For night plan data, you can subscribe for 1GB (One GB) with N50 (fifty Naira) and below are the procedures of how to do step by step.
Read this content also: how to know the telephone number that has in a criminal way loaded Airtel recharge card.
How to subscribe for night data plan of Airtel network
Below is the code and procedure of how to subscribe for night data plan of Airtel network provider limited in order to enjoy better browsing experience in the night on smartphone or laptop:
Insert the Airtel sim card which you want to subscribe night plan on in a mobile device
Dial *312*3#
Then N25 (twenty-five Naira) will be deducted from your airtime balance and you'll be credited with 250MB (Two hundred and fifty MegaBites).
Code to migrate to Smart TRYBE in order to subscribe for night data bundle
To subscribe night data plan successfully, you must have to be in a SmartTRYBE package.
To migrate, then simply dial *312*1#.
If you've dialed that code, you'll be promptly switched to Smart TRYBE package thereby making you subscribe for night data plan.
Conclusion
If you have followed the guidelines in this content, you'll enjoy fabulous browsing experience from 12:00AM till 6:00AM with your Airtel network.
If you know that this article is helpful and has helped you know how to subscribe for Airtel night data plan, please don't hesitate to like our Facebook page or follow us on Twitter for more important post updates like this henceforth.
Also, if you wanna make us improve, then share this content with your friends and don't forget to comment with any question you may want to ask.
Read this also: how to subscribe for huge amount of airtime with your Airtel network (new code for Airtel talkmore).