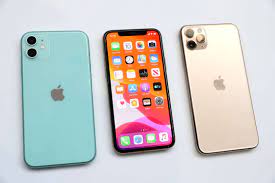 The phone brand which everyone wants to use nowadays is the iPhone. Uninterestingly, iPhone is very expensive in such a manner that most people don't have the means to purchase it.
In this article, we have discussed the top best fastest ways how to buy iPhone and be paying your seller month by month if you can fully pay it. If you are interested to know how to buy iPhone and pay monthly in Nigeria for 2022, then let's start as we have got you covered.
Do you want to use iPhone for your business but don't have money to buy one of your choices? If you are in Nigeria, then continue reading this post because I am going to discuss with you how to buy iPhone on credit online so that you will be paying some percentages from the cost price every month. Please note that your bank account will be deducted from the amount you agreed with them until your debt is paid up.
Buying iPhones on credit online in Nigeria is not a new thing. No, fraud was involved. In fact, everything is handled by a secured well monitor computer and software. The way it works is that you just drop down your BVN and account number or other bank account details. In this way, every month, your account will get debited with the agreed amount you stipulated.
There are different e-commerce websites that offer "'Buy now, Pay later" services to their regular and irregular customers. They loan you money to buy an iPhone (or any item of your choice) and they will deduct your bank a count in every month until their loan is paid up.
Anything that is concerned about loans must have some commissions. However, the commission involves in this type of transaction is roughly 4 to 5 %, for example, if the cost of an iPhone that you want to buy on credit is 100, 000 Naira, when the commission is 5 %, then you are to pay 105, 000 Naira.
To buy iPhone on credit and be paying monthly warrants you have to provide your identification document such as a national ID card, Voter's card, driver's license, etc. so that you could easily be traced anytime it appears you don't want to pay. Here, I will show you how to buy iPhone and pay monthly in Nigeria very fast using your phone or PC.
For you to be able to buy iPhone on credit online, kindly make sure to be able to provide and upload all of the following requirements:
Minimum of your 6 months bank statement.
Work ID card/ Employment Letter.
Government ID card (voter's card, NIN, or International passport).
Also your BVN information.
Now, let's start to discuss how to buy iPhone and pay monthly in Nigeria.
How to buy iPhone and pay monthly
To buy iPhones or other types of mobile phones or items in Nigeria and pay monthly, is a website that makes it possible. The top best websites in Nigeria for making buying iPhones on credit possible are listed and explained below one by one.
Jumia Nigeria.
Easybuy.
ParktelOnline.
SLOT Nigeria.
PAYWITHSPECTA.
Konga buy now pay later.
1. Jumia Nigeria
Jumia Nigeria runs a flexible financing structure for its customers who cannot afford to pay a one-off price for their desired iPhone. The plan is under a subsidiary of Jumia Nigeria known as "Jumia Flex". Customers of Jumia Nigeria can purchase selected smartphones, laptops, and other devices and spread payments across 3 — 6 months.
To enjoy buying iPhones on credit from Jumia and pay monthly, simply visit their website at www.jumia.com.ng/flex/ and select the type of iPhone or item you want to purchase, fill out the application form and submit it.
Please note that they typically process applications within 3 working days of submission. If you possess the required documents and everything on your application checks out, your application would be approved and you would be invited to pick up your phone at the company's office or request their agent to deliver it to your address.
The iPhones bought via Jumia Flex are in good condition and protected under a 12-month warranty. For more information, please visit the Jumia Flex website to learn more about purchasing a smartphone and paying in installments. It is also very important to note that all application processes are done online. The requirements for requesting buy now, pay later on Jumia are:
Requirements
Bank Verification Number
Bank Statement from last 6 months (in PDF)
A valid ID card (National ID card, International passport, Voters Card, or Driver's license).
---
---
Read these also:

1. List of top best iPhone phones and their price in Nigeria.

2. How to change date of birth on Voters Card in Nigeria.

3. MTN Momo agent online registration form (step by step guides).

4. Driving schools in Lagos (listed, compared & their fees) in 2022.

5. Konga recruitment portal 2022 and all available positions.

6. Top cheapest universities in UK for Masters and PGD program (2022).
---
---
Now, let's explain other Nigerian websites for making buying iPhones on credit and paying monthly possible.
2. Easybuy
Easybuy is a mobile device financing platform owned and operated by Palmcredit. Their service offers flexible financing plans for people desiring to purchase iPhone but cannot pay up, hence, it helps them to buy them and allow them to pay them monthly.
All you need to do is pay an initial deposit (at least 30% of the phone's cost) and work out a financing plan with Easybuy that lets you spread the payment of the remaining 70% (plus interest) over 3 — 6 months.
3. ParktelOnline
ParktelOnline (website: www.parktelonline.com) is another e-commerce in Nigeria that provides iPhone financing plans. They basically sell mobile devices and accessories only and as such wants to put smartphones in the hands of those who aren't financially capable enough for a one-off payment.
Smartphone financing plans not only makes it easy to purchase devices without breaking the bank, but it also ensures that you don't miss out on the latest technology because you currently cannot afford it. These are currently the popular platforms that offer "Buy Now, Pay Later" financing plans in Nigeria.
ParktelOnline's "Buy now, pay later" plan is only available for their customers located in Lagos and Abuja and is available for iPhone that costs above NGN 50,000. If you are interested to know more about how to buy iPhones on credit and pay monthly using ParktelOnline, please note that their application can be done online via their website or at any of the stores in Lagos and Abuja.
4. SLOT Nigeria
SLOT (website: www.slot.ng) is one of the oldest, trusted and biggest offline retailers of smartphones and all types of gadgets in Nigeria with over 60 stores spread across 18 states in the country. SLOT formerly sold phones, gadgets, accessories, and other home/office electronics to customers on a one-off payment model only but the company now offers more flexible gadgets acquisition plans.
Customers can trade in their old smartphones for a new ones as well as purchase a new smartphone and pay in monthly installments over a specified period. Like Jumia, SLOT also offers 3 & 6 months repayment plans for smartphones, accessories, laptops, and other gadgets and electronics.
To purchase an iPhone from SLOT and pay later, you'll have to visit any SLOT store/branch that is closest to you to make inquiries regarding the device(s) you want to purchase, the price, payment plans, and any other details that you need to know. If the terms of the financing are good for you, you'll be asked to fill out an application form and submit the necessary documents.
After applying as needed, your application will be processed in 24 hours. If approved, the device you want to purchase will be handed to you and you can continue with the payment for the device later.
5. PayWithSpecta
Our flexible finance saves you from paying for a new PRODUCT upfront, giving you more money to spend elsewhere. At Slickmobile, you can buy a new smartphone, and/or any product you have in mind on credit and pay MONTHLY with low-interest rates. By spreading the cost up to 6 TO 12 MONTHS, your monthly payments stay low.
Please continue reading to know how to create an account on PAYWITHSPECTA if you want to buy an iPhone from them on credit and pay monthly.
How to apply
Please visit www.slickmobile.com.ng and follow the steps below:
Confirm the price and availability of products from us.
Place an order on their website
Click the CredPal Pay as your payment option at the checkout.
Sign up/ Sign in on CredPal, upload the necessary document, and wait for credit limit and loan limit approval.
Pay the required deposit amount.
Once you have been offered a credit limit, we will supply the item to you.
Click here to Sign Up and create your account.
After signing up, A verification email with the title "Sign up to pay with spectra ". Will be sent to you. Kindly click Activate Account.
Log in with your email and password.
Click the "Get Spending Limit" button and fill in all the required information.
With www.payWithSpecta.com, you can buy now and pay later. you can spread your payments over 1 to 3 installments at no charge, and spread your repayments over 7 to 12 months at an affordable rate. As low as 2% monthly! When you pick a 7 – 12 months repayment tenor, the interest rate is as low as 24% per annum or 2% monthly and does not exceed 24% per annum or 2% monthly. The insurance fee is 2% per annum.
Requirements
6 months of your SALARY bank statement.
Work ID card/ Employment Letter.
Government ID card (voter's card, NIN, or International passport)
Your BVN.
6. Konga buy now pay later
Konga buys now and pays later is another service that lets people buy iPhones in Nigeria on credit and pay monthly. It is a financial aid offered by Konga Limited to enable its customers to buy any type of smartphone including an iPhone and pay monthly.
For more information on how to buy iPhones on credit in Nigeria on Konga and pay monthly, please visit the Konga Nigeria website at www.konga.com. Apart from iPhone, you can still buy any other items like a laptop or computer on credit and pay later. If you want to know more, visit their website and consider reading their terms and conditions.
Conclusion
If you know that this article has helped you know the list of top best websites to buy iPhones online and pay monthly and how to do step by step, then please share it with your friends and remember to subscribe to our newsletter for more important updates.