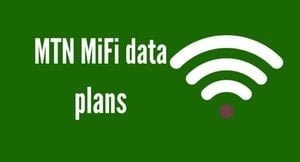 The MTN Mifi is a Wireless Router or device that provides an unstoppable and smooth connection to different users (roughly 10 to 15) at a time. In this article, I will show you all MTN MiFi data plans and how you can activate, subscribe or buy any of them of your choice.
MiFi data plans are the data plans designed by every network provider for their customers who use the internet through the connection of wifi and hotspot.
If you own a Cafe that contains two or more devices (laptops or desktops), it's unfriendly to subscribe data bundle for each of them individually.
To cut off the cost of subscribing to data bundles for each of your devices one by one, just use a MiFi device and connect it with their hotspot.
MTN network is the best network that we wholeheartedly recommended you use if you run a business that requires different internet-enabled devices.
To use MTN MiFi and connect with your device to browse, first, you have to buy an MTN MiFi device or universal MiFi device, then subscribe to your SIM card with MiFi data plan, insert your SIM card in the MiFi device and begin browsing.
1. How to become an approved MTN SIM registration agent

2. Top best MTN tariff plans and how to migrate (step by step)
How to buy MTN MiFi data bundles
To buy or activate the MTN MiFi data bundles offer, simply take the following steps:
Buy the MTN MiFi already Bundled with a new SIM from any MTN store or partner store.
Register the new SIM card
Insert the newly registered SIM into the MiFi device and power it on.
You will get free 30GB of data with notifications informing you of the SIM registration and a 100% bonus offer on the MiFi Portal. But, if you do not receive the free 30GB data after inserting the SIM into the MiFi, simply send 'Activate' to 131 via SMS.
To enjoy the 100% bonus, visit www.mymtn.com.ng or your MiFi Portal to activate data plans from N3,500 to N20,000.
 You can dial *131*500# to link your MiFi Number and activate plans.
To buy MTN MiFi data bundles on your device if you don't want to remove the SIM card from the device, please use the steps below:
Dial *131# from your registered alternative SIM card that is inside the phone.
Select option 7 to choose 'Data Gift'
Choose a data plan (Daily Plans, Weekly Plans, Monthly Plans, 2-Months Plans, 3-Months Plans)
Now, select your preferred data bundle
Select 1 to proceed with a data bundle purchase
Enter the MSISDN of your MiFi (MiFi SIM phone number)
Enter Customer Care PIN of Alternative number (Security Key/ PIN)
Success: you are done and will receive a successful data gifting message shortly.
Presently, MTN MiFi data plans range from N5, 000 and above. Most unhappily, the MiFi data plan cannot be used on the mobile phone unless using your phone's hotspot connection.
To enjoy data connection wirelessly, you have to:
Buy a new MTN MiFi device from any MTN store, Jumia, Konga, JiJi, etc.
Insert a registered MTN SIM in the MTN MiFi device and turn it on to be qualified for the free 30GB.
Activate the free 30GB data bundle at the store or call 180 (MTN Customer care line).
Ensure the MIFI is turned on with the registered SIM inside before activating the Free 30GB.
Dial *131# to activate any of the selected MTN Data Bundles and enjoy up to 100% bonus on data bundles below N5000.
The cost price of MTN MiFi devices on three major online shops in Nigeria are finalized in the table below:
| E-commerce site name | Price of MiFi device |
| --- | --- |
| Jiji | N17,000 – N25,000 |
| Jumia | N17,000 – N25,000 |
| Konga | N17,000 / N24,000 |
However, the default MTN MiFi password is usually a digit number from one to seven, that is, 1234567.
Note: without correctly entering the password of your MTN MiFi device in the device to which you want to connect, your effort towards browsing through a wireless WiFi connection will be unsuccessful.
That is, failed, thus, it's very ideal to note down your password before you start connecting.
And please don't ever share your MTN MiFi password with anyone unless you do it at your pleasure.
Read these also:
MTN Nigeria MiFi data plans and their price
| Plan Name | Price (N) |
| --- | --- |
| 10GB Monthly Plan | 3500 |
| 15GB Monthly Plan | 5000 |
| 20GB Monthly Plan | 6000 |
| 40GB Monthly Plan | 10000 |
| 75GB Monthly Plan | 15000 |
| 110GB Monthly Plan | 20000 |
To subscribe for any MTN MiFi data plans as shown in the table above, just simply dial *131*1*5*3# and you will be shortly subscribed in.
How to check data balance on MTN MiFi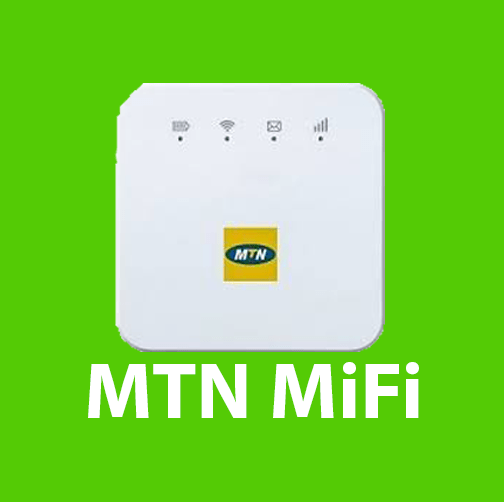 To check the data balance which is currently in your MTN MiFi device, please use any of the methods below:
A. SMS method
One of the best and fastest methods to check data balance on MTN MiFi is an SMS method. It requires simply sending 2 in form of text messages to 131.
B. USSD
Another method is dialing a USSD code. To use the USSD code to check the main data balance of your MTN MiFi, dial *131*4# or *131*1*5*4# from your MiFi-linked phone number.
Please note that to link your phone number to your MiFi line, dial *131*500# on your phone number and follow the prompts.
C. MiFi Portal
Since a lot of MTN subscribers have diverted to using MiFi data connection, MTN itself has created a portal specially for them to have full access and confidence over their MiFi management.
Visiting the MTN MiFi portal, you can find an option how to subscribe to different data plans of your choice, check your data plan expiry date, etc.
To use the feature of the MTN MiFi portal, first, visit the MTN website by clicking here, then click the tab that indicates 'MiFi portal' located at the header of their page.
When considering checking your MTN MiFi data balance, make sure you check it with the phone number you linked with your MiFi device.
Just simply dial *131*4# to view your MTN Mifi data bundle balance.
If done correctly as I have explained above, then you'll receive an SMS from MTN in a short time.
D. myMTN App
The myMTN App is a mobile application designed by MTN to enable their customers to enjoy the awesomeness of their networking or telecommunication services everywhere they are and everywhere they go.
myMTN App can be installed on ios and android from the App store and Google Play Store, respectively.
You can use myMTN App to check your MTN MiFi data balance, select and subscribe to any MiFi data plan of your choice, etc.
Please click here to download from the App store and here from the Google play store.
For important guides, first, launch the MTN Mobile WiFi icon from your computer or start your Internet browser and visit https://www.mtnonline.com/ via the address bar.
Type the Login Password: The default password is admin (you are advised to change this password to prevent it for security reasons).
Click on SMS at the top of the screen and send an SMS with the keyword MIFI to 131.
You will receive an acknowledged SMS confirming you now have 500MB of data, valid for 1 month.
 Now you can connect to the Internet.
E. myMTN web
Another fastest way to check MTN MiFi data balance is by logging in to the MTN website using your username and password.
myMTN web is a name given to the MTN website where subscribers' information is saved in. Hence, logging in to your account will definitely help you check your active MTN MiFi data plans and their expiry date.
To continue using myMTN App, please click here to visit their website.
F. MTN Zigi
Zigi is the 24/7 customer care representative agent of MTN just like Leo is for UBA. Any time you want to check your MiFi data balance, you can feel free to let Ziggi know to check it for you within a second.
The robotic MTN agent, Ziki is available every time on all social media handle; Facebook, WhatsApp, Twitter, Instagram, etc.
You can meet Ziggi via any of the following channels for checking your MTN MiFi data balance:
MTN WiFi unlimited data plan
MTN has just designed an unlimited data plan for its customers who use WiFi, MiFi, and hotspots this Xmas season.
The MTN Broadband Xmas promotional offer allows MTN's MiFi and HynetFlex customers to enjoy FREE 5GB and 10GB data when they buy monthly data plans from N3,500 to N20,000 and N8,000 to N25,000 respectively on their lines within the period from December 2021 to January 31st, 2022.
Please note that the MTN Broadband Xmas offer is available only to customers who are having MiFi and HynetFlexx devices.
To enjoy the MTN unlimited Broadband Xmas MiFi data bundles offer, simply buy any of the MTN MiFi data bundles with the SIM in your device within the period of 2021 to 2022.
How to use MTN MiFi device (the recommended way)
We always refer to MiFi devices as mobile hotspots for your laptop, phone, or all other of your gadgets with the help of a WiFi connection of your gadgets.
The step-by-step recommended way of how to use the MTN MiFi device is very simple to understand if you wirelessly connect two phones together before using data from another one.
After successfully purchasing the MTN MiFi device, our own recommended tips on how to use it are:
Get a SIM card that has an active MiFi data plan
Insert that SIM card into the MiFi device
Press the power button to switch it on
Keep the MiFi router (device) in any place you think it is convenience
Open your Smartphone or laptop which you want to use data from your Mifi device, switch it on WiFi and search for any hotspot that is open around
Enter the password of your MiFi, get connected, and start browsing the internet.
MTN 4G MiFi data plans
The MTN LTE 4G MiFi can connect up to 10 Wi-Fi-enabled devices at the same time – Smartphones, Tablets, Laptops, Computers, Game Consoles, Smart TVs, etc. MTN LTE MiFi can be used for home or Small Businesses.
Some of the interesting offers of the MTN 4G MiFi data plan are:
FREE 30GB data (valid for 30 days) upon purchase and activation.
A 100% bonus on data bundles from N3,500 to N20,000 for 6 months on the new SIM that is bundled with the MTN MiFi device, after activation of the MiFi.
A top-up option on your active monthly data plan on the MiFi SIM with a 3GB Top-up bundle for N1,000 only.
FREE data daily, from the 7th month, on the following Super Plans upon exhaustion: 40GB Monthly Plan, 75GB Monthly Plan, and 120GB Monthly Plan.
Conclusion
If you know that this article has helped you know MTN MiFi data plans and how you can subscribe to any one of them, check your MTN MiFi data bundle, etc., please share it with your friends and remember to subscribe to our newsletter for more important updates.