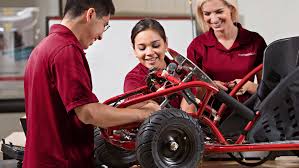 The United States of America is one of the most perfect countries in the world for studying engineering. Before one can study engineering in any college in the USA, he/she must sit and pass some tests, interviews, or exams. In today's article, we're going to discuss with you the USA entrance exam for engineering and how you can apply step by step.
The engineering admission entrance exam is a type of examination that some institutions in the USA conduct to select prospective students for admission into their engineering and technology departments like mechanical engineering, civil engineering, electrical and electronics engineering, etc. Entrance exams can be conducted at any stage of education, from primary to tertiary.
The entrance exam for engineering school in the USA
The main purpose of the introduction of the entrance exam in the USA is to judge the student's ability, sharpness, knowledge, etc., especially those who are willing to study engineering and medical-related courses. With the entrance exam, the aptitude of the student is tested.
Are you deciding to study the rest of your engineering education in the USA? GRE is your entrance exam and you must pass it. Along with GRE, there are subject-specific tests that you can take up.
GRE stands for "Graduate Record Examinations". It is a standardized test and an admissions requirement for many graduate schools in the United States and Canada and also in other countries.
In the USA, the cost for applying GRE test is usually $205 but there are some countries where the price is higher. In fact, it is $213 in India, $226 in Nigeria, $230 in Australia, $231.30 in China, $255 in Turkey, and lots more. Meanwhile, the price of GRE Subject Tests is $150 in every country.
Read these also:
There are other entrance exams in the USA for medical, law, and business management-related courses. If you are not an engineering student, then you can apply for either MCAT, LSAT, or GMAT as your favorite admission entrance examination. Please note that GRE on the other hand is accepted for both Master in USA and engineering programs in the USA.
If you want to study engineering in the USA, the admission application processes require you to:
Apply at the right time and know the application closing date.

Obtain some transcripts from your

current school to enable you to gain admission fast.
Register and fill out the application with the correct details of yourself including your name, address, contact details, nation, etc.
Remember to apply for the entrance exam and submit your scores online.
Write an undertaking and recommendations letter and signify that you are not an individual who will bring an antisocial activity to the campus.
If you have any thoughts you can make concerning how to help other students keep developing and see more potential benefits of their worldly existence, then write a few of them in paragraphs and attached them to your application documents.
To become a successful engineer in any field in the USA, you must be educationally learned. First, earn a bachelor's degree in engineering from a school accredited by the Accreditation Board for Engineering and Technology (ABET), pass the Fundamentals of Engineering (FE) examination, complete at least four years of engineering experience, pass the principles and practice some Engineering Examinations (PE).
College entrance examination in the US for engineering school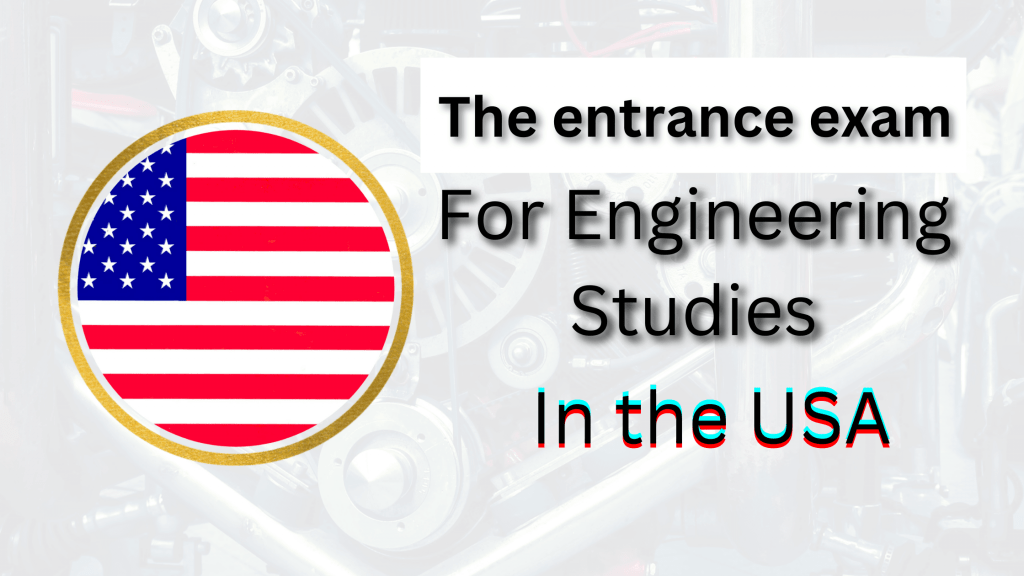 Before any student, be it a USA citizen or non, can gain admission to study engineering in the USA college, he/she must have a good grade in his/her A-level certificate and also pass their entrance examination.
Now, the college entrance exams in the USA for gaining admission into engineering school are listed and explained below one by one.
#1. ACT
The ACT, pronounced as /eɪ siː tiː/, is originally an abbreviation of American College Testing. It is a standardized test used for college admissions in the United States. Every engineering college or university in the United States of America requires a standardized entrance exam as part of their admission process, and the ACT Test is accepted by all of them.
The minimum ACT score in the USA is 22 but it can vary with the courses and universities that one chooses. Similar to the SAT, many top universities ask students to take the ACT in writing to get admission.
In general, a good ACT score is any score in or above the 75th percentile, i.e, at least a 22-24. As an engineering student, you should aim to hit or exceed the middle 50% of ACT scores at your chosen colleges.
Application fee for the ACT entrance exam: $46 TO $62.50.
#2. SAT
SAT stands for Scholastic Assessment Test. It is one of the most important entrance exams when applying to undergraduate engineering programs in the USA. Almost all universities in the USA accept SAT exam as their admission entrance examination option.
It is a written paper-pencil test and helps evaluate the language and mathematical reasoning skills of the applicants.
As a matter of fact, the SAT exam syllabus has a total of 3 sections they are Reading, Writing, and Mathematics. Earlier, there was an optional essay writing section which was recently discontinued by the SAT College Board. Thus, the subjects in SAT are reading comprehension, writing, and mathematics.
There is no certain requirement for the SAT exam, thus anyone can apply and sit for it. Generally, 10th or 11th-class students take the SAT exam to utilize its scores for the study abroad application of their undergraduate program.
#3. CLT
There are over 200 colleges & universities across the globe accepting the CLT entrance exams. Engineering colleges across the USA (United States0 also recognize the value of the CLT and the excellence of CLT and CLT10 test takers. Hence, hundreds of colleges recruit students who take the CLT and even provide scholarships based on their CLT test performance.
The entire CLT exam, excluding the writing section, lasts for a total of 120 minutes (2 hours). It is found that CLI is one of the hard exams but many students suggest that taking practice tests is one of the most effective ways to prepare and pass it.
An excellent score on the CLT exam is actually 120. That is, scoring between a 114 and a 120 on the CLT is theoretically better than a perfect score on the other two exams.
#4. TOEFL
TOEFL is one of the engineering admission entrance exams accepted by more than 11,000 universities in 150 countries including the US, UK, Canada, Australia, New Zealand, France, and Germany. It is very preferred in the US.
Schools of Engineering require 550 (paper-based), 213 (computer-based), or 79 (internet-based). International students who have earned a bachelor's degree after at least (2) years of study from a U.S. institution or from an institution in an English-speaking country are not required to take the TOEFL or IELTS.
The Foreign Language or TOEFL testing is one of the most frequently used language examinations. Its scores might necessarily range between 71 and 92 on the online exam, depending on the subject and university that you choose. But you have to get higher marks in order to be admitted to a Ph.D. in the United States.
Read these also:
#5. GMAT
Every engineering applicant in the USA must pass the GMAT exam for admission to a B-School. In US B- Schools, the average GMAT score is 450.
If you desire to pursue an MBA in a professional field such as medical courses, engineering, etc. in the USA, GMAT scores are necessary. While GMAT may be dispensed with, many industries, such as finance and business, want GMAT scoring when graduates from MBA are looking for a job in the United States.
It is not news that many engineers find the GMAT a little easier than any other entrance exam. It happens because they find the quantitative section more familiar than the verbal section.
Engineering prospective students in the USA sit for the GMAT entrance exam since a master's in engineering management is an interdisciplinary program. Importantly, some universities will accept either GRE or GMAT scores but note that GRE scores tend to be preferred as the GRE applies more readily to both engineering and management students.
The GMAT cut-off point for MBA in the USA is important for many engineering course aspirants because many MBA colleges in the USA have opted in looking for candidates who secure good scores. Meanwhile, a GMAT score ranges between 650-690 and a score of 700 or higher is great as it can help you get into your dream B-school.
#6. IELTS
IELTS is an entrance exam accepted by over 3,400 institutions in the USA, including boarding schools, associate, undergraduate, graduate, professional, and law programs. This type of entrance exam is becoming increasingly popular amongst students as the IELTS rating is lower than the TOEFL.
Depending on the course and type of university you want to study engineering in, the minimum IELTS score required ranges from 6 to 7. In fact, if your score is between 5.5 to 6.5, however, be certain that most schools and universities will gladly accept your admission application.
#7. FAFSA
International students are not eligible for federal aid from the FAFSA but it is important to file the form because some schools may require it in order to determine if you could receive aid directly from the school or from the state where the school is located.
The FAFSA is an application that the federal government uses to gather the financial information it needs to assess what loans and grants you qualify for.
The Simplified Needs Test allows you to have assets excluded from consideration in calculating the Expected Family Contribution. Based on your answers to certain questions on the Free Application for Federal Student Aid (FAFSA®) form, you may be able to skip the questions about your assets.
The FAFSA is required for a student to be eligible for federal student loans or grants to pay for college, for federal work-study, and often to qualify for state and institutional scholarships.
US entrance exams and their average score
Top entrance examinations in the USA and their application fee and average score required for gaining admission are shown in the table below:
| Exam's Name | Application Fee | Average Score Required |
| --- | --- | --- |
| IELTS | ₹ 14700 | 6 to 7 Bands |
| TOEFL | $185 | 71-100 |
| SAT | $101 to $117 | 900-1300 |
| ACT | $46 TO $62.50 | 23-30 |
| PTE | ₹ 13300 | 54-58 |
| Duolingo | $49 | 100+ |
| LSAT | ₹ 3799 | 130-160 |
| GRE | $213 | 290-310 |
| GMAT | $250 | 450+ |
| MCAT | ₹ 25,750 | 490+ |
Engineering is the application of science and math to solve problems. Engineers figure out how things work and find practical uses for scientific discoveries. A good engineer is a person who makes a design that works with as few original ideas as possible.
If you want to travel from your country to another country for studying engineering, we advise you to apply to any USA engineering school.
Please share this article with your friends and remember to subscribe to our newsletter if you know that it has helped you know everything about the entrance exam for engineering in the USA.
Read these also: