By creating Google Mail account, you will have your personal email address which will end with @gmail.com. Isn't it amazing for you to know how to create a Google Mail account now? In this article, we'll clarify everything with you step by step..
Google is the best and most notable company in the world and it is located in United states of America, USA. There are many companies out there which can give you free personal email address but when it's come to trust and reliability, choose Google.
You'll have an email address and it'll must be tagged with Gmail which indicates Google mail. And it is not removable but you can start any type of business or task with it without facing and hardship or difficulty.
Do you want to know how to create Google account and email address? In this article, we shall show you how to create your own Gmail address or account with your smartphone for free of charge.

The creation of Gmail account/address is done for multipurpose uses. If you are a JAMB, NECO or WAEC candidate, you must have a valid email address for your contact information during registration.

How do I open an email address to complete my JAMB 2021 profile application? Or how do I create an email so that I can proceed and check my NECO result on NECO website?

Above are just a few frequently or hot cake questions asked by so many persons who wish to create a Gmail Account to complete their online registration.

The importance of Email address in this generation cannot be over-explained. In fact, to sit for JAMB, apply scholarship program or other things, you will be required to fill your email address in the application form. An Email helps you send and receive messages online.

Read this also: how to use email address to subscribe to the newsletter of the website for receiving post updates via email.
Steps To Creating Google Mail Account
The uses of email address can not be known up. Popularly, before you can make a comment on some blogs, your email must be need to be put down in the provided space.
Firstly, you must have a Gmail account before you would be able to install and update the applications on Google Play Store.
There are many email providers around. The popular ones are Gmail, Yahoo Mail, Hot mail, Zoho mail, Microsoft Mail, ETC.
At the same time, Gmail by Google is the most popular one ever. You can use Google Mail to create a free email address for your business (for example inquiry(business name)@gmail.com.
If don't want @gmail.com to be suffixing your email address, for example, [email protected], you will be needed to pay before you can get it.
Getting an email address without a suffix of @gmail.com builds you trust and professionalism, right? In this case, people will hale and add value to your business.
The using of Gmail account by most users is done because it is free, simple, accustomed and easy to create in minute.
In this article today, I will teach you how to create a successful Gmail account and verify your number and address.
How To Create Email Or Gmail Address
In this step you will learn how to create a very good Google Mail (Gmail) accoun and email address which can be used to do everything for free of charge.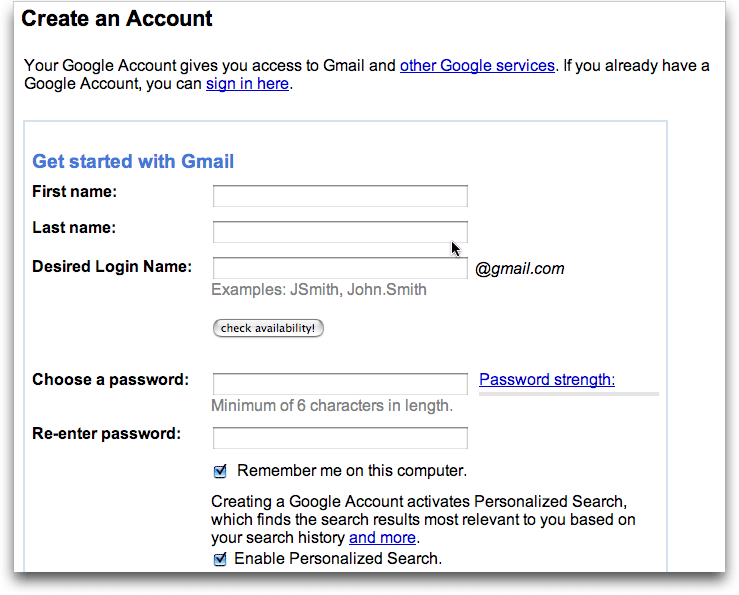 Now, to continue to create Google Mail account for yourself or another person or for business, read the following carefully.
Click here now to visit the account creation page.
You will see a form like the one shown in the image below. Then fill the form correctly.
When you choose a username and you are told that the username is already taken, do not get discouraged. Choose a new one or follow the ones suggested by the system.
Your password should not be forgotten. However, you can still create another one if you forget
If you have not created an email account already, leave the space for old email blank.
Remember to enter your correct date of birth and gender
Then click on submit.
In the next page, you will be asked to verify your phone number.
Make sure the phone number you supplied must be valid and be with you. Immediately you get the verification code by text message, fill the verification code in the provided space for it.
That's all. You can now sign in to your Google account.
Don't cheat Google in any way. However, every information you put in during Google Mail account creation will interfere every of your electronical, online activity.
Providing a correct date of your birth is very important as it'll be used to show you an information or advertisement which is meant for your age.
See also: How to apply for national ID card and get it quickly.
If you have found this article helpful and has helped you know how to create a Gmail account and address, then do share with your friends and let us know how you feel using the comment box.