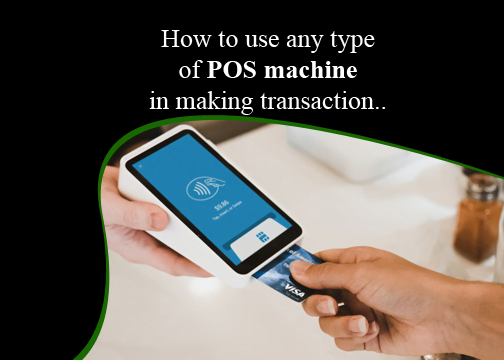 Searching for how to use a POS machine to withdraw and transfer funds or money from one bank account to another one? On this page, I will guide you step by step!!
Gone are days when we must visit a bank for depositing and withdrawing our money because, with a simple POS machine, we can easily withdraw and transfer open bank accounts, pay utility bills, transfer money to the Bet9ja account, etc.
A POS machine is a digital device such as a computer, laptop, tablet, or smartphone with POS software installed on it.
Read this also: recharge code of all banks in Nigeria for data and airtime purchase (step by step).
How to use a POS machine to withdraw and transfer money everywhere
In some cases, there are a lot of different virtual POS terminals which can let you accept payments without using a customer's credit card (ATM card).
At the time you started your business, you may have only accepted payment in cash or checks.
Now that your business is growing, without losing the customers as a result of they are not with cash, how should receive payment from them using a POS machine?
As a matter of fact, POS machine offers many important services apart from accepting credit card payments.
As we keep going, we'll go over to explain the benefits and how to use POS machines for some important tasks such as transferring money, depositing funds to betting companies, etc.
You can use a POS machine to:
Initiate credit card terminal
Access barcode scanner
Issue a receipt for goods or products purchased
Cash drawer
To use a POS machine in the supermarket without your ATM card, you need a Paycode.
Now, what's a Paycode?
A Paycode is a code that is roughly 10 – 14 digits that can be used to withdraw money from an ATM terminal or make payments on a POS machine.
Paycode is generated by using your bank's USSD code.
You can also seamlessly generate your Paycode using any of the methods below:
USSD code or Mobile App of your bank
Using Verve eWallet
Using JumiaPay
See this also: how to become a seller on Jumia Nigeria very fast.
How does using Paycode to withdraw money without an ATM card work?
First, you have to generate the code.
For example, if your bank is UBA, to generate a Paycode using UBA's Paycode USSD, simply dial *919*8*Amount# and send
A code will be generated for you
Use that code to pay on the POS machine
Simply follow the prompt and enter the code, and the exact amount of your transaction will be deducted from your account.
The important fact to know is that Paycode can only be used on a Paycode-enabled POS terminal or machine only.
If you are operating UBA as a bank account, below are the list of some notable commercial banks in Nigeria with their respective Paycode generating USSD code:
GTBank: *737*13*Amount#
UBA: *919*8*Amount#
Fidelity Bank: *770*8*Amount#
Wema Bank: *945*8*Amount#
FCMB: *322*214*8*Amount#
Heritage Bank: *322*030*8*Amount#
After transferring money from your bank account using POS, the merchant is required to provide a printed receipt generated by the PoS terminal.
In case the facility is availed along with the purchase of merchandise, the receipt generated shall separately indicate the amount of cash withdrawn.
How to use any type of POS machine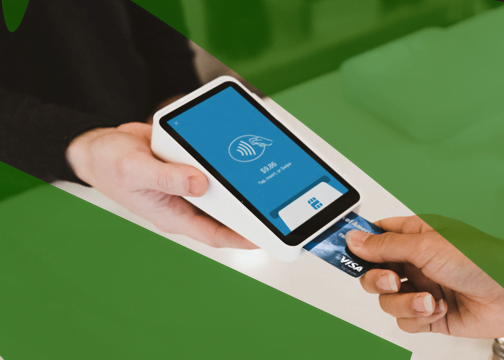 Before you can be able to use a POS machine, you have two options based on whether its software installed on-site or web-based.
A. On-site POS software
An on-site or web-based POS terminal machine is usually installed on your own server which can be rendered to be the norm but these systems tend to be more expensive than their web-based counterparts.
You don't need an internet connection, though, to process payments with on-site software, data is stored locally.
Please note that regardless of any terminal type, it will have to connect to the internet via a phone line by cable, WiFi or through a built-in SIM card.
B. Web-based POS terminal
These are more common today due to their easy setup, which only requires logging into an online interface.
You must have an internet connection to process credit cards, and information is stored online in the cloud.
This software for POS machines requires a card reader of some sort, a standalone terminal for manual entry, or an integrated terminal for a linked-up system.
Read this also: how to download the Zoom app for PC.
Top eight best POS terminals in 2022
Choosing a POS system or terminal depends on different factors which few of them are:
Sales volume
Your industry
Your business locations.
For example, if you are selling food at a restaurant, what is the best POS terminal you should consider installing?
Please continue reading in order to know the list of the top eight best POS terminals or systems in 2022 and their explanations step by step.
1. Lightspeed POS terminal
Lightspeed POS terminal offers POS software for retail stores and restaurants.
It is one of the best for mid-size and larger retail businesses, while Lightspeed Restaurant is suitable for cafes, bars, and full-service restaurants.
Lightspeed Retail includes inventory management features that expand the capability of its POS terminal: search for inventory items, set prices, and select sales channels.
Lightspeed Retail's inventory management screen gives you complete control over your inventory.
It does not require proprietary hardware, and its web-based software runs on Google Chrome and Firefox browsers.
Lightspeed Retail plans range from $69/month to $229/month, plus transaction fees while its Restaurant plan costs $69/month to support one POS register, plus transaction fees.
Most importantly, if you require more registers, Lightspeed has quote-based plans which you can go for.
2. MoMo POS terminal
This POS system is invented by MTN mobile limited. In this regard, you don't have to be an MTN subscriber.
To know how to install the MoMo POS terminal on your device, please check here as we have discussed that separately!
3. Stripe Terminal
Stripe is Blueprint's top-rated online payment solution, but it also has a face-to-face retail POS system and can integrate both sales channels into a single system.
It only requires the pre-certified card and chip readers it provides. Its data encryption processes are updated automatically through Stripe's remote management tools.
Stripe's proprietary POS hardware helps ensure customer data security.
Stripe's mobile card reader is $49, and a countertop terminal is $299. No monthly subscription fee is required, but you'll pay fees for each credit card transaction.
Please note that Stripe POS features do not include built-in inventory or customer management, but it offers third-party integrations to add that functionality.
4. Opay POS terminal
You can also use the Opay POS terminal or machine to withdraw or receive payment from your customers or transfer money to their bank account from your own account.
For more important information and step-by-step guides on how to install and use the Opay POS terminal across all your devices, please visit this page.
5. FirstMonie
FirstMonie POS machine is a POS terminal outlet innovated by First Bank.
You can use the FirstMonie POS machine to withdraw money or transfer money to any type of bank account. It can also be used to receive payment from customers for goods, products, or services purchased.
6. Zenith bank POS terminal
Interswitch the leading POS deployment company in Nigeria has scored Zenith top among other banks in the deployment of Point of Sales (POS) terminals in the country.
Statistics from the latest quarterly report of the platform owners, Interswitch, show that over 477 shops in Nigeria with an online point of sales terminals (POS), now accept the Zenith EAZYcard, well ahead of the closest rival that trails with 377.
Over 40 such shops and outlets are located in the Lagos area alone, with more angling to come alive with the service.
For more information on how to get Zenith bank's POS installed on your device, you have to visit their website or any of their nearest branches.
7. Union bank POS terminal
Union bank's Point of Sale (POS) terminals facilitate the payment and receipt of money using credit/debit cards at the point of sale.
Their dual SIM POS terminals ensure stable connectivity and can be used for collections in retail outlets, churches, hotels, fuel stations, restaurants, supermarkets, etc.
Note: collections at the point of sale are credited to merchant accounts on the next working day.
Visit any nearest Union bank branches for more information on how to get their POS machine.
8. FCMB POS terminal
FCMB POS terminals are designed, configured, and deployed to cash outlets to facilitate the exchange of value between cardholders and merchants.
Their POS terminals allow online debit to cards used for transactions from the merchant location and the merchant account is credited with the corresponding debit at settlement.
The FCMB POS terminal accepts all cards variance issued in and outside Nigeria from cardholders of all the banks such as Verve, VISA, and MasterCard. International card acceptance is however activated strictly on the merchant's request.
FCMB POS can be used to perform a variety of basic banking & financial transactions, some of which include:
Payment for goods and services purchase
Cash Back services
Pre-Authorization service
Cardless transactions
Air time recharge
Bill payment (PHCN, DSTV, etc)
Payment Reversal option
End of the Day transaction report
Customizable for different schools, and industries, a scheme that will capture transaction details as specified by the organization with online reporting features
Benefits of FCMB POS Terminals
Increased sales volume – Customer satisfaction
Instant confirmation of payment via CTMS platform
Speed of check out as payments are authorized quickly
Improved operational efficiency
Opportunity to earn fee income from cash back service
Easy cash evacuation at zero cost
Transaction security and integrity are assured
Promotes impulse purchase and payment by cardholders
Reduces your exposure to loss due to robbery or pilferage by employees
Eliminates fraud and makes accounting easier
Accepts all variance of debit cards of all participating banks in Nigeria
Read this also: how to write a job application letter to any bank in Nigeria.
Two types of POS terminals and how to install them
The two main types of POS terminals and how you can install any of them are discussed below step by step.
1. Software setup
Before you use your POS terminal, you must set up your POS software.
To do that, please follow the steps and instructions below:
Create your account locally, or log into an online interface.
Add the products and services customers will purchase.
Add merchant account and payment gateway info for credit card sales.
Set up sales tax rates.
If applicable, set up tipping options.
Customize receipts with business information and your return policy.
Create employee logins and manage permissions.
Connect to third-party software.
After the initial software setup, sales interfaces are designed for easy use and require minimal training.
2. Hardware setup
Log into your local or web-based account, and connect any items you're using to the POS terminal, including:
Card terminal
Barcode scanner
Receipt printer
Cash drawer
Processing transactions on POS
Once your software and hardware are set up, you're ready to process transactions.
Now, to start using your newly installed POS terminal to process a transaction, here are the step-by-step guides:
Scan a product barcode, or select it from your terminal's interface.
Use a card reader to initiate payment.
Have the customer approve the purchase.
Print/email a receipt.
Note as you process more transactions, you'll collect the information necessary to capitalize on other POS terminal benefits (sales metrics and inventory and customer management).
Read this also: top 30 social media platforms in the world and their founders.
Which types of cards are allowed for withdrawing cash on POS machines?
Under the facility of cash withdrawal at PoS terminals, cardholders can withdraw cash using their debit cards and open system prepaid cards issued by banks in India.
However, credit cards cannot be used under this facility. Cash can also be withdrawn at POS terminals through the Unified Payments Interface (UPI) as well as through the use of electronic cards that are linked with the overdraft facility provided.
Conclusion
Please share this article with your friends and remember to subscribe to our newsletter for more important updates if you know that it has helped you know how to use a POS machine to withdraw and transfer money.
Read this also: top 9 best loan apps in Nigeria to use to apply for a loan in 2022.