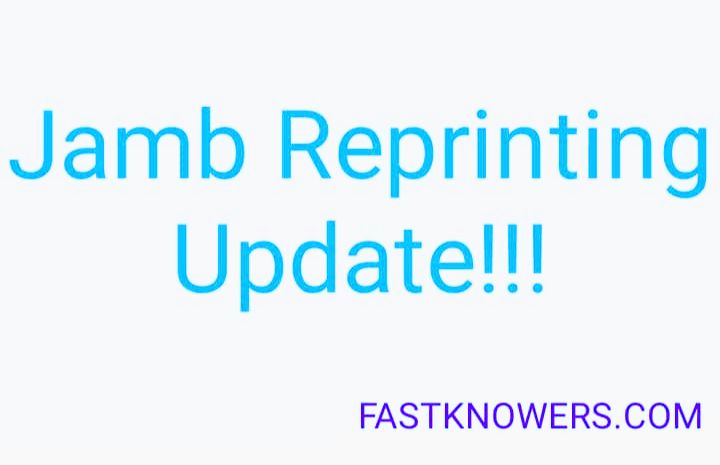 After the completion of the registration of jamb examination in an approved cbt centre, the date, venue and some other important things which can make you know how to write your exam will not come to your notice. Now, to know your exam information, you have to do a reprinting which can be done successfully on jamb website.
That is to say, by reprinting your slip on jamb portal or website as shown and discussed in this article below with your email address, you will be able to know the venue you will sit for your examination and when you should appear also. In fact, if you don't follow the order or instruction of jamb, then you'll likely have yourself to blame.
As a matter of fact, jamb reprinting is not something the candidates can be doing every time. Jamb always opens its portal for reprinting a week to an exam.
Read this also: reasons why jamb profile code delays to be sent to you and how to get your own step by step.
For example, if jamb examination will start on ten (10) days coming, we can hope to start reprinting our slip from third days in future (from now).
Jamb reprinting date for 2022 and how to reprint step by step
Friday 29th April 2022.
In this article, I will show with you when exactly you'll expect to start to reprint your slip as a JAMB candidate for 2022/2023 academic session. Let me ask you, which date will jamb examination really commence for this year, 2022? Do you know the answer? If you don't, then let me show everything with you step by step.
Jamb registration always lasts for one month (30 days) minimum. Meanwhile, it's started from 13th of April and will end on 29th May, 2021. Hence, an examination will start from 19th June to 3rd July, 2021.
Now, jamb reprinting starting date for 2022 has started on Friday, 29th April, 2022.
As you've known the starting date of jamb reprinting, let me show you how to reprint it when it has started step by step. Happily, you can reprint your JAMB slip with your email address to know the date and venue you'll write your jamb examination.
During jamb registration, you may be asked by the person who will register you about the town you wish to write your examination, then answer him or her with three different towns which you prefer most and also make sure that they have cbt centre(s).
In this case, if no any of the three towns or cbt centres you mentioned is unavailable or filled, jamb will then reserve the nearest one for you automatically.
And to know your examination town or centre as it doesn't work as exactly as you think, a reprinted slip will help you.
How to reprint JAMB slip in 2022
Jamb reprinting for 2022 will start from Friday, 29th April to Thursday, 5th midnight, 2022. Between this stipulated time, you are expected to get your slip reprinted and below are the step by step guides for you on how to reprint your own.
The steps to reprint jamb slip in 2022 are:
When jamb reprinting has started, visit jamb website at www.jamb.gov.ng/Efacility-login/ or click here rather
Enter your login information (email address and password) to access your dashboard
Then click on Print Jamb Examination Slip as shown in the image below in order to download your slip in PDF format
If you have downloaded it successfully, it'll be named as JAMB_EXAMINATION_SLIP in your downloading list
Finally, find and open the PDF file you have just downloaded and print it with a printer in a good looking format
Keep your reprinted jamb slip save as how you keep your other important documents
On the examination day (as specified in your slip), go to your exam center with your slip because you won't be allowed to sit without it
Please note that jamb reprinting is free of charge, hence be careful with any body who will ask you for high sum of payment. If you are doing in cafe, it may cost N70 or below
Jamb reprinting cannot be done offline. You can reprint your slip by using your registered jamb profile email address and your password
Reprinting of slip on jamb website for your exam information and detail will start from 29th of June 2022 and end on 05th midnight (12 PM) of May 2022
If you are facing any difficulty while reprinting your slip on jamb website, you may create a ticket and contact them instantly.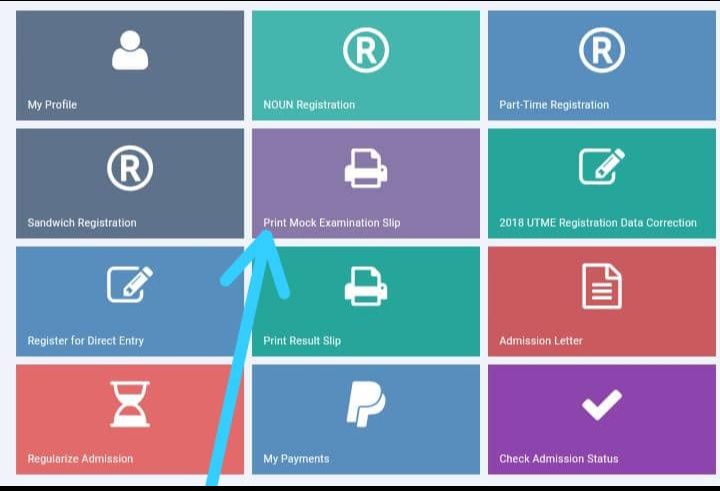 Meanwhile, Mister Isaac of www.flashlearners.com has confirmed and written that jamb has on Sunday, 13th June 2021 started sending a mail to candidates via their registered email address about their examination information and further inform them to start checking their profile and print their jamb exam slip.
He also added that Jamb doesn't push the examination information of all candidates at a time, that is, you would be able to do your jamb slip reprinting once it is seven days to your examination day.
Please note that, your slip must have bold official Jamb logo as a background, your personal photograph must also be attached to it at the top right corner.
Reprinted jamb slip contains the official instructions from jamb on what you shouldn't come to your examination hall with, your seat number, your four subjects combination and lot more.
If you experience any unfavorable issue, please contact jamb instantly for assistance.
JAMB exam date in 2022
Saturday, 6th May to Sunday 15th, May 2022.
According to Joint Admissions and Matriculation Board (JAMB), an examination will commence from Saturday 6th May to Sunday 15th May 2022.
To know your personal examination date and venue, do reprint your JAMB slip from 29th to 18th April 2022 as the examination date and center differs from candidate to candidate.
Conclusion
After you have checked your examination venue and date with your favorite browsing device, phone or laptop, now you are needed to print it out in slip and be careful with it as you are not going to be allowed to enter into exam hall without it.
If you know that this article has helped you know jamb reprinting starting date for 2022 and how to reprint your slip step by step without letting you make any mistake, please share it with other peoples and comment with any question you may have to ask through the comment section.
You may also need to roll with me on facebook or join the newsletter of this website for more important educational or jamb information. Thank you for reading this post and have a nice day!!
Read this also: how to correct your information (e.g, course, institution, name, etc) on Jamb profile for free of charge.