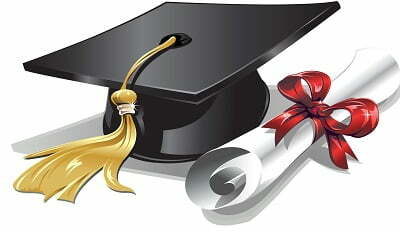 As an intelligent Nigerian undergraduate student, you should know all the application forms for different scholarships in order to be aided to pursue your academic goal. Since it's very important to do that, I have hence decided to show you the list of all thirteen (13) different scholarships for Nigerian undergraduate students.
By reading this article, you'll know all the available scholarships in Nigeria, when and how each of them should be applied, and lastly the requirements of undergraduate students for their registration.
Every different companies or organization decide to help serious undergraduate students in Nigeria in pursuing their educational dream.
Are you a serious student schooling in Nigeria or abroad? In this list, you'll find the Scholarship that is suitable for you to apply for.
---
We've known that a lot of candidates miss information on scholarship applications. However, in this article, we have listed out the undergraduate scholarships in Nigeria right now and how you can apply for any you are eligible for.
List of all thirteen scholarships for undergraduate students in Nigeria in 2022
My opinion, I can proudly say that scholarship is a financial supporter of some students. In fact, no person can be able to do what a scholarship can do for a student.
Now, If you want to win a scholarship in Nigeria for undergraduate studies in 2020, take advantage of these best scholarship opportunities offered in 2022/2023.
These awards are offered every year and they are opportunities for you to explore them this year.
Many high-paying undergraduate scholarships are ongoing right now. You may regularly visit here for scholarships update, believe us because we'll update you.
Federal government scholarships for Nigerian students
Federal Government Scholarship Awards for Nigerian tertiary institution's students.
Every year, scholarship applications are opened by the Federal Government of Nigeria to award a qualified Nigerian student studying in any recognized Nigerian institution.
The Honorable Minister of Education (Mr. Adamu Adamu) invites applications from qualified Nigerian students in Nigerian public tertiary institutions to participate in the selection interviews.
Note: all courses offered at undergraduate and postgraduate education in Nigerian tertiary institutions are eligible for Federal Government Scholarship.
Note also that the application deadline Varies each year. Hence, the application deadline for this year is still unknown.
1. BILATERAL EDUCATIONAL AGREEMENT (BEA)
This is a scholarship Award for Undergraduate, Master, and Ph.D. Overseas
Every year, the Federal Scholarship Board by the Federal Ministry of Education of Nigeria offers the Bilateral Educational Agreement (BEA) Scholarship Awards for Undergraduate, master, and Ph.D. students to study in Russia, China, Cuba, Morocco, Algeria, Romania, Ukraine, Turkey, Egypt, Japan, Serbia, Mexico, Macedonia, e.t.c
2. PTDF SCHOLARSHIPS IN NIGERIA & OVERSEAS (UK & France) for Undergraduate, Master and PhD
The Petroleum Technology Development Fund (PTDF), a parastatal of the Ministry of Petroleum Resources invites applications from suitably qualified candidates for the Masters (MSc) and Ph.D. as well as Undergraduate Scholarships, under the Petroleum Technology Development Fund, PTDF Scholarship Scheme.
The PTDF Scholarship is awarded for studies in the United Kingdom (UK), France, and upgraded Universities in Nigeria.
Read this also: how to apply for a Nigerian national ID card and get your NIN in 2020 very fast.
State government scholarship for Nigerian students
Below are the scholarships sponsored by some state governments in Nigeria for undergraduate or postgraduate students:
3. Rivers State Governor's Special Overseas Undergraduate
This can be by Indigenes and Non-indigenes of Rivers state.
The Rivers State Sustainable Development Agency (RSSDA) yearly invites applications from suitably qualified candidates for selection in the State Government Special Overseas Undergraduate Scholarship Programme.
4. LAGOS STATE SCHOLARSHIP AWARD
This scholarship is awarded to indigenous undergraduate students of Lagos State by the state government.
Lagos State scholarship is categorized into two parts and they are:
Local and
foreign.
That is to say,  Lagos State Government offers both Local and Foreign scholarships to indigenes and residents.
Let's continue to explain more about the two parts of the Lagos State Scholarship:
A. Local Scholarship
This is for prospective students of Lagos State origin except otherwise directed by His Excellency (Lagos state Governor).
Students should be on full-time and not part-time studies in Nigerian tertiary institutions and must be indigenes of Lagos state.
B. Foreign Scholarship:
This award is designed for students of Lagos State origin admitted for undergraduate or postgraduate programs in recognized tertiary institutions outside Nigeria (abroad).
Interested applicants are expected to purchase scratch cards to participate.
To know more about the application guidelines for this scholarship, Lagos state scholarship, you may click here now.
See this also: location of JAMB registration center in foreign countries (JAMB CBT abroad).
Oil & gas scholarship in Nigeria for Nigerian students
5. Agbami Scholarship
Agbami is one of the biggest oil companies in Nigeria. It helps thousands of undergraduate Nigerian students succeed in their academic pursuance.
Do you want to want to apply for the Agbami scholarship? However, it's for full-time admitted students in 100 to 200 levels in any recognized University in Nigeria.
Star Deep Water Petroleum Limited, a Chevron company, and operator of the Agbami Field, in its continuous support for capacity building in the health and Engineering sectors as a strategic feed into the national manpower pool.
Agbami offers a number of University Scholarship Awards to qualified Nigerian students of ALL the states of the Federation.
6. AGIP SCHOLARSHIPS
The Nigerian Agip Oil Company Limited offers Tertiary Institutions Scholarship Awards Scheme for Undergraduate Nigerian 100-level Students.
Only candidates who study Engineering, Geology, and Geosciences are eligible for the National Merit Award. For the Host Community merit Award (for students from Bayelsa, Delta, Imo, and Rivers states,) other fields of study may not be considered.
7. MOBIL NIGERIA SCHOLARSHIP 
The Mobil Nigeria National Undergraduate Scholarship Awards is open to students in Nigerian Universities. The scholarship is available to qualify and suitable students from every state of the Federation including the Federal Capital Territory (FCT).
8. SHELL SCHOLARSHIP
The Shell Petroleum Development Company of Nigeria Limited (Operator of the NNPC/SHELL /TEPN/AGIP Joint Venture) Scholarship Scheme offers first-year students in all Nigerian universities the opportunity to study with an annual grant from the SPDC JV for the full duration of their course.
The aim of this program is to promote academic excellence and improve the skills base among young Nigerian students.
Shell Nigeria Exploration Production Company (SNEPCo) National Merit University Scheme is open for undergraduate students in Nigerian universities. The merit-based scholarship is open for full-time undergraduate students studying engineering and science courses.
9. NIGERIA LNG SCHOLARSHIP AWARD
Each year Nigeria LNG Limited opens the application for Nigeria LNG Undergraduate Scholarship Award for first-year Undergraduate students in Nigerian universities.
The Nigeria LNG Undergraduate Scholarship Scheme started in 1998 as part of Nigeria LNG Limited's Corporate Social Responsibility to Nigerian Citizens to enhance human capacity development.
The previous deadline was 31st July 2019.
10. TOTAL OIL NIGERIA LTD SCHOLARSHIP
Each year, Total Exploration and Production Nigeria Limited (TEPNL) demonstrates a high level of commitment towards the educational development of Nigerian Students through its annual award of scholarships to deserving Nigerian students in secondary and tertiary institutions as well as those in postgraduate studies.
Total Oil, as it's been known famously to everybody, it's an Oil producing company in Nigeria.
If you're an undergraduate studying Engineering or Technology related courses, then I recommend you register for this scholarship.
11. ADDAX PETROLEUM/NNPC SCHOLARSHIP
Addax Petroleum Development (Nig) Limited offers the National Tertiary Institutions Scholarship Awards Scheme for full-time 100-level undergraduate students in any Nigeria Universities, Polytechnic, or College of Education.
12. NPDC/SEPLAT SCHOLARSHIP AWARDS
The Nigerian Petroleum Development Company Limited and Seplat Petroleum Development Company Plc Joint Venture as part of its Corporate Social Investment Programme have commenced its inaugural Undergraduate Scholarship Awards.
The scholarship award is open to qualified and interested second-year undergraduates of Nigerian Public Universities.
Previous deadline: not specific (Two (2) weeks from the date of announcement or publication of the advert.)
Uncategorised scholarship for Nigerian students in 2022
These are scholarships that are not sponsored by the federal government, state government, and oil-producing companies. The listed scholarships below may be sponsored by networking marketing or private individuals that support the educational development of Nigerian institutional students for books, school fees, stipends, etc.
13. MTN FOUNDATION SCHOLARSHIP
The MTN Nigeria Scholarship offers its Foundation of Science and Technology Scholarships for Undergraduate students in various fields of studies tenable at Nigerian tertiary institutions.
MTN Foundation Scholarships will be renewed for the existing students provided they have maintained a minimum Cumulative Grade Point Average (CGPA) of 3.5 or its equivalent (second class upper/upper credit).
To check your eligibility or how to apply for the MTN foundation scholarship, please visit here (https://fastknowers.com/mtn-foundation-scholarship-2019-2020-how-to-apply-for-mtn-scholarship/)
14. MUSTE SCHOLARSHIP
The Mankind United To Support Total Education (MUSTE) is a Scholarship arm of Youth Empowerment and ICT Foundation.
This scholarship is founded and funded by Mr. Jim Ovia in the year 1998, to provide financial aid to outstanding Nigerian youths.
It's offered for students in Nigerian Universities and other higher institutions (polytechnic, Colleges of Education, and innovative Enterprise).
15. GANI FAWEHINMI SCHOLARSHIP
Each year, the Gani Fawehinmi Scholarship Board announces Four Million Naira in Scholarships For 20 to 40 Nigerian Students in Nigeria tertiary institutions. The scholarship is tenable at Nigerian higher institutions including Universities, Polytechnics, and colleges of Education.
Gani Fawehinmi uses four million Naira (N4, 000000) to reward a minimum of twenty and a maximum of forty Nigerian undergraduate students.
This scholarship is very competitive for most undergraduate students. However, if you're a very competent student, then try and apply for it when the registration starts.
16. DAVID OYEDEPO FOUNDATION SCHOLARSHIP
David Oyedepo is the Founder Of Living Faith Church (in Nigeria, nationwide) and likes to offer help to Nigerian undergraduate students with Scholarships.
The David Oyedepo foundation scholarship program is the major platform for promoting the foundation's vision and goals. The scholarship program awards full-ride scholarships to qualified individuals who are indigenes and residents of African countries.
The scholarship seeks to develop youth leaders who are ready to put their learned skills to work in leading organizations, communities, and their local countries.
Dr. David Oyedepo is the founder of Covenant and Landmark University. Hence, this scholarship grants students the opportunity to study at Covenant and Landmark University in Ogun state Nigeria free of charge.
Read this also: list of all private universities in Nigeria in every 36 states in 2020.
17. NWAG SCHOLARSHIP
Each year, the Nigerian Women Association of Georgia (NWAG) offers undergraduate Scholarships for 37 Nigerian female students (one per state of origin) in Nigerian universities on any course of study for the amount of fifty thousand Naira (N50,000).
This scholarship application is for only female students. And it's been known that it rewards thirty-seven (37), undergraduate female students, across Nigeria.
That is one female from every state in Nigeria including FCT.
Conclusion plus more reading:
Fastknowers will keep you updated, seriously updated as the new scholarship news rolls out. All you should do is visit this web regularly.
If you know that this article may help other people in knowing these thirteen (13) different scholarships for Nigerian undergraduate students, then please share it with them.
If you want to get informed regularly about the application period (start and deadline) of all scholarships in Nigeria, you may join our newsletter.