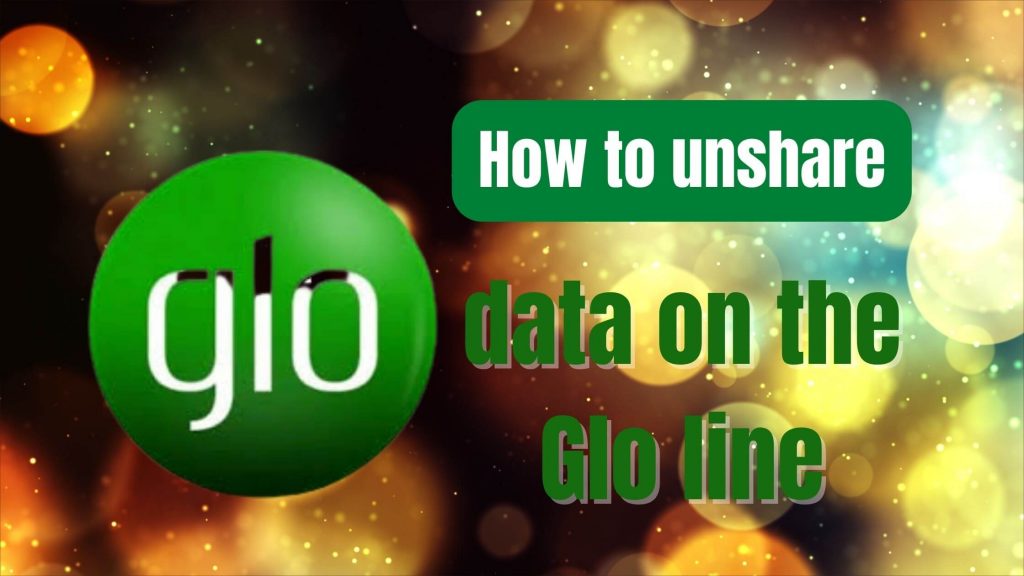 How would you feel if you are unknowingly sharing your data with another person who you don't like? I know how painful it is, thus in this article, I will show you how to unshare data with another person on the Glo network.
If you follow the step-by-step guides which I am going to show you below, you will know how to unshare your data with any person on Glo and other networks.
One of the biggest mistakes which some people make is when they wrongly or unintentionally share their data with another person. As a result of this, their data gets finished easily while it's not easy to subscribe for another one, especially in this hard time.
If you just want to know how to stop your Glo data plan from sharing with another person, then let's continue!!
The telephone number can be added to your data-sharing list by another person while it's not from your notice, i.e, the person who wants to cheat you. Now, knowing who your data should be shared with is very, very important.
As a matter of fact, Glo network is one of the best and oldest telecommunication companies in Nigeria and in some other countries. It rewards its customers very huge with abundant data and airtime whenever the customers have recharged.
Meanwhile, I have personally created content that will guide you on how to transfer airtime from Glo to Glo or any other network, please click here for a more detailed explanation of that.
Recommended articles:
Now, let's get started.
How to unshare data with any number on the Glo network
Here is the code to unshare data on Glo! To unshare a number from the list of numbers you are currently sharing your Glo data subscription with, simply use 127, and below are the instructions for how to use it.
You can unshare your Glo data plan via several methods which are USSD code, contacting the Glo network customer care team, and texting an SMS message method.
Note: as a customer of the Glo network, you can share your data plans with friends, and family members. Read Airtel's friends and family plan guide for more.
In this way, you can subscribe or buy a data plan and share it with your wife and many friends automatically instead of buying different data plans for each one of them.
Five different telephone numbers can at least be added to the data-sharing list on the Glo network. Hence, anyone you add to this list will get automatic access to the internet regardless of their current location.
Sometimes, some people collect other person's phones or SIM cards and add their numbers to this list by themselves without the awareness of the owner. And that is why we created this article.
Enjoy reading it below. Please if you found it helpful, share it with your friends.
Guides on how to unshare data on Glo
Steps on how to unshare data plan on Glo to Glo network are:
First, remove the mobile number from your data-sharing list
Programmatically, as I have let you know earlier, every number you add to your data-sharing list will get data every time you subscribe or buy data.
That is to say, that to stop sharing data with the number you have added, you need to remove it from your list manually.
To do that, just follow the procedures below.
Dial *127*02*number# OR text "Remove [friend's number]" to 127 via your Glo sim card.
For example, dial *127*02*0805XXXXXXX# or Send Remove 0805XXXXXXX to 127 as an SMS message.
Read this also: how to contact the customer care team of all network providers in Nigeria step-by-step.
Secondly, another hack way to know the existing numbers in your data sharing list of Glo network is by dialing *127*00#.
As you may know, online fraudsters (419 or Yahoo boys) are everywhere, so knowing the telephone numbers to which you have added yourself is important in order not to be sharing data with another person with who you don't know or have a relationship.
Alternatively, you can also send LIST as information of text message to 127 for showing you your data sharing list or visit any Glo world branch offices or certified agent for further assistance.
Please note also that the maximum number of telephone numbers that can be added to the data-sharing list of the Glo network is five (5). You may need to replace the important one with the less or no important one.
How to dd a number to your Glo data-sharing list
If you delete or remove the number from the Glo data-sharing list, this doesn't mean that you will never add it again.
As a matter of fact, you can remove and re-add one single number in a day without any problem.
Now, to add a telephone number to your data-sharing list on the Glo network, simply follow the instructions below.
Firstly, make sure that you have carefully inserted your Glo sim card into your mobile device, then dial *127*01*number#.
For example, *127*080xxxxxxxxx# or simply send Share telephone number in form of a text message to 127.
By sending this type of text message, having airtime on a sim card is unnecessary. Simply text Share phone number (080xxxxxxxxx) to 127 and your request will be handled immediately.
Read this also: how to link your NIN to any type of network.
Conclusion and more reading
Glo is one of the first companies that offer data-sharing services automatically by adding a mobile number to a list.
Please note that for other networks, for example, Airtel, you cannot share data like this method. What Airtel does is allow you to gift or transfer data with anybody you like manually.
As a Glo network customer, the world belongs to you, thus rule your world.
If you know that this article has helped you know how to unshare data plans with any mobile number, please share it with your friends and family members via Facebook or Twitter.
Let me know anything you might have felt about while reading this article through the comment section.
For more important information and updates that will be related to this article in the future via your email address, please subscribe to our email list or like our Facebook page. Thank you.