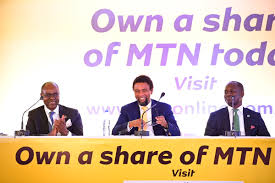 Are you interested to know the name of the owners and CEOs of mostly used network provider in Africa, MTN and their net worth? If yes, then we have got you covered and that is what we are going to discuss with you in this article today.
We are also going to discuss with you the owner of Glo, Airtel and Etisalat in every country they operate such as Nigeria, South Africa, etc. Now, let's begin!!
Owner and CEO of MTN Group
MTN is a Telecommunication services company founded in South Africa in 1994 as an M-Cell in collaboration with the help of government of South Africa. From 1 September 2020 till date, the CEO of MTN Group (world wide) is Ralph Tendai Mupita. The headquarter of MTN Group is presently located in Johannesburg, South Africa.
Meanwhile, on 1 March 2021, MTN Group has appointed Karl Toriola as the chief executive officer (CEO) of MTN Nigeria.
Ralph Mupita is the CEO of MTN South Africa and the head of other CEOs of other countries at large. His office is in Johannesburg, the biggest city in South Africa.
According to Forbes, MTN is the biggest network network provider in any country it has an operation. In 2022, Forbes ranked MTN Group as the richest telecommunication company in Africa with a net worth estimated at $11.7B.
---
Read these also:

1. Code to check MTN number in Nigeria (step by step guide).

2. Price of MTN Mifi device on Jumia (2022) and how to order.

3. MTN MiFi data plans in Nigeria and their subscription code.

4. How to check NIN number on MTN.

5. How to migrate to MTN Beta Talk tariff plan step by step.

6. List of all MTN codes in Nigeria and their uses.

7. MTN awuf data plans and USSD code.

8. Types of Domiciliary account to open in Nigeria and their advantages.

9. Top richest musicians in Nigeria and their net worth 2022.
---
---
MTN does not only operate in Nigeria and South Africa but also in Uganda, Cameroon and among other countries.
MTN Group came to Nigeria in the year 2000 and launched their network on May 16, 2001. Hence, MTN network became the first GSM network to make a call.
Owners and CEOs of MTN and their net worth
According to the statistics, MTN Group has recorded over 280 million subscribers which makes it the 8th largest mobile network operator in the world and the largest in Africa.
When inaugurating the CEO of MTN Nigeria, Karl Toriola, the comments of MTN Group are as follows:
"Karl brings extensive technical and commercial experience, as well as a deep understanding of the Nigeria market to the role," commented MTN Group President and CEO Ralph Mupita. "Karl started his MTN career in his home country at MTN Nigeria 14 years' ago and has all the attributes necessary to lead this very important business into the future."
"Ferdi has been an exemplary leader of MTN Nigeria and has put the business on a sound growth platform for the future," said Mupita. "He brings significant strategic, financial and operational experience to the new group risk role, where we want to ensure that our enterprise-wide risk management systems are continuously strengthened and remain resilient as we drive our growth strategy."
Since joining the group in 2006, Karl (48) has also held a number of senior operational roles at MTN, including chief technical officer of MTN Nigeria and CEO of MTN Cameroon. He is also a board member on a number of companies within the group, including MTN Nigeria. Karl's successor as VP for WECA will be announced after the group strategy review is completed by the end of November 2020.
MTN Group owns 78,8% of MTN Nigeria, which is listed on the Nigerian Stock Exchange and contributes around a third to the group's service revenue.
CEO of MTN South Africa net worth
Ralph Mupita, the new CEO of MTN South Africa is an engineer born in Zimbabwe in 1972. He is also businessman and corporate executive who received an appointment as group president and chief executive officer of MTN Group with effect from 1 September 2020 announced on 19 August 2020.
Being a CEO of MTN Group, Ralph Mupita is recognised as one of the richest men in Africa with a net worth estimated at $4 billion. In his car pack, a lot of expensive cars such as latest Mercedes-AMG E 53 Coupe, Mercedes-Maybach GLS SUV and among other expensive car models can be found.
CEO of MTN Nigeria net worth
The new CEO of MTN Nigeria, Karl Olutokun Toriola, is a graduate of Bachelor of Science degree in Electronic and Electrical Engineering from Obafemi Awolowo University (OAU), Ile-Ife, Nigeria born on 16th of March, 1972 in Ogun state, Nigeria.
After finishing his degree programm, then Karl Toriola further went to UK where he did his Master of Science degree in Communication Systems from the University of Wales, Swansea, UK.
As a CEO of MTN Nigeria, the net worth of Karl Olutokun Toriola is roughly between $2 million to $3 million. He has different expensive cars and houses in both Nigeria and abroad. He internationally travels every time.
In 2021, it is reported that he bought latest 2021 Bentley Continental GT V8 Coupe worth about  $1.9 million as a gift for himself.
If you know that this post has helped you know the owners and CEOs of MTN Nigeria and Nigeria and their net worth, then please share it with your friends and remember to subscribe to our newsletter for more important updates.
Read these also: