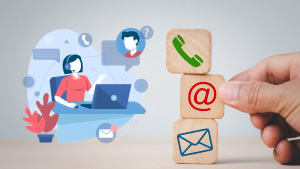 If you have got some issues which require the assistance of the customer care service of Union Bank, how should you reach out to them? In this article, we shall show you everything about it.
Union Bank is a commercial bank in Nigeria. It's headquartered in Lagos state and presently, it's got more than 600 branches across Nigeria and more than 5000 staff employees.
Smoothly, Union Bank has arranged these employees in a categorized manner. I.e, their employees are categorized in such a way that everyone cannot fail to do what he/she was being employed for.
Union Bank is also known as UBN (Union Bank of Nigeria). It responds to customers' questions faster than any other bank in Nigeria. In fact, its tagline is your simpler and smarter bank.
How to contact Union Bank customer care service
Do you need the help of Union Bank customer care service? You can talk to an agent with your phone and get the required help instantly.
Below are the ways through which Union Bank customer care can be contacted:
#1 Via Email Address
The best and fastest way you can contact customer care representatives or teams of Union Bank of Nigeria is through email message.
By sending an email message to the UBN team, your problem or inquiry that you disclose in the mail will be solved for you satisfactorily. Now, what is the email address of Union Bank?
The official email address of Union Bank of Nigeria which you can send mail to and get a quick reply is [email protected].
Read this also: how to create an email address with Google quickly without making mistakes.
#2 Via WhatsApp Chat
Also by writing messages to customer care of Union Bank on WhatsApp, you will get a quick reply or help very fast. If you do WhatsApp regularly while you're a customer of Union Bank, then you can message your bank at any time.
You may ask, what is the WhatsApp number of Union Bank, right? The active WhatsApp number of Union Bank for this year, 2021 is 09070070001.
Please make sure to include your account number in any message you'll send to them.
#3 Live Chat With Mobile Phone or Computer
Live chat is the type of message in which you use your phone or laptop to communicate with an agent of a company. Union Bank is one of the best banks and it has got live chat tool on its website.
The link to the website of Union Bank of Nigeria is www.unionbankng.com. When the website has opened fully successfully, click on the chat icon at the right side located at the bottom of the page as shown in the shot below.
Or click here and start doing live chat with customer care of Union Bank.
If you want to contact customer care of Union Bank via live chat, below are the details of yourself you should enter:
Choose from the drop-down the reason why you're contacting the customer care of Union Bank (i.e, do you want to make an inquiry, request, complaint, or feedback).
Now, after you have correctly chosen your reason, enter your:
Name
Account number
Email address then
Your question or anything and finally click on submit tab.
#4 Facebook Handle
Union Bank of Nigeria also gets a Facebook page through which you can message them and get the fastest reply.
The official name of the page of Union Bank on Facebook is Unionbankng. Click on the message button and write anything you have to ask.
Please click here to go to the official Facebook page of the Union Bank of Nigeria.
#5 Nearest Branch(es)
However, if you have got much time to go to any nearest branch of Union Bank, your issues will be resolved in your presence physically.
To know the top five (5) active branches which near your location, you should dial*826*19# with your registered telephone number.
Union Bank has got over 500 branches across Nigeria (nationwide), therefore, with *826*19#, you can find the branches in your locality very fast.
For your convenience, click here to know the address of the Union Bank branch within your locality.
#6 Telephone Call
You can also call the customer care of Union Bank by telephone call. Do you want to know the official telephone number of the Union Bank of Nigeria?
Union Bank is a commercial and private company, hence its telephone number is unique and different from the telephone number of an individual or person.
The telephone number of Union Bank is 9 (nine) digits in a number and it is 012716816.
Just pick up your phone and dial, and enter an option enabling you to speak with an available agent. When an agent receives your call, tell him/her what you have to say.
#7 Twitter Handle
You can also get in touch with union bank customer care via their Twitter handle. You can search for Union Bank on Twitter and follow or message the profile which is UNIONBANK_NG.
That is, the username of Union Bank on Twitter is UNIONBANK_NG. Please remember to include your account number anytime you will send a message to Union Bank in order to enable them quickly help you smartly.
Conclusion
If you know that this article has helped you know how to contact customer care of Union Bank of Nigeria, then please subscribe to our newsletter now for more important information.
Finally please share it with your friends and loved ones and remember to comment with any question you may have to ask through the comment box.
Read this also: recharge code of all banks to buy data and airtime.