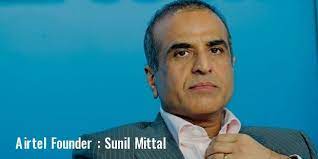 Airtel network was founded by Bharti Enterprises, an Indian multinational conglomerate, headquartered in New Delhi. In today's article, I will discuss with you net worth of the owner and CEO of Airtel network.
Bharti Enterprises was founded in 1976 by Sunil Bharti Mittal. Bharti Enterprises owns businesses spanning across manufacturing, telecommunications, agribusiness, financial services, real estate, hospitality, agri and food. The present CEO of Airtel is Gopal Vittal.
Who is the owner of Airtel
Bharti Enterprises.
The company that has or founded Airtel network in 1976 is Bharti Enterprises located in India. It also deals in Fixed line telephone, Mobile phone, Broadband, Satellite television, Payment bank, Digital television, Internet television, IPTV, etc.
---
---
Read these also:

1. How to become Airtel SIM registration agent (KYC) step by step.

2. Airtel recharge code for data and airtime bonus (2022).

3. USSD code for Airtel family and friends (complete guide).

4. Airtel YouTube night data bundle bonus and how to use step by step.
---
---
Airtel operates in the countries shown in the table below:
| Country | Operator name |
| --- | --- |
| Bangladesh | Robi |
| Chad | Airtel Chad |
| Democratic Republic of the Congo | Airtel DRC |
| Gabon | Airtel Gabon |
| India | Airtel India |
| Kenya | Airtel Kenya |
| Madagascar | Airtel Madagascar |
| Malawi | Airtel Malawi |
| Niger | Airtel Niger |
| Nigeria | Airtel Nigeria |
| Republic of the Congo | Airtel Congo B |
| Rwanda | Airtel Rwanda |
| Seychelles | Airtel Seychelles |
| Sri Lanka | Airtel Sri Lanka |
| Tanzania | Airtel Tanzania |
| Uganda | Airtel Uganda |
| Zambia | Airtel Zambia |
|  Jersey, Guernsey | Airtel-Vodafone |
In mid 2021, Airtel Africa plc announced the appointment of C. Surendran as Managing Director and Chief Executive Officer of Airtel Nigeria.
Mr. Surendran has been with Bharti Airtel since 2003 and has contributed immensely in various roles across customer experience, sales and business operations.
Net worth of Airtel founder
The founder of Airtel, Sunil Bharti Mittal, is an Indian considered in 2021 as the 12th India's Richest and 213rd world's Billionaires according with an estimated net worth of $14.5 billion.
Telecom tycoon Sunil Mittal's Bharti Airtel is among India's largest mobile phone operators with more than 474 million customers.
Airtel, which has SingTel as its partner, is embroiled in a bruising price war with Mukesh Ambani's Reliance Jio.
Mittal also owns Airtel Payments Bank, a niche bank, in a joint venture with Kotak Mahindra Bank, controlled by fellow billionaire Uday Kotak.
Mittal's Bharti Global, run by son Shravin, has invested in U.K. satellite provider OneWeb.
His son Kavin's SoftBank-backed Hike, once considered a rising unicorn, shut down its messaging service and is focusing now on gaming.
I hope this post has helped you know the net worth of the owner and CEO of Airtel? Please let's know how you may feel via the comment section.
Click here to read more about the owner of Airtel on Wikipedia.
Read these also: