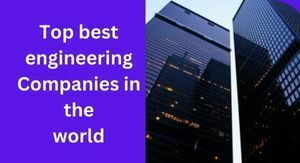 Engineering is a sector that can't be left behind when mentioning the name of other sectors like Medicine and Surgery, Pharmacy, Computer Science, etc. because Engineers are the people that develop the world and technology we use on a daily basis. Today's article will discuss with you the top biggest engineering companies in the world.
Engineering companies are the companies that manufacture technology or creative innovation. We may define the Engineering and Construction industry as "companies engaged in primarily non-residential construction.
It includes civil engineering companies and large-scale contractors, and excludes companies classified in the Home building sub-industry".
Engineering companies are therefore the major contributors to the high-precision machinery used in various other industries. The industry provides its expertise in delivering technological solutions for other industries and is, therefore, one of the most important industries out there.
From the high rises, we admire in our day-to-day lives to the high capital industrial projects, large-scale projects are dependent on machinery and in turn, the engineering industry.
Now, let's start discussing the top biggest engineering and technology companies in the world in 2022.
Read this also:
Biggest engineering companies in the world in 2022
The list, location, website address, headquarter, founder, and CEO of top biggest engineering companies in the world in 2022 are now discussed below one by one:
Siemens AG Company (SIEGY)
Siemens AG Company is a technology company focused on industry, infrastructure, transport, and healthcare.
By combining the real and the digital worlds, Siemens AG Company empowers their customers to transform their industries and markets, helping them to transform every day for billions of people.
| | |
| --- | --- |
| Year founded and location | 1 October 1847, Berlin, Kingdom of Prussia |
| Founder | Werner von Siemens |
| Headquarters | Munich, Germany |
PowerChina
PowerChina is one of the top biggest engineering companies in the world that has involvement in over 100 countries. It is a wholly State-owned company administered by the State-owned Assets Supervision and Administration Commission and part of the heavy and civil engineering construction industry.
This engineering company operates in different countries. In 2021, it ranked 157 among Fortune Global 500 companies and 41 among the Top 500 Enterprises in China.
| | |
| --- | --- |
| Founded | 2009 |
| Headquartered | Beijing, China |
| Website | www.powerchina.cn |
AIR LIQUIDE
Air Liquide is a French multinational company founded with the aim of supplying industrial gases and services to various industries including medical, chemical, and electronic manufacturers.
It was founded in 1902 in France by Paul Delorme and is presently headquartered in Quai d'Orsay, 7th arrondissement, Paris, France. As of 2021, it ranked 500 in the Fortune Global 500.
ACS
The American Chemical Society (ACS) is a scientific company located in the United States which supports scientific inquiry in the field of chemistry.
It was founded in 1876 at New York University. It was founded and presently headquartered in the United but it is globally known as one the top biggest engineering companies or organizations in the world.
| | |
| --- | --- |
| Year founded | April 6, 1876 |
| Type | Scientific society |
| Legal status | nonprofit organization |
| Headquarters | Washington, D.C. |
| Location | United States |
Hitachi Company Ltd (HTCMY)
The Hitachi Company Ltd (HTCMY) is one of the top biggest engineering companies that deal with building construction machinery. They are globally recognized.
The company was incorporated in 1951 and is headquartered in Tokyo, Japan. Hitachi Construction Machinery Co., Ltd. is a subsidiary of Hitachi Ltd.
Hitachi Construction Machinery Co., Ltd., together with its subsidiaries, engages in the manufacture, sale, rental, and service of construction and transportation machinery, environmental-related products, and other machines and devices worldwide.
It offers mini excavators, wheel loaders, mini wheel loaders, road construction machinery, large and ultra-large hydraulic excavators, rigid dump trucks, and double-arm working machines.
This engineering company also provides solutions, such as ICT construction, a cloud platform for ICT construction machines; ConSite that is utilized to provide analysis and diagnosis of machines' condition; a Fleet management system that provides real-time monitoring of each dump truck to optimize vehicle operation; and autonomous haulage system that enables the unmanned, autonomous operation of mining dump trucks.
In addition, it offers parts, including hydraulic oil and filters, high-pressure hoses, ground-engaging tools, and remanufacturing components.
Their website is hitachicm.com. While they operate in all countries globally, they may have a specific website for a specific country. After visiting their global site, hitachicm.com, then click on the name of any country you want to visit its website.
GENERAL ELECTRIC COMPANY
The General Electric (GE) Company is an American multinational conglomerate incorporated in New York State and headquartered in Boston.
Until 2021, the company operated in sectors including aviation, power, renewable energy, digital industry, weapons manufacturing, locomotives, and venture capital and finance, but has since divested from several areas, now primarily consisting of the first four segments.
They are majorly concerned with the manufacturing of Aircraft engines, Electrical distribution, Electric motors, Energy, Finance, Health care, Software, Wind turbines, etc.
Year established and location
April 15, 1892; 129 years ago in Schenectady, New York, US
Founder
Thomas Edison
Headquarters
Boston, Massachusetts, US
Area served
Worldwide
Website address
www.ge.com
HONEYWELL INTERNATIONAL INC
Honeywell International Inc. is an American advanced-technology company that manufactures aerospace and automotive products; residential, commercial, and industrial control systems; specialty chemicals and plastics; and engineered materials.
It is a publicly traded, multinational conglomerate corporation headquartered in Charlotte, North Carolina. It primarily operates in four areas of business: aerospace, building technologies, performance materials and technologies (PMT), and safety and productivity solutions (SPS).
Founder
Mark C. Honeywell (for the Honeywell Inc. line)
Headquarters
Charlotte, North Carolina, U.S.
Area served
Worldwide
Year established and location
1906;
Wabash, Indiana
Website address
www.honeywell.com
Bosch Corporation
Robert Bosch Corporation, also commonly known as Bosch, is a German multinational engineering and technology company headquartered in Gerlingen.
It is in this year one of the top biggest engineering companies in the world founded by Robert Bosch in Stuttgart in 1886. Please note Bosch is 92% owned by Robert Bosch Stiftung, a charitable institution.
This company's core operating areas are spread across four business sectors: mobility (hardware and software), consumer goods (including household appliances and power tools), industrial technology (including drive and control), and energy and building technology.
Some of the services they offer or products they produce include:
Automotive parts
Power tools
Security systems
Home appliances
Engineering
Electronics
Cloud computing
IoT, etc.
| | |
| --- | --- |
| Founded | 15 November 1886 |
| Founder | Robert Bosch |
| Headquarters | Robert-Bosch-Platz 1, 70839 Gerlingen, Germany |
| Area served | Worldwide |
| Website | www.bosch.com |
ABB Company Ltd
ABB Company Ltd is a leading global engineering company that energizes the transformation of society and industry to achieve a more productive and sustainable future.
ASEA Brown Boveri (ABB) is a Swedish–Swiss multinational corporation headquartered in Zürich, Switzerland operates mainly in robotics, power, heavy electrical equipment, and automation technology areas.
It is ranked 341st in the Fortune Global 500 list of 2018 and has been a global Fortune 500 company for 24 years. Until the sale of its Power Grids division in 2020, ABB was Switzerland's largest industrial employer. It is traded on the SIX Swiss Exchange in Zürich, Nasdaq Stockholm, and the New York Stock Exchange in the United States.
| | |
| --- | --- |
| Founded | 1988 |
| Headquarters | Affolternstrasse 44, Zürich, Switzerland |
| Products they mainly produced | Power, Automation, Electrical equipment |
| Area served | Worldwide |
| Website | www.abb.com |
See these also:
WSP
WSP is one of the world's top biggest professional engineering consulting companies.
After the purchase of New York-headquartered professional services company, Parsons Brinckerhoff in October 2014, WSP Global effectively became one of the largest engineering services firms in the world, with approximately 43,600 employees in 500 offices serving in 40 different countries.
Based in New York, WSP offers engineering services for the aerospace, infrastructure, municipal, commercial, automotive, arts, environment, government, energy, education, healthcare, marine and coastal, mining, property, retail, science, entertainment, and water treatment industries.
Founded
1959
Headquarters
Montreal, Quebec, Canada
Website

www.wsp.com
Fluor Corp
Fluor was founded in 1912 by John Simon Fluor as a Fluor Construction Company. It grew quickly predominantly by building oil refineries, pipelines, and other facilities for the oil and gas industry at first in California and then in the Middle East and globally.
In the late 1960s, Fluor Corp began diversifying into oil drilling, coal mining, and other raw materials like lead. A global recession in the oil and gas industry and losses from its mining operation led to restructuring and layoffs in the 1980s.
It is an American multinational engineering and construction firm headquartered in Irving, Texas. It is a holding company that provides services through its subsidiaries in the following areas: oil and gas, industrial and infrastructure, government, and power.
Fluor predominantly specializes in engineering, procurement, construction, and maintenance. The company is based in Irving, TX, and offers services for the energy, chemical, infrastructure, power, mining and metals, manufacturing, science, and government sectors.
Year established and location
1912 in Santa Ana, California
Founder
John Simon Fluor
Website
www.fluor.com
Headquarters
Grapevine, Texas, United States
Arup
Arup was originally established in 1946 by Sir Ove Arup as Ove N. Arup Consulting Engineers. Through its involvement in various high-profile projects, such as the Sydney Opera House, Arup became well known for undertaking complex and challenging projects involving the built environment.
In 1970, Arup stepped down from actively leading the company, setting out the principles which have continued to guide Arup's activities since his 'Key Speech'.
This company is a British multinational professional services firm headquartered in London which provides design, engineering, architecture, planning, and advisory services across every aspect of the built environment. The firm employs approximately 16,000 staff in over 90 offices across 35 countries around the world.
| | |
| --- | --- |
| Year established | 1 April 1946 |
| Headquarters | London, England |
| Website | www.arup.com |
| Number of locations | 90 and above offices in 35 countries as of 2021 |
| Area served | Worldwide |
Jensen Hughes
Jensen Hughes is one of the top biggest professional engineering and consulting services companies in the world founded in 1980 and headquartered in Baltimore that provides services, software, and consulting in fire protection engineering, forensic engineering, security, etc.
Presently, it is headquartered in Baltimore, MD, and provides safety, security, and risk-based engineering services, as well as consulting. Their offerings include fire and building safety, emergency management, risk analysis, forensics, security, and training services.
The mission of Jensen Hughes is to make the world safe, secure, and resilient.
They are the global leader in safety, security, and risk-based engineering and consulting. Serving communities around the world. Their fire protection engineers, technical experts, architects, and consultants are dedicated to making your projects successful.
Since 1939, their fire protection engineering consultants have supported what matters most to their global clients with innovative, compliant, and reliable solutions. Please LEARN MORE here!!
Vanderweil Engineers
Vanderweil Engineers was founded in 1950 by Raimund Vanderweil, an Austrian immigrant with a mechanical engineering degree and several years of experience in mechanical contracting, engineering design, and heat transfer R&D.
Today, Vanderweil Engineers are a full-service engineering company specializing in MEP and technology services for a wide variety of buildings, sustainable design, and commissioning services, as well as central heating and chiller plants, power generation, and electrical transmission and distribution lines.
Vanderweil Engineers is currently headquartered in Boston.
They believe that their work gives them a unique opportunity to help their clients, their employees, and the environment, and to enhance the built environment.
Their mission is to provide innovative, customized solutions and responsive service to each of their clients which have enabled them to achieve a high repeat business ratio.
Henderson Engineers
At Henderson Engineers, they're as passionate about people as they are about their work designing world-class buildings. This passion begins within their own walls — where you'll quickly realize they're not your typical engineers — and extends into the spaces they help bring to life every day.
The core values of Henderson Engineers drive them to put people first, lead with innovation, and be great partners throughout the entire life of a building.
The Henderson Engineers are one of the top biggest engineering companies in the world for this year presently headquartered in Lenexa, KS, offers engineering for acoustics, lighting, audio-video, broadcasting, commissioning and retro-commissioning, electrical, fire and life safety, mechanical, plumbing, refrigeration, forensics, security, telecom, sustainability, and smart building applications.
Simpson Gumpertz & Heger
The Simpson Gumpertz & Heger Inc. (SGH) is a privately owned engineering company that designs, investigates, and rehabilitates structures and building enclosures.
Their work encompasses commercial, institutional, and residential buildings, transportation, water/wastewater, nuclear, science, and defense structure projects throughout the U.S. and over twenty foreign countries.
SGH services are supported by technical capabilities, including Building Enclosure Engineering, Structural Engineering, Engineering Mechanics, Building Science, and Construction Engineering.
SGH also has 600 employees at eight offices in Atlanta, Boston, Chicago, Houston, New York City, San Francisco, Southern California, and Washington, D.C.
| | |
| --- | --- |
| Founded | 1956 |
| Founder | Frank Heger, Howard Simpson, and Werner Gumpertz |
| Website | www.sgh.com |
| Headquarters | 41 Seyon St Ste 500 Waltham, MA 02453, Boston |
Walter P. Moore
Walter P. Moore is another one of the top biggest engineering companies in the world headquartered in Houston, TX, and provides engineering for structural, construction, civil, water resources, and transportation applications.
They also offer services for parking, security design, enclosures, renovation, forensic analysis, traffic, and transportation planning, IT, VR, and software services, and BIM modeling.
Walter P. Moore and Associates, Inc. (d/b/a Walter P Moore) is an international company providing structural engineering, diagnostics, civil engineering, traffic engineering, parking consulting, transportation engineering, intelligent transportation systems (ITS) engineering, and water resources engineering services.
| | |
| --- | --- |
| Type | Private company |
| Industry | Engineering, consulting |
| Founded | 1931 |
| Founder | Walter P. Moore |
| Headquarters | Houston, Texas, United States |
| Website | www.walterpmoore.com |
Tetra Tech
Tetra Tech is a consulting and engineering services company headquartered in America, Pasadena, California. It provides consulting, engineering, program management, and construction management services.
It was founded in 1966 as Water Management Group by four individuals in Pasadena, California to provide engineering services to waterways, harbors, and coastal areas. It is now globally known as the biggest engineering company.
Founded
1966
Headquartered
Pasadena, California, United States
Top 10 technology companies in 2022 and they're headquarter
| | | |
| --- | --- | --- |
| | Company Name | Headquarters |
| 1 | WSP | New York, NY |
| 2 | Fluor Corp. | Irving, TX |
| 3 | Arup | Seattle, WA |
| 4 | Jensen Hughes | Baltimore, MD |
| 5 | KJWW/TTG | Madison, WI |
| 6 | Vanderweil Engineers | Boston, MA |
| 7 | Syska Hennessy Group | New York, NY |
| 8 | Henderson Engineers | Lenexa, KS |
| 9 | Simpson Gumpertz & Heger | Oakland, CA |
| 10 | Walter P. Moore | Houston, TX |
Conclusion
If you know that this article has helped you know the top biggest engineering companies in the world in 2022, then please share it with your friends and remember to subscribe to our newsletter for more important updates.
Read these also: