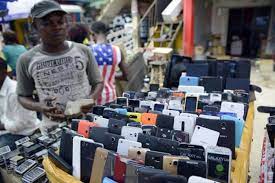 With internet, we don't have to predominantly rely on the method of our trading which we applied in the past years. I.e, when everybody was carrying his/her goods or product or service from one places to the other for achieving sales. Now, with the invention of mobile all around and internet, we can buy and sell things online. This article will discuss with you step by step on where you can sell your phone or other items instantly.
Top best place where you can sell or buy a used phone very fast and get your money instantly are: online, social media group, advertisement, forum, at the busy area and in the market.
Let's get started to explain how to religiously apply every one of them in your phone selling process one by one.
#1. Online
Selling things online is the best as it enables the seller get his/her money instantly if the successful purchase of his/her phone has occurred.
The first method for the person who asked where he/she can sell his/her phone is online. Online website where phone can be sold very fast are:
A. Swappa
One of the best online tools for selling phone online is Swappa. On Swappa, you buy and sell directly with other users and cutting out the middleman means you get the best money when selling your device. Selling on Swappa is always free and you get paid instantly as your phone sells.
Swappa is a user-to-user marketplace for buying and selling new and gently used technology. Buyers and sellers connect directly and all devices must be fully functional to be sold or listed on Swappa. It employs a customer service teams that review listed devices to ensure they meet this requirement.
Please note that Swappa is primarily a US-based marketplace, hence, both selling and buying on Swappa is primarily limited to users in the United States. Note also that devices purchased on it should be assumed to work only on carriers in the US unless the seller specifically states otherwise.
For more, please visit their website at www.swappa.com.
B. JiJi
Jiji is an African online marketplace that provides buyers and sellers with an avenue to meet and exchange goods and services.
It popularly operates in Nigeria, Kenya, Ghana, and the rest of other African countries.
Website: www.jiji.ng | Founded: 2014 |Headquarter: Lagos |Founder: Anton Wolyansky
C. eBay
eBay Inc. is an American multinational e-commerce corporation based in San Jose, California, facilitating consumer-to-consumer and business-to-consumer sales through its website. It was founded by Pierre Omidyar in 1995, and became a notable success story of the dot-com bubble.
Please visit www.ebay.com for more information on how you can sell your phone instantly.
Read these also:
#2. Social media group
Another way that you can sell your phone instantly is using social media group like Facebook, WhatsApp, Telegram group, etc.
To use social media group sell your phone or other item, simply snap the picture of the phone that you want to sell, tag a price range of your choice and which is affordable for other people to buy, then post it on social media group where there are a lot of members.
#3. Through ad
In the event that you have a large quantity of phones to sell, you can consider using ad to help your products reach a high amount of potential customers.
Facebook ad is one of the ad type if you want to make a huge sales faster.
To make an ad for your products on Facebook, create a page on Facebook if you have never created one before, from that point, you can then begin making Facebook ad every time, any where reaching a large population of people who like to buy what ever you sell.
#4. At the busy area
Carrying your phones around and telling people that they are for sale is another best that can also be used to sell your phone instantly.
Make sure that the place you are doing so is the busy place such as bus stop, fuel station, etc.
#5. Forum
You can also use Forum as another way of selling any type of mobile phone. Find the topic that relates to gadget and make sure that people engage in it, then post the picture of your phone and let people know that they are for sale.
#6. In the market
If you are very in hurry to sell out your phone and get your money instantly, then in the market is another best place where it can be sold.
Visit any nearest local market and start selling your phones.
Note, the top best channels for selling phone as listed above can also be used for selling any other items like chairs, fan, table, laptop, etc.
Conclusion
If you know this article has helped you know where and how you can sell your phone instantly online and offline, then please share it with your friends and remember to subscribe to our newsletter for more important updates.
Read these also: