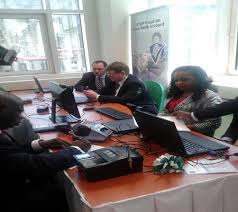 BVN stands for Bank Verification Number. It is a 11 digit unique number issued to every one who's operating bank account especially in Africa to serve as his/her bank identity. If you want to know how to enroll for BVN, then you are in the right place as we're going to show you step by step guides on how to enroll for BVN and get it very fast.
Are you interested to know how to enroll for your BVN in order to open bank account or take part in an important recruitment application. I am sure the guides we will share with you below would be helpful for you in getting your BVN very quick. Now, let's start!!
How to enroll for BVN online
BVN can be enrolled at any commercial bank but getting it not fast. At the bank as well, there are a lot of cues of other people who are also in need of enrolling for BVN. If you don't want to face any stress in the bank in the name of enrolling for your BVN, then read this article slowly as we have explained the nitty-gritty in BVN enrolment.
To enroll for your BVN online using phone or PC, please follow the step by step guides below:
Select Location
Click on the BVN ENROLMENT TAB
Read BVN Enrolment Instruction
Download BVN enrolment form
Book BVN Biometric Capturing Appointment
Print Appointment Booking Slip
Visit BVN Enrolment Center on the Appointed Date with Enrolment Requirement.
---
Read these also:

1. Providus bank USSD code and mobile banking.

2. Eco bank transfer code in 2022 and how to activate.

3. How to open Kuda bank account step by step.

4. The recommended ways to how you can unblock your Bet9ja account.

5.  How to cheat Airtel network for data bundle.

6. Best banks to open domiciliary account with in Nigeria (2022).
---
---
BVN registration portal in Nigeria
www.nibss-plc.com.ng.
If you reside in Nigeria and like to enroll or register for your BVN, the website that you should logon to and carry out an enrollment yourself online using your phone or PC is www.nibss-plc.com.ng. It functions anytime, everywhere.
The online portal for BVN registration and enrollment is Nigeria Inter-Bank Settlement System Plc (NIBSS) which was incorporated in 1993 owned by all licensed banks including the Central Bank of Nigeria (CBN). It commenced operations in June 1994. For more information, please their website at https://nibss-plc.com.ng/.
The requirements for online BVN enrollment are further discussed below.
Requirements for BVN enrollment
Valid ID (Drivers Licence or International Passport)
One recent passport photograph
Enrolment fee or evidence of payment of enrolment fee
Log-on to NIBSS website and Click the: LINK BVN TO ACCOUNT Tab
Login with Username and password and link BVN to existing Nigerian Bank Accounts (Username and Password will be sent to your registered email account after capturing)
This enrolment process is done only once and your BVN is linked to all your Bank Accounts across all Nigerian Banks.
Note: BVN is an initiative of the Central Bank of Nigeria to ensure accountability, protect Bank Customers' Account from unauthorized access, reduce exposure to fraud, check identity theft, enhance credit advancement to Bank Customers, and also encourage financial inclusion.
BVN registration agents
BVN enrollment agents are available in any commercial banks.
If you are desiring to enroll for your BVN and like to be assisted by BVN registration agents, then visit any nearest nearest commercial bank as they are there to help you get enrolled in no time.
When at the bank, do the following:
Fill an enrolment Form in-branch or online by downloading it online.
Submit 'Self' for Biometrics at their designated branch.
Receive Ticket ID.
Finally, your BVN will be sent to you via SMS within 24 hours.
Linking your BVN GTB
After you have enrolled for BVN and have successfully obtained it, you can now link your Bank Verification Number details from another Nigerian bank to your GTBank account without having to visit any of their branches.
To link your Bank Verification Number details to your GTBank account, you can make use of any of ATMs nationwide, Internet Banking platform or visit the BVN linking portal on our website to complete your request.
Via Internet Banking:
Log on to Internet Banking
Select BVN Linker from the left-hand panel
Click on New Request
From the drop down menu, insert your Bank Verification Number
Select the Nigerian Bank where your BVN was Issued
Answer your Secret Question and continue
Via ATMs:
Insert GTBank ATM Card
Select BVN Link on the transaction menu screen
Enter your 11-Digit BVN
Confirm your BVN details
Submit your BVN
Via SMS
To link your BVN via SMS, simply text your BVN details to 08076665555
E.g. BVN <01234567890> to 08076665555
Via 737
To link your BVN via 737 BVN linker, simply dial *737*20*BVN.
See this also: how to become First Bank POS Agent.
Why is it so much important to enroll for BVN
The benefits of BVN enrollment are:
Gives you a unique identity that can be verified across the Nigerian Banking Industry (it is not peculiar to one Bank)
Your Bank Accounts are protected from unauthorized access
Its reduces fraudulent activities on bank account
Gives easy access to Banking operations
Your BVN is accepted as a means of identification across ALL Nigerian Banks.
Conclusion
With the increasing incidents of compromise on conventional security systems (password and PIN), there is a high demand for greater security on access to sensitive or personal information in the Banking system.
The BVN gives each Bank customer a unique identity across the Nigerian Banking industry that can be used for easy identification and verification at Point of Banking operations.
Biometrics refers to identification of an individual based on physiological attributes- fingerprint, voice, facial features etc. To address existing challenges with identity management, the Central Bank of Nigeria, in collaboration with all Nigerian banks launched a centralized biometric identification system tagged Bank Verification Number (BVN)
Please share this article with your friends and remember to subscribe to our newsletter if you know that it's wonderfully helped you know how to enroll for BVN and get it very fast step by step.
Read these also: