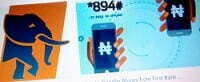 The First bank mobile app is a mobile application that can be used to perform basic banking transaction. With it, you get instant access to account information on your mobile devices every where you are. It is easy to download, use and completely secure.
Do you want to manage your money at home or on the go from any device with the My First Bank Mobile App? In this today's article, I will discuss with you step by step how to download and register First bank mobile app for android and IOS device.
Now, let's get started.
How to download First bank mobile app
Please note that First Bank Mobile App is for the customers of First Bank. Hence, if you are not a customer of them yet, then just simply visit any nearest First bank branch or dial their bank USSD transfer code.
After opening bank account with First bank and successfully obtaining your account, now enroll in Online Banking with just a few easy steps and start taking advantages of their secure online services. Interestingly, your banking details will be very secure.
Want to download and register First bank mobile app now? Please follow the step by step guides below to get started.
Downloading First Bank mobile app on your mobile device is free of charge and it was specially designed to work smoothly on your Apple or Android device (tablet or phone). Good news, it can be downloaded from Google play store or App store.
See these also:
The First bank mobile app is very beneficial for everybody to download it on their phones if they want to perform banking transactions their self like transferring money to First bank or other bank, view their transaction history (bank statement), check their account balance, etc. In fact, some features and benefits of First bank mobile banking application are:
Transfer money to other Nigerian Bank accounts
Manage your ATM card
Transfer funds to First Bank accounts
Make account overview or check bank statement or transaction history
Airtime Recharge
Cable TV Payment
Bills Payment
Cheque Services
Flight Booking Services, etc.
How to register First bank mobile app

FirstBank's Personal Digital Banking is available to all FirstBank customers. Once you open a FirstBank checking account, you will immediately be able to download their free Mobile App and complete the self enrollment process.
Or if you prefer, you can do your initial enrollment through Online Banking at www.firstbankonline.com. After that, log in through the Mobile App or Online Banking, then your banking information and login credentials will be synced between the two.
The step by step guides on how to register First bank mobile app are discussed below:
STEP 1: DOWNLOAD THE FREE APP
If you are doing your first-time login via the Mobile App, the first step is to download the FirstBank Personal Banking app for your Apple or Android device (tablet or phone).
Please note that there is no cost to enroll in mobile banking from FirstBank. However, your mobile service provider may apply some standard rates depending on your data plan.
To download First bank mobile application on your device, visit your device's store and search for "First Bank Personal Banking". For you not to download the wrong one, click here to download it from Google play store and here from App store if you are using iPhone device.
STEP 2: FIRST-TIME USER? ENROLL NOW
After downloading First bank mobile application on your device, from the login screen of the Mobile App or Online Banking, you will select first-time user to enroll. Then enter the identity verification information to confirm your identity.
STEP 3: SELECT Two-Factor Authentication METHOD
The next step is to select your Two-Factor Authentication Method (2FA) or Two-Step Verification by sending yourself a code via text, automated phone call or Authy app. After you enter your code, your Two-Step Verification for your account is now enabled will add more security to your First bank account information.
STEP 4: ACCEPT USER AGREEMENT
Upon the first-time login, you must accept the user agreement by marking the appropriate box.
STEP 5: CREATE CREDENTIALS
Last step but not the lease, create your username and password. Once accepted, your customer dashboard will display. You will use these same login credentials for Online Banking.
Success: if you have carefully followed the steps and instructions above, then your mobile phone has automatically turned into the branch of First bank which you can use to pay bills, transfer funds and even make deposits in seconds.
Read these also:
How to deactivate First bank mobile app
Even though the phone which you registered First bank mobile application on is stolen, a fraudster can't have access to your account because two-factor authentication feature is installed on it.
To ensure the security of your account information, a number of security features have been built into First Bank Mobile application. First, during the registration process, a unique verification code is required to verify your mobile device phone number. This code associates your mobile phone number with your account. Additionally, no mobile banking text message returns any personally identifiable information such as your full account number, PIN, email, or personal address.
If your mobile device is lost or stolen, your information is secure, but please notify First Bank immediately on 888.647.1265 for more deactivating it for you for more assurance.
Your First bank mobile app can also be deactivated by logging into your First bank online banking account (dashboard) from your computer.
How to use First bank mobile application make transaction
With the First bank mobile application, you can carry out a wide range of transaction from the comfort of your home. That is, you don't need to spend several hours in ATM or Bank queues to complete some transactions.
To transfer/send or deposit money to other people or another of your account using First Mobile app, simply follow the steps below
Open/login the mobile app
Click on "Transfers" button.
Select the account from where the transaction would be carried out: This option is very useful for customers with more than one account activated on the app.
Choose the destination bank/financial institution where you are sending the funds to.
Fill in the details (Account number and name) of the beneficiary. Once you enter the account number, the app will automatically look out for the owner of the account and display the name (if valid).
Enter the amount you are sending and also, add a short note or description (optional but important when you're paying for something).
You'll be shown an overview of the transaction you're about to carry out for a proper review.
Enter your PIN once you've confirmed the information is correct and then tap on the "Transfer" button to complete the transaction.
Note for activating First bank application on your phone to be able to transact with it any time, anywhere, please follow the guides below:
Visit your First Bank online banking;
Click "Profile Options"
Click "Mobile Settings"
And complete the activation instructions.
How to manage your First Bank Mobile App.
First bank mobile application is Available for iPhone, iPad and Android, as earlier made known.
What you have to do now is to simply download it and log in with your First Bank Online Banking user ID and password.
With it, you can save time and money when making Bills' payment. You can also make one-time bills' payments and set up automated (repeat payments).
Download and register or activate First bank mobile application today on your device to:
Eliminate envelopes, postage and checks
Pay both businesses and individuals
Track payment history
As a matter of fact, downloading and registering it is free of charge. Interestingly, in it, you can:
Open new First Bank account and receive your account number
Choose Payments from the menu, then Enroll
Click Add a payee
Select + Add Payee to add information for those you want to pay.
Top key features of First bank mobile application
It saves time
Why are you driving to the bank in order to transfer money from your account to another account or check your account balance when you can deposit your check using the My First Bank Mobile app?
You can use First bank mobile application to deposit checks any time and anywhere, simply by taking a photo. To do this, within the app, simply choose "Deposit checks" from the menu then point and click deposit.
Digital Wallet
First bank welcomes you to a new way to pay!
Enjoy all the benefits of your First Bank Debit Mastercard and pay with Apple Pay, Samsung Pay and Google Pay at thousands of stores and participating apps with Digital Wallet.
Protected with SecurLOCK Equip
The SecurLOCK Equip app is free, easy-to-use and puts the power to protect your debit card in your hands. It can also be used to:
Prevent fraud if your card is lost or stolen by turning your card off from your phone.
Control spending by setting limits on withdrawals or transactions.
Customize spending ability of online, mobile or in-store purchases.
Set alert notifications for each time a transaction is made.
Block international or out-of-area transactions.
Glad to install SecurLOCK Equip on your First bank mobile application's profile? Download it on it now by clicking here.
Apart from the top 3 key features of First bank mobile application discussed above, here are the other ones you may know:
Personalized Experience: Arrange the view of your accounts with a customizable dashboard, give your accounts nicknames, plus add your favorite photo or image.
Pay Bills: Make one-time payments and set up automated, repeat payments.
Extra Security: Be more secure using a security code during first-time login or login on any new device.
Convenient Chat: Connect with us quickly and securely online and in the app during bank hours. Ask a general question or tie your question to a particular transaction.
Descriptive Notes: Stay organized by adding notes, tags, or images – such as receipts or bills – to your transactions.
Password Self-Reset: Reset your own password in case you forget it. Simply change it yourself any time without having to contact the bank.
Quick Search: Search for a particular name, word or dollar amount to easily find a transaction.
Connected Accounts: View balances and transactions for accounts from other available financial institutions.
External Transfers: Add an account from another financial institution to make transfers with.
Easy-to-use Downloads: Download account activity into an easy-to-use format.
Fast Check Orders: Reorder checks when you need them within First Bank Online or Mobile Banking.
Simple Stop Payments: Stop payment on a single check or a range of checks.
How to upgrade First Bank mobile App
To upgrade your transaction limit when using First bank Mobile application on your device, walk into any nearest First Bank branch in your area or location. Once you are in the banking hall, ask for the Customer Care Service unit, request them that you came to upgrade your transaction limit and they will gladly give you some forms to fill.
Please note that upgrading your First bank transaction limit can't be online or using mobile application or USSD code at the banking hall.
Conclusion
If you know that this article has helped you know more about First bank mobile app, how to register it, how to load it, how to use it to make banking transaction, how to upgrade it, etc., please share it with your friends and subscribe to our newsletter for more important updates.
Read these also: