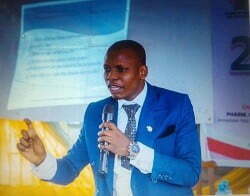 Looking to know the list and more important information about motivational speakers in Nigeria? Here, we will discuss top best motivational speakers in Nigeria one by one with their contact details, website addresses, etc.
The motivational speakers in Nigeria or any where in the world act like a comedian or singer predominantly offer their services in an audiences. Before we continue, let's first look at what motivational speakers really mean:
The motivational speakers deliver a speech that inspires the audience to reflect upon their own life in some profound way that gets them to change their behavior or take a specific action.
Also known as "inspirational speakers," they are an individuals who are gifted in the art of persuasion, positively present their ideas and encourage others to follow their way of thinking.
They are a business professional who delivers speeches designed to inspire and motivate people in the audience.
With these definitions or roles of motivational speakers given above, now, let's start looking at the top best (richest and famous) Nigerian professional motivational speakers in 2022.
Top best motivational speakers in Nigeria in 2022
The top best motivational speakers in Nigeria and their contacts (website address, phone number and email address) are:
Oluwafeolami Durotoye
Oluwafeolami Durotoye was born in Ibadan, Oyo State on 12 May 1971. He is a motivational speaker, business consultant, leadership expert, etc.
He facilitates and speaks at management and leadership retreats across within and outside Nigeria.
Fela is presently the president of the GEMSTONE Nation Builders Foundation, a non-profit, non-governmental organization focused on training youths towards transformational leadership and social change. He contested Nigerian president with the political party, Alliance for New Nigeria party (ANN) but was defeated.
Fela Durotoye was a financial analyst at Ventures & Trusts Limited in 1992. He was the head of the customer service department at Phillips Consulting Limited in 1998.
He went on to start V.I.P Consulting Limited in the year 2000 which soon became notable in customer and human management in Nigeria. The firm was restructured and switched from a consulting firm to a social enterprise called Visible Impact Limited.
Date of birth and location
12 May 1971, Ibadan, Nigeria
Education
Moremi High School
Obafemi Awolowo University (OAU)
Harvard University
Occupation
business consultant, leadership expert, motivational speaker etc.
Spouse(s)
Tara Fela-Durotoye
Children
3
Read these also:
George Essien
George Essien is one of the top best motivational speakers in Nigeria and currently the Chief Executive Officer (CEO) of Learn And Earn Systems Limited, a Training, Media and Publishing Firm.
He is also a co-founder of Blue-Sky Development Foundation, a registered Non Governmental Organization (NGO) dedicated to clothing, feeding and caring for indigents and the founding chairman of a registered human development non-governmental foundation called PowerMinds Community.
With carefully crafted words that have been known for ages to cause severe stir in people's internal conditioning, George Essien helps people to become the best they can be. Considered by many as a leading Life Coach, Motivational Speaker and Peak Performance Consultant, George Essien is the go-to guy when individuals, start-ups, and big organizations want to get results fast.
He is a business and communication expert who has a doctorate from St. Thomas A-Beckett University, Canterbury, England in Communication And Persuasion Technology.
| | |
| --- | --- |
| Religion | Christianity |
| Spouse | Imoh Essien |
| Tertiary institution attended | St. Thomas A-Beckett University, Canterbury, England |
| Website | www.georgeessien.com |
| Children | 3 |
Leke Alder
Leke Alder is another best Nigerian motivational speaker and the Founder of Alder Consulting, the Nigeria's leading creative intelligence firm that has offices in Lagos and London.
He was a guest lecturer at the School of Media & Communications (SMC), Pan African University (now Pan Atlantic University) and guest speaker at the university's Entrepreneurial Development School (EDS). He was also guest speaker at conferences held by the Nigerian Bar Association and Women in Management & Business (WimBiz).
While he is a lawyer, polymath and philanthropist, he has spoken at The Platform conference several times.
He has served as a panelist at the Annual Africa Business Conferences of Harvard Business School, Wharton Business School and Kellogg School of Management. He was a speaker at the Financial ADFocus Conference, South Africa as well as Leadership Forum, Ghana.
| | |
| --- | --- |
| Website | www.lekealder.com |
| Children | Olamide and Toluwani |
| Spouse | Morenike |
Sam Adeyemi
Sam Adeyemi is a Nigerian by birth citizen and a global motivational speaker, strategic Leadership Expert, Minister. He shifts mindsets to help leaders see possibilities and become those possibilities.
With over two decades in ministry, Sam Adeyemi is a leading voice in proclaiming the gospel of Jesus Christ that God wants us to lead and succeed in every area of living across the globe through his resources such as television, radio broadcast, publications , seminar and books.
A highly sought after conference speaker, Sam Adeyemi has impacted millions of people around the world. He is known for teaching practical biblical principles to help people succeed and become role models in every area of their life. He is also the host of the popularly known motivational program Success Power.
Sam got his Higher National Diploma (HND) at the Kwara State Polytechnic, after studying Civil Engineering.
He has also obtained the Master of Arts degree in Leadership Studies from the University of Exeter, UK, and the Doctor of Strategic Leadership from Regent University, Virginia, USA.
Sam Adeyemi is a successful married man. His wife is Nike Adeyemi, a global speaker & minister who gave birth three children to him.
| | |
| --- | --- |
| Current location | Lagos Nigeria |
| Website | www.samadeyemi.net |
| State of origin | Kogi |
| Date of birth | 3 February 1967 |
| Spouse | Nike Adeyemi |
| Children | Sophie Adeyemi, Tyke David Toluwani Adeyemi |
Vincent Anigbogu
Vincent Anigbogu is a professor who obtained a Ph.D. degree in Analytical Chemistry in 1986 at the University of Alabama, Tuscaloosa
Before he became a professor, Vincent Anigbogu had Bachelor's degree in Chemistry in 1978 and Master's degree in Analytical Chemistry in 1981, both from Indiana University of Pennsylvania, Indiana, in Pennsylvania, USA.
In 2006, he returned to Nigeria to devote full-time effort towards the development of leaders with leadership and management competencies necessary for the transformation of Africa.
| | |
| --- | --- |
| Services | Motivational and Inspirational speaker, Business consultant, Lecturer, etc. |
| Website | www.vincentanigbogu.com |
| Date of birth | October 19, 1954 |
| Spouse | Peggy |
| Tertiary institutions attended | Indiana University of Pennsylvania, Indiana and University of Alabama, Tuscaloosa, AL |
Patricia Omoqui
Patricia Omoqui is an American-Nigerian motivational speaker, life transformational coach, speaker, and writer supporting and inspiring individuals and organizations to reach their highest potential.
She married to a Nigerian man, David and their marriage has been blessed with three children.
Patricia's experience has touched a wide audience of listeners. She has spoken for Fortune 500 leaders, industry managers and supervisors, University Student athletes, and numerous Non-for-profit events.
Going to host an event? Believe me, Patricia will energize and leave a lasting impression on your audience!!
As a speaker, she moves audiences with her inspiring, easy-to-apply teachings, enabling people to move into more of their potential. She is very dynamic and not afraid to speak the truth.
| | |
| --- | --- |
| University attended | Princeton University |
| Occupation | Business Consultant, Life Coach |
| Website | www.patriciaomoqui.com |
Olakunle Soriyan
Olakunle Soriyan is a Nigerian-American (citizenship of Nigeria by birth but presently lives in Plano, Texas, United States) Leadership Development, Life Coaching, Executive Coaching, Public Speaking, Training, Change Management, Corporate Training, Diversity & Inclusion, Political Consulting, Brand Consulting and lots more.
He expresses himself as a spiritual teacher, guide, and Relevance/Influence Strategist helping faith-based Leaders and Ministries.
He is happily married to his beautiful and gifted wife, Tiwa; and they are both blessed with a son, David.
DAYO OLOMU
Dayo Olomu is a Nigerian-American leading human capital development and business transformation strategist based in London, United Kingdom.
He is an accomplished inspirational speaker, corporate trainer, award-winning event host and bestselling author
He is the chairman of the Chartered Institute of Personnel Development (CIPD) South London; Member, the board of directors of Southwark Diocesan Board of Education
Easily considered one of the most influential Africans in the UK, his call to human empowerment takes him across Europe and America as one of the world's most sought-after engagers
Dr Olomu's uniquely engaging style has profoundly endeared him to the over 150,000 people he addresses each year on personal and professional development, achieving peak performance, wealth creation, success, motivation, networking, mentoring, management, relationship, personal success, customer service and goal-setting. His books are bestsellers amongst the African community in the UK and America.
See these also:
---
Niyi Adesanya
With an average of more than 100 presentations annually, Niyi Adesanya is recognized as one of Nigeria's foremost pragmatic, motivational and inspirational speakers, and a leading voice on Leadership transformation in the West-African nation.
Niyi Adesanya is one of Nigeria's finest motivational speakers and an acclaimed business strategist, leadership, and peak performance expert.
He has for about three decades been a people person, a mentor to many, a lover of God, and an astute business transformer. His company, FifthGear Plus Consulting has over the years been providing consulting services and business re-engineering services to organizations across Nigeria with definite transformational results.
Niyi Adesanya started his full speaking career in 2005 with a motivational and inspirational speech to the junior and senior staff of the Seven-up bottling company. He moved on to speak to the entire staff of Chevron Nigeria at the company's diversity week in Lagos, Warri, Escraves and Portharcourt.
He also spoke on work-life balance for the I.T and account departments while the human resource department enjoyed his expertise in team building.
He expertly carries all of the services below:
Business Re-engineering
Consultant and Coach
An award-winning Leadership
Performance Expert and
Author.
Uju Onyechere
Uju Onyechere is one of the top best motivational speakers in Nigeria who bagged bachelor of Science degree from Abia State University, Uturu, Nigeria.
He is a native of Abia State happily married and currently resides with his family in Lagos State, Nigeria.
SESAN KAREEM
Sesan Kareem (born in Nigeria) is a distinguished Pharmacist, Wellness Expert, prolific Author, certified Trainer, public Administrator, management Consultant, master Motivator, social Entrepreneur and motivational speaker.
He is the Founder of Mareek Image Concepts and the Co-founder of Zahra Lingerie.
He is widely travelled within and outside the country. As a health and life strategist, he inspires over 1,000,000 people annually on radio, television, social media, conferences and corporate training.
Sesan has trained multinationals, large and medium organizations in pharmaceutical, FMCG, banking, beauty, retail and telecommunication industries. He is the convener, Achievers Forum and "Motivating The Nigerian Youth" a movement that has trained over 4,000 young Nigerians for FREE.
| | |
| --- | --- |
| Occupation | Wellness Expert, prolific Author, certified Trainer, public Administrator, management Consultant, master Motivator and social Entrepreneur |
| Date of birth and location | August 22nd 1989, Ijebu-ode, Ogun State |
| Course studied | Pharmacy |
| University attended | Olabisi Onabanjo University |
| Marital status | Married |
| Website | www.sesankareem.com.ng |
Steve Harris
Steve Harris is a Nigerian motivational and inspirational speaker who helps high performance individuals and institutions bridge the gap between their performance and potential.
He is exceptionally good at High-Performance Coaching & Business Acceleration. He's been featured on The Economist, Slate Magazine & other news (print and digital media).
He is a certified member of the International Coach Federation (ICF), a member of the Life Coaches Association of Nigeria (LCAN), the American Association of Small Business Consultants, Texas, USA and the International Certified Consultants Association, Canada.
| | |
| --- | --- |
| Website | www.iamsteveharris.com |
Robert Boniface
Robert Boniface is one of the most respected and inspiring motivational speakers and life coaches in Nigeria specializing in the areas of personal and professional development.
Female public speakers
The list of top best female motivational and inspirational speakers in Nigerian are:
Titilayo Ama
Farida Kabir
Olajumoke Adenowo
Abisoye Ajayi – Akinfolarin
Chinwe Bode Akinwade
Nimi Akinkugbe
Omilola Oshikoya
Denike Balogun
Conclusion
If you know that this article has helped you know top best motivational speakers in Nigeria and more important information about them, please share it with your friends and remember to subscribe to our newsletter for more important updates.
Read these also: