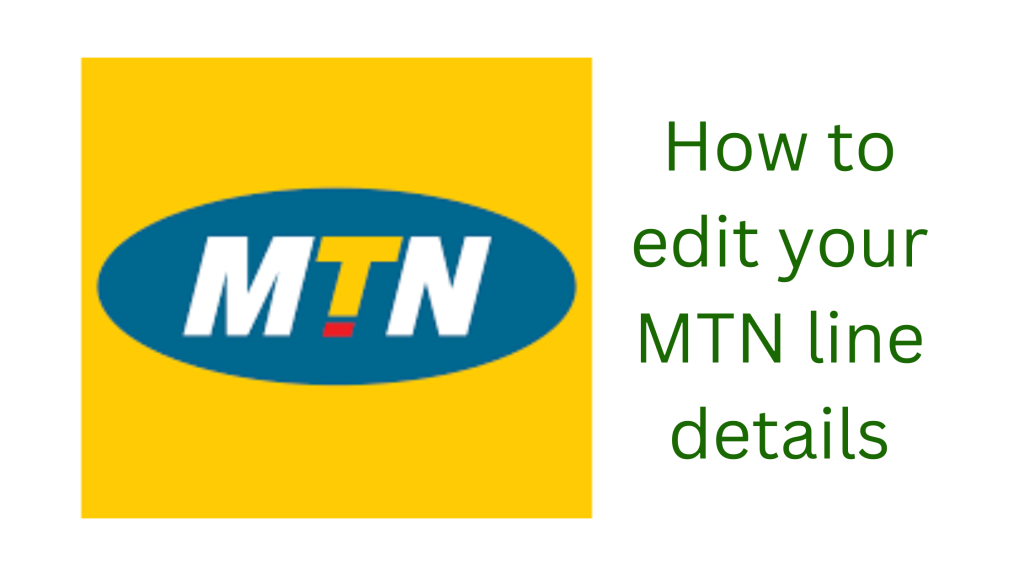 Having the wrong information on your MTN SIM card detail, for example, wrong name or date of birth, or address? In this article, I will show you how to update or change all details on your MTN SIM card online step by step.
One of the best things that makes people use mobile phones is SIM card. While Wifi connectivity on the other hand may be enough for you to use a mobile phone, it is a must to have a SIM card if you want to use it smoothly.
Are you a subscriber of MTN? If not, then why? Or have you yet not known that MTN is the best network provider ever for now?
Read this also how to edit any detail on your Bet9ja account very fast
it is very important to discuss the use of SIM cards in our devices, especially how we can check the details on them and how we can update any details that need to be changed.
When we talk network operators in west Africa, we simply call MTN because of the different amazing things it has been doing for its customers since it started the telecommunication business. For example, is the MTN foundation scholarship.
How to update the details on your MTN SIM card very fast
For some reason, you may have to update some parts of your MTN SIM card details.
Before you continue to update any detail on your MTN SIM card, you to first confirm by dialing *904# as it will let you know the details that need to be updated.
Now, I am going to show you the guides and procedures of how to update your MTN SIM card details very fast step by step free of charge.
Visit any nearest MTN branch with your ID card
You can also contact MTN customer care by calling 180 and following the prompts to talk to an agent about your problem
Make sure to have all details about your SIM card and your ID card available before making any call
You can also chat with MTN customer care on WhatsApp at +234 903 300 0001
You can also send a mail to MTN customer care at customercareng@mtn.com to update your MTN SIM card details for you
How to use BVN to update your MTN SIM card details
We are very glad to announce to you that MTN Nigeria has introduced an easy way which you can use to update your MTN SIM details using your BVN.
Now, all you have to do is simply text BVN: BVN Number, Mother's maiden name to 799 via the SIM card which you want to update its details.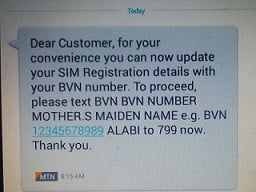 For example, if your BVN is 2287612358 and your mother's maiden name is Viccy, then send BVN: 2287612358 Viccy in form of a text message to 799.
Updating the details on your MTN SIM card is very important for every subscriber in order to prevent their line from being barred or blocked. Even the Nigerian federal government strongly advises people to kindly update the details on their SIM cards.
With the spate of mobile technology fraud activities going on all over the place, you need to ensure that your SIM card is properly registered or updated so that in case of any Mobile payment issues, you can claim ownership.
As a matter of fact, you can't claim ownership of a SIM card that bears a different registration detail from the one available on your ID card.
From the above explanation, it should be noted that updating or registering your MTN SIM card with the correct information about yourself is very, very important and the benefits cannot be overemphasized.
Read this how to check airtime balance of all four active network providers in Nigeria
How to register your MTN SIM card online by yourself
Have you just bought a new MTN SIM card and searching for how you can register or activate it online yourself? Please follow the step-by-step guides below for more important information.
MTN is very so excited to welcome you to the Y'ello family. You just bought your MTN SIM and they are sure you can't wait to start enjoying the variety of services they have for you, but first, you need to Register your SIM.
SIM registration steps:
1. Go to the nearest MTN outlet
2. Fill out a form and present your NIN/NIN Slip to register
3. Recharge and start calling
The approved form of Identification:
National Identity Number (NIN)/NIN slip
Where can you register your MTN SIM?
You can register your MTN SIM card at any nearest MTN Store or SIM Registration Point. You may click here to know all approved MTN shops in Nigeria across every 36 states.
The guides and procedures of how to register any new or existing MTN SIM card online are:
First, download the MTN SIM card registration form by clicking here
After downloading, then enter your ID number
Enter your email if you have one or click here to know how to create an email address
Provide your address
Enter your name and date of birth
Enter your nationality
Provide or disclose your marital status
After completing filling the form, simply submit it to any nearest MTN branch for review
When the review is finished, if approved, then you will be contacted that your SIM card has been successfully registered.
See also how to change date of birth on Voters Card in Nigeria
How to check your MTN SIM card registration details
To check whether your MTN SIM card is registered or not and also find out the SIM card registration details of your MTN line, kindly follow the instructions below:
Dial *904# via the SIM card you want to verify
Wait for some seconds for your request to load.
After some seconds, if registered properly, you'd see your name in full appearing
On the next page, you can find other information about how to correct wrong registration details.
In my own case, for example, if I dial *904#, the text message containing my first name, surname, and mother's maiden name is sent to me.
However, if the SIM card is not registered, you'll be informed in the feedback that the SIM card isn't registered, then download this PDF file, fill it and submit it to any nearest MTN store.
How to change MTN SIM card registration details
Last year, the federal government of Nigeria ordered that all users of SIM cards in the country must have to re-register/update their details and further promised that anyone that disregards updating their SIM card details as ordered will have their SIM card automatically get disconnected.
After such pronouncement, many subscribers of networks in the country and diaspora have been looking for a way to register/update their cards with ease and on this page, we are going to show you how you can do that seamlessly online.
In other to make things easier for these subscribers, Nigeria's giant mobile networks provider, MTN has rolled out a simple and self-to-do online platform to help their subscribers easily update or re-register their cards.
If you're an MTN mobile subscriber, looking for a way to update your SIM card, below are the simple procedures on how to register/update your MTN SIM card online very fast.
Before you can re-register and update your MTN Nigeria SIM, you will need to:
Provide a valid National ID card if you are a citizen of Nigeria
As a foreigner, you are required to provide your National Passport if you want to update your MTN SIM card details.
Please note that the features which we are going to show you below are available for new and existing subscribers of MTN, hence, all you need to do is to have internet access and visit the MTN SIM registration portal as shown below.
Now, see below the simple and step-by-step guides on how to register or update your MTN SIM card online:
Connect to the internet and visit the MTN SIM registration portal by clicking here
On the next page, enter your phone number in the space provided and click on the Request One-Time-Password (OTP) Button.
Within some minutes, MTN will send you an OTP code/pin which would be needed to confirm your number.
After the code confirmation, the next page which will appear is going to contain spaces for you to provide your personal details.
These spaces include name, date of birth, ID type, ID number, Residential address, Gender, region of residence, ID photo, Nationality, etc
Make sure all the details you type are right and then click on the SUBMIT Button to update details.
After submission, you will receive a confirmation message from MTN notifying you that your request is successful and it is under review
If reviewed and approved successfully, then MTN will finally notify you.
Conclusion
If you know that this article has helped you know how to update or register your MTN SIM card details step by step, please share it with your friends and remember to subscribe to our newsletter for more important updates from us.
Read this also: how can you track the number that used your MTN recharge card?